Jul. 19, 2017 05:11PM EST
Photo by Amitava Sarkar
"I'm kind of a collector of clothes," says Natalie Varnum. The Houston Ballet corps member turned a spare room in her home into a walk-in closet and fills it with eccentric pieces. "I love big, clear oversized sunglasses; or a high-waisted pant, socks and loafers; or a newsboy hat," she says. Varnum is inspired by icons from the '60s and '70s—Jimi Hendrix, Jane Birkin, Elton John—and she finds endless ideas on social media. She'll search Pinterest for photos, follow up-and-coming stylists on Instagram or update her own blog with "outfit of the day" posts. It was through Instagram that she recently met South Korea–based designer Sandra Meynier Kang, who reached out in hopes of collaborating and sent her a sample from her new leotard line. "It's the best way to make faraway friends now," Varnum says.
In the studio, Varnum takes a more conventional approach—sometimes. "I like a classic ballerina look, like light pink, long sleeves," she says, "or I go for something completely crazy." She commissions fun patterned leotards from her friend, former company dancer Jordan Reed, who now runs Lone Reed Designs. Her collection includes leos printed with pizza and doughnuts. Whatever she's wearing, Varnum is not afraid to stand out. "There's a time and place for a classic little black dress," she says, "but I tend to go for the more out-there pieces and colors."
Keep reading...
Show less
Jul. 05, 2017 04:16PM EST
Photo by Liza Voll
Rachele Buriassi loves leotards: In her 12 years as a professional dancer, the Boston Ballet soloist estimates that she's accumulated over 150 of them. "Maybe it's because we spend most of the day in ballet clothes," she says. "I like to have many options." Her collection includes leotards bought on tour in France and Spain, ordered online and designed by Buriassi herself, with the help of Kenneth Busbin in BB's costume department. "You can choose the color and design it, and then he will make it for you," she says. Routine is important to her, and she tries to get to the studio at least half an hour early to choose her outfit, tape her toes and start warming up. "But I never do my hair for class," she laughs, preferring to wear it down or in a braid.
Outside the studio, Buriassi goes for a stylish yet low-key vibe, often choosing designer brands. "I don't want to look like I've been thinking too much about it," she says. Don't let that attitude fool you, though: She loves to shop, especially while traveling. "Whenever I go somewhere, I like to have a day to shop and look for different special things," she says. That desire to find unique and meaningful pieces is characteristic—Buriassi isn't interested in looking like anyone else. "I like to be myself and wear what I feel comfortable in," she says.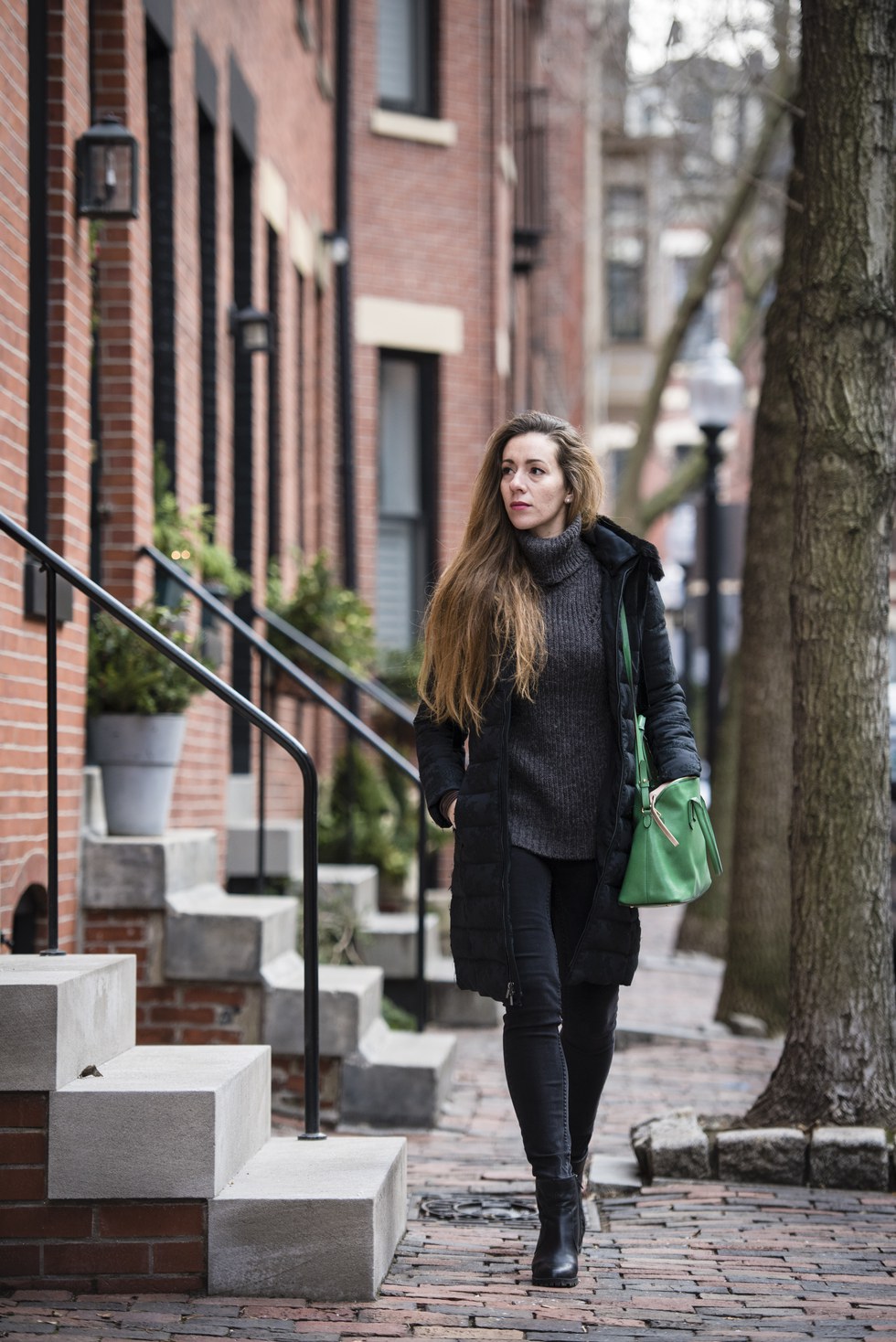 Photo by Liza Voll
Keep reading...
Show less
Feb. 24, 2017 01:52PM EST
There's one accessory Brittany Stone doesn't leave home without: her headphones. "I'm always listening to music, usually something from the '90s," she says. "It just makes your day better, especially in the morning when you don't really want to get up and take class." Her playlist is full of "good walking music"—upbeat songs that get her moving and motivated. The rest of her street style is characterized by cozy standbys: T-shirts and jeans, white sweaters, overalls and her favorite shoes, Dr. Martens. "They're basically my staple," she says. "I have three pairs. I wear them all the time, especially in the winter."
In dancewear, Stone's priority is seeing her lines. "My style in the studio is very simple, very classic. I almost always wear pink tights," she says. For essentials like toe pads and tights, she turns to Discount Dance Supply: "A lot of times the girls in the company will coordinate when we need stuff and make a big order, because the shipping's cheaper." Outside the studio, too, Stone notes, shopping is a great way to bond with new friends—something she's been doing a lot of since transitioning from Boston Ballet to The Washington Ballet last fall. "Everyone in the company is so nice and welcoming. It's been really good," she says. 
(Photo by Jim Lafferty for Pointe)
The Details—Street
Leather jacket: "I got it at a secondhand store in Connecticut, where I'm from. I love vintage shopping."
Urban Outfitters jeans: "I love high-waisted things. I think they're really flattering."
Dr. Martens: "They make everything look cooler than it is. The red ones are my classic ones; they were my first pair."
(Photo by Jim Lafferty for Pointe)
The Details—Studio
Discount Dance Supply leotard: "It had a liner in it, but I cut it out because it was a little too hot. It's a great color and a great line, I think."
RubiaWear legwarmers: These were designed by Boston Ballet principal Ashley Ellis. "She's always been an inspiration to me; her dancing is so beautiful."
Bloch Inc. slippers: "I used to wear leather shoes, but I think you can feel the floor better with the canvas. I'm hardly ever in flat shoes—just sometimes for barre."
Dec. 02, 2016 02:04PM EST
(Photo by Kyle Froman for Pointe)
What is Céline Cassone's favorite thing to buy? Cowboy boots, to add to her growing collection. "I'm just crazy with boots," the Les Ballets Jazz de Montréal dancer says. "Always the same style, some short and some longer." It's also the one part of her outfit where you might find a pop of color, as most of her wardrobe is black and gray. She has boots in pink and purple, as well as more neutral shades of black, brown and white. "I'm looking for a nice red," she says. She tends to do most of her shopping when the company is on tour. BJM travels five or six months a year, and Cassone has been everywhere from New York City to Israel to Italy.
In the studio, she's never without her bright-green, peanut-shaped exercise ball, which she uses to work on her abdominals. "You can do Pilates exercises with that," she says. "It's super-light and it's always with me." She'll even use it as a pillow on the bus. Cassone favors long, loose layers and fun patterns in her dancewear—but she makes sure to keep her look practical, especially if she needs to dance on pointe. "For center, I want to see my legs and I want to see my feet," she says. 
The Details—Street
COS top: "I bought it in Los Angeles." Cassone rarely shops at home in Montreal.
Levi's jeans: "I always wear jeans, never dresses."
Boots: "I bought them in Guadalajara, Mexico. We were on tour, and they had so many boots. I bought five pairs because it's so cheap there."
(Photo by Kyle Froman for Pointe)
The Details—Studio
Lululemon top: "I'm a crazy Lululemon fan. I like that it can be for dance but also for the street."
Wear Moi legwarmers: "I like flashy colors in the studio."
Socks: These were made by Daniil Simkin's mother, and given to all the dancers during the premiere of his INTENSIO project, which Cassone danced in.


Get Pointe Magazine in your inbox