Studio to Street
Dec. 01, 2017 10:31AM EST
Photo by Kyle Froman
Dorothée Gilbert doesn't subscribe to a single sartorial look. "I love to wear a beautiful dress or something very sophisticated for a night out or a party after a show," the Paris Opéra Ballet étoile explains during a tour to New York City. "But for a casual day, I have more of a boyish style, like jeans with a beautiful jacket." Gilbert likes to pair online finds with pieces she collects while traveling or shopping at Parisian vintage stores.
She even finds inspiration from designers that she works with through POB, like Balmain's Olivier Rousteing, who created costumes this past spring for Sébastien Bertaud's new work, Renaissance. "We wore these beautiful jackets with diamonds and pearls for the ballet," Gilbert says. "But I also love Olivier's everyday designs."
Gilbert's twist on classic style translates to her studio look as well, where she adds fun warm-ups to her traditional rehearsal wear. "I prefer leotards—or tunics, as we call them in French—because they're easier for partnering," she says. Another staple? Her black knit pants with a multicolored print down the right leg. "I always wear them before a performance, especially on tour."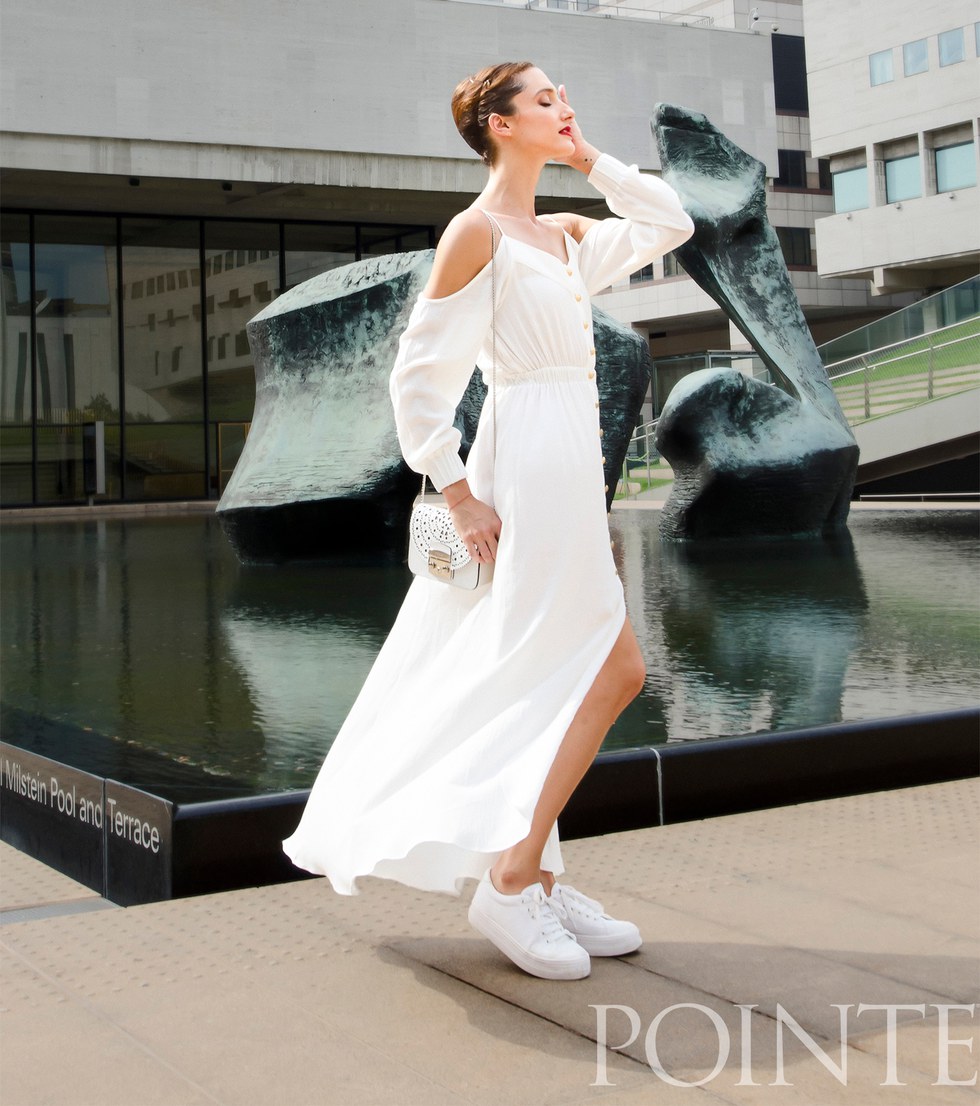 Photo by Kyle Froman
Keep reading...
Show less
Studio to Street
Oct. 11, 2017 05:26PM EST
Photo by Quinn Wharton
Fabrice Calmels has his studio look down to a science: a warm vest, traditional ballet tights, his favorite Lululemon yoga pants and—most importantly—the piece he calls his "accent T-shirt," which acts as the focal point. "I don't like anything too flashy," the Joffrey Ballet dancer says, "but I will always have an accent T-shirt, and it's always a cartoon character that is really well known." His collection of shirts features Pokémon, Transformers and Lilo & Stitch, among others.
Accents play a role in his streetwear, too. "It depends where the accent color is," he says. "If I pick whiter shoes, then I try to keep my jeans and my upper body a little bit darker, plain. If it's my shirt, then my shoes are going to be much more simple." Calmels gets some of his ideas about fashion from friends he's made in the modeling world. After participating in a Versace campaign in Chicago, he signed with IMG Models. He favors an urban vibe—well-cut leather jackets, classic T-shirts, jeans and sneakers. But even with staple pieces, he has an eye for quality and detail. "I'm looking for cool, slightly different, but still simple," he says. "Not just a plain T-shirt you can find anywhere."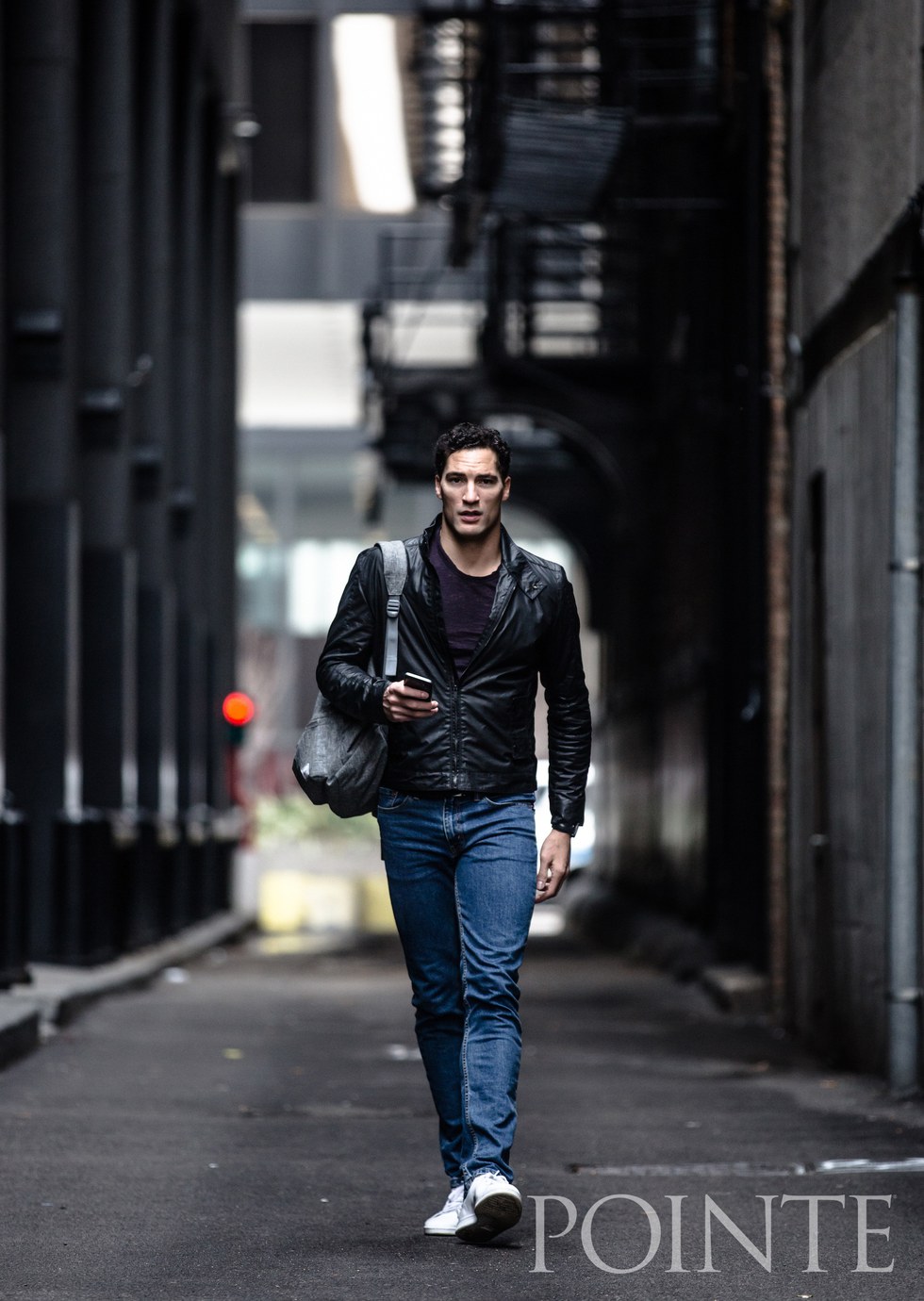 Photo by Quinn Wharton
Keep reading...
Show less
Studio to Street
Aug. 02, 2017 11:22AM EST
Photo by Kyle Froman
For Zhong-Jing Fang, being an artist extends beyond the studio or stage. "Being a ballerina is such a creative thing, and that gives me permission to be creative in my own life," says the American Ballet Theatre corps member, who's known for her collection of whimsical hats. She discovered her love of hats a few years ago while recovering from an ankle injury, when she came across a shop full of them. "I used to go there and try different hats on and the designer would tell me, 'This hat was inspired by Audrey Hepburn,' or 'This was inspired by Liza Minnelli,' " she says. "It gave me an idea that hats can capture some spirits." She enjoys the process of browsing vintage stores and boutiques and crafting her own outfits.
In rehearsal, Fang's look varies depending on her mood and the repertoire, but she especially loves practice tutus, leotards with lace and mesh detailing, and French brands like Chacott. "I want to look classic and clean because ballet is such a sculpting art—everything is about lines and sculptures," she says. In or out of the studio, fashion is an opportunity to show her individuality. "I think it's very encouraging for ballerinas to think outside of their box," she says. "It's so inspiring because everyone has different style."
Keep reading...
Show less
Studio to Street
Jul. 19, 2017 05:11PM EST
Photo by Amitava Sarkar
"I'm kind of a collector of clothes," says Natalie Varnum. The Houston Ballet corps member turned a spare room in her home into a walk-in closet and fills it with eccentric pieces. "I love big, clear oversized sunglasses; or a high-waisted pant, socks and loafers; or a newsboy hat," she says. Varnum is inspired by icons from the '60s and '70s—Jimi Hendrix, Jane Birkin, Elton John—and she finds endless ideas on social media. She'll search Pinterest for photos, follow up-and-coming stylists on Instagram or update her own blog with "outfit of the day" posts. It was through Instagram that she recently met South Korea–based designer Sandra Meynier Kang, who reached out in hopes of collaborating and sent her a sample from her new leotard line. "It's the best way to make faraway friends now," Varnum says.
In the studio, Varnum takes a more conventional approach—sometimes. "I like a classic ballerina look, like light pink, long sleeves," she says, "or I go for something completely crazy." She commissions fun patterned leotards from her friend, former company dancer Jordan Reed, who now runs Lone Reed Designs. Her collection includes leos printed with pizza and doughnuts. Whatever she's wearing, Varnum is not afraid to stand out. "There's a time and place for a classic little black dress," she says, "but I tend to go for the more out-there pieces and colors."
Keep reading...
Show less


Get Pointe Magazine in your inbox