Sara Mearns Shares the Emotional Side of "Diamonds"
Photo by Paul Kolnik, Courtesy NYCB
I had grown up watching Kyra Nichols and Wendy Whelan dancing "Diamonds," and it was my absolute dream to dance it, too. I immediately connected to "Diamonds." It's big, dramatic movement, nothing small, and I don't think there's anything small about my dancing. I have to reach deep down in my soul to do this ballet, to rise to the level of the choreography, the costumes..."Diamonds" is just on another level from anything else I've done. It takes everything out of you, if you're willing to put that much into it.
---
When I first started dancing this ballet, I was so over-the-top and full-out. Now I've learned that I can find moments to calm down and just be me, and that's enough. I don't have to comment on top of the choreography. I can just let the audience take it in. I've danced it with five different partners now and always find something new to do, because it's a long, epic journey with each one. There's no story, but there are definitely moments of tension. There are elements in the pas de deux called "Swan Lake," and others we call "cavalier and queen," so it's not just dancing to pretty music. There's got to be something going on in your brain.
One of the hardest parts is the polonaise at the end. No matter how much I rehearse or perform it, I get to that last section and think, "I don't know if I can do this. I don't know if I can get on relevé for that last pirouette!" One time it did happen—I didn't get up onto relevé. But it happens to everybody.
I always get emotional at the end. Everyone is onstage together, dancing to this glorious music. It's the culmination of everything Jewels is about. It was Balanchine's genius to use the music to celebrate dancers and make them look their best, and that's what I feel "Diamonds" does for me.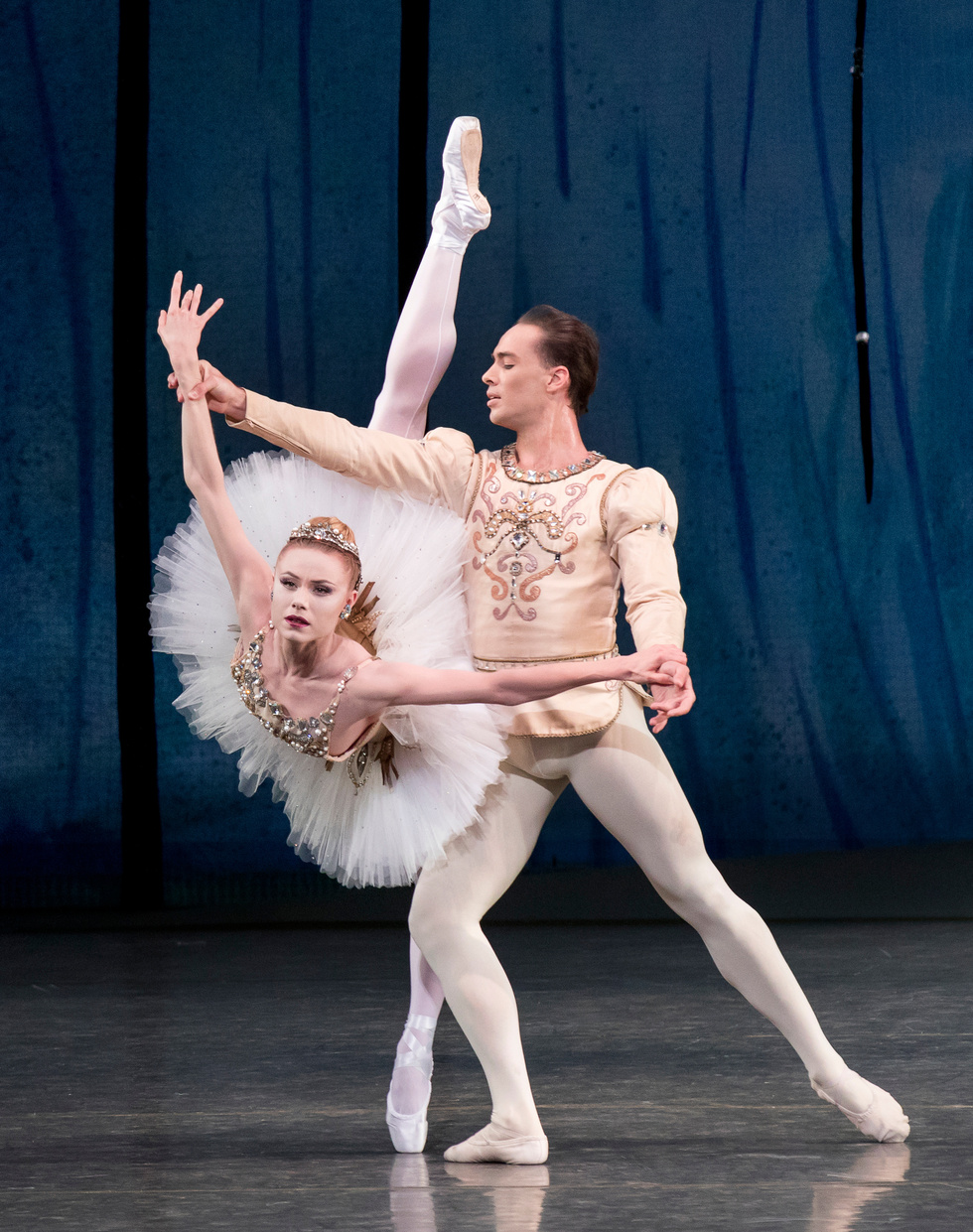 Mearns with Tyler Angle. Photo by Paul Kolnik, Courtesy NYCB.
popular
Aug. 18, 2017 01:53PM EST
via Instagram, Vail Dance Festival
Our favorite dancers might not be in the midst of a performance season, but that hasn't stopped them from popping up on stages across the U.S. From the Tiler Peck-curated BalletNow in Los Angeles, to Isabella Boylston's upcoming Ballet Sun Valley festival in Idaho, the summer isn't slowing the ballet world down.
The biggest showcase of them all, Vail Dance Festival, just celebrated its 29th season in the Colorado Rocky Mountains. Led by artistic director Damian Woetzel, Vail Dance Festival presented two weeks of performances from top dancers across various techniques (some even tried out an entirely new discipline on stage). Ahead, check out some of our favorite Vail moments to watch on repeat.
Keep reading...
Show less
Courtesy Retribution Media
Marcelo Gomes' clean technique, skilled partnering and magnetic stage presence make him one of the world's most versatile and in-demand male dancers of his generation. This year saw the principal dancer celebrate his 20th anniversary with American Ballet Theatre, a company he joined at just 17 years old. Coinciding with this milestone was the release of the feature length documentary Anatomy of a Male Ballet Dancer, created by the two-man team David Barba and James Pellerito—who actually approached Gomes via Facebook. The documentary, which was seven years in the making, has been making the film-festival circuit this year, most recently August 6 at the Jacob's Pillow Dance Festival.
The film combines intimate interviews with backstage and rehearsal footage and archival video. It focuses on Gomes' skill and prowess as a partner and includes interviews with some of the world's top ballerinas including Diana Vishneva, Polina Semionova and Misty Copeland.
Keep reading...
Show less
Macgill in Peter Martins' Fearful Symmetries. Photo by Paul Kolnik, Courtesy New York City Ballet.
"I remember looking out and feeling the light," says Alston Macgill of her debut in the third movement of Symphony in C during New York City Ballet's 2016 tour to Paris. "I felt this enormous joy going through me." She was just an apprentice at the time, and the production was being taped for PBS's "Great Performances." From the moment Macgill flew onstage—light, energetic, buoyant—she seemed to barely touch the ground. Despite her speed and elevation, there was nothing forced about her performance; her energy was calm and free, the coordination seemingly natural.

The Savannah, Georgia, native was already turning heads as a stu- dent at the School of American Ballet, where she enrolled after training at The STUDIO Savannah and The Rock School for Dance Education in Philadelphia. She became an NYCB apprentice in 2015, and was soon selected by the French choreographer Nicolas Blanc for his ballet Mothership. A few months later came her big break in Symphony in C, which she found out about a week before the performance.
Keep reading...
Show less


Get Pointe Magazine in your inbox