Remember These Names: The 2017 YAGP Winners
Lauren Hunter, here at the Prix de Lausanne, also placed at YAGP. Photo by Gregory Batardon.
The Youth America Grand Prix has a knack for finding ballet's big names of tomorrow, and the latest crop of potential stars has arrived. At the end of last week, the winners of YAGP's New York City finals were announced with many dancers taking home scholarships to schools worldwide.
If you follow the competition circuit, you may be familiar with several of these names, but Pointe readers will definitely recognize Lauren Hunter, who came in third place for females in the senior age division. That's an impressive feat for any young dancer, but it's not the first prize Hunter has taken home this year. In our current April/May issue, we followed her throughout her journey at the Prix de Lausanne in Switzerland, where she advanced to the final round. (Spoiler alert: She won fifth place and a scholarship to The Royal Ballet School.)
---
Check out the winners, and make a mental note of their names. In a few years, they'll likely be popping up in programs and company rosters.
Grand Prix (not awarded)
Senior Women
1st, Gloria Benaglia (USA)
2nd, Chloe Misseldine (USA)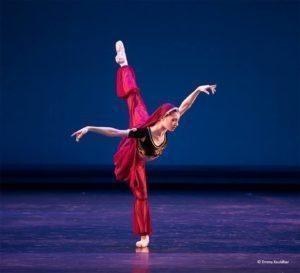 Gloria BenagliaPhoto by Emma Kauldhar, via Dance Europe
Senior Men
1st, Taro Kurachi (USA)
2nd, Jun Young Yang (South Korea)
3rd (Tie), Jan Spunda (Czech Republic)
3rd (Tie), Yuedong Sun (China)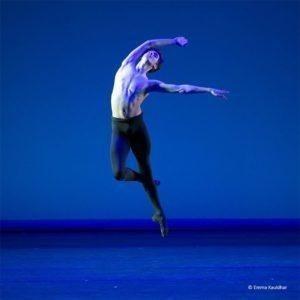 Jan SpundaPhoto by Emma Kauldhar, via Dance Europe
Madison Penney (USA)
Junior Women
1st, Hanna Park (South Korea)
2nd, Viola Pantuso (USA)
3rd (Tie), Jordan Coutts (USA)
3rd (Tie), Juliette Bosco (USA)
Junior Men
1st, Takumi Miyake (Japan)
2nd, Lazaro Corrales (Canada)
3rd, Darrion Sellman (USA)
Shelley King Award for Excellence
Remie Madeleine Goins
Grishko Award
Sophia Vance
The Outstanding Artistry Award
Jan Spunda
Natalia Makarova Award
Elisabeth Beyer
Outstanding School Award
Academia Annarella
For a full list of all the winners and the schools they represented, click here.
For more news on all things ballet, don't miss a single issue.
ADrian Durham in CPYB's production of "The Legend of Sleepy Hollow." Photo by Rosalie O'Connor, Courtesy CPYB.
As a teenager, Adrian Durham studied at his local ballet school in Lake Charles, Louisiana. "I was one of three or four guys training there, and there were no male teachers," says Durham. "Most of my partnering experience came from rehearsals for performances." But after he began training with the male scholarship program at Central Pennsylvania Youth Ballet in 2014, he experienced a sea change. "It challenged me mentally, physically and emotionally, because it's such an intense program," he says. Now 20, he is preparing for a professional career with an integrated set of tools: ballet technique, physical strength and partnering skills.
Men's ballet technique classes have been available for decades, especially at summer intensives and urban ballet schools. Yet programs designed specifically for male dancers, often offering full scholarships, have been rarer—until now, that is. Training that allows boys to separately explore their skills, above and beyond a supplement of double tours en l'air and pirouettes à la seconde at the conclusion of a mixed class, can literally give young men a leg up as they aspire towards a dance career.
Keep reading...
Show less
American Ballet Theatre's Cassandra Trenary seems to have it all—not only is our June/July 2016 cover star a dazzling soloist at ABT, she has a sunny, down-to-earth personality and a life-saving hero for a husband. But her first year in the company had its fair share of disappointments—in fact, she almost left dance altogether to pursue acting.
In May, the National YoungArts Foundation, an organization that provides scholarships and mentorship to aspiring performing artists, brought Trenary (herself a 2011 YoungArts winner) and ABT artist in residence Alexei Ratmansky together for a salon-style discussion. Together they talked about critical turning points in their careers, as well as the challenges of navigating the dance world as a young professional. Below are exclusive excerpts of their interview—we hope their words inspire you as much as they inspire us!
There's still time to enter YoungArts's national arts competition for a chance at scholarships, workshops and more. Click here for information on how to apply.
Mar. 20, 2013 08:25PM EST
Alessandra Ferri in "Romeo and Juliet." Photo by Rosalie O'Connor, Courtesy ABT.
To watch Irina Kolpakova coach Swan Lake is to witness a true artist at work. Although long retired from the stage, the American Ballet Theatre ballet mistress still possesses a commanding presence and an instinctive artistic spirit.

"Don't think about your shape when you first see Siegfried," she tells soloist Isabella Boylston during rehearsal for Odette's Act II entrance. "This is not 'port de bras.' This is 'Don't touch me!' " Kolpakova demonstrates, transforming instantly into the Swan Queen. Her eyes sparkling and alive, every inch of her diminutive stature swells with a palpable energy capable of reaching the highest ring of the balcony.

Call it stage presence, call it the "it" factor, some dancers just have a natural ability to draw people in and change the atmosphere around them. Stage presence can carry a dancer to a higher artistic realm. It's the final piece of the puzzle, the emotional heart of a performance that can bring an audience to tears. Without it, even the best choreography risks falling flat.
Keep reading...
Show less
Via Instagram
Last fall, Diana Vishneva shocked her NYC following when she announced that she would give her final performance with American Ballet Theatre on June 23, 2017. The Russian-born dancer has been part of ABT since performing in Romeo and Juliet as a guest artist in 2003, and has held the title of principal dancer with the company since 2005 in addition to her principal role with the Mariinksy Ballet. Throughout her time with ABT, which she spoke about in the below video for The New Yorker, Vishneva has danced as a guest artist with Bolshoi Ballet, Paris Opera Ballet and Berlin State Ballet.
Keep reading...
Show less


Get Pointe Magazine in your inbox