The season premiere of "Breaking Pointe" has just been moved up to July 22. We can hardly wait to find out what's in store this time around. In the meantime, we're fantasizing with our fingers crossed about a few things we hope to see:
1. Footage of Jewels. Ballet West performed the full ballet for the first time this April, and we'd love to go into some rehearsals and get a peek behind the curtain. Beckanne Sisk in the lead of "Rubies"? We bet she's pretty great.
2. Speaking of Beckanne, we want to see her let her guard down a bit more in front of the cameras. Last season, she was exquisite and elegant and polite, but she didn't quite seem like a real person. Luckily, in an interview she gave for Pointe's June/July issue, she told me, "This season is gonna be a lot different—you really see a whole new side to me. I didn't notice the cameras nearly as much this time; I just did my own thing and didn't bite my tongue as much. Which could end up being a good thing or a bad thing."
3. Hopefully they show us more crazy dancer-ness, like Allison and Katie sacrificing a kitchen table so that they can have a "stretching room" in their house!
4. From the trailer (below), it looks like Ronnie gets seriously injured. This is such a huge and horrible part of a dancer's life. We hope the producers really show how he handles the setback and what he does to help his body recover without making the drama of this experience silly. (Remember how they repeated Rex's fall so many times one episode last season they might as well have created a gif?)
5. Most of all, we hope dancers truly embrace the show. Yes, it's reality TV and overdramatized and obsessed with The Allison & Rex Story. But it's being streamed into the homes of people who think that ballet dancers put their fingers on top of their heads in fifth position. If Allison and Rex are what it takes to get them interested in Balanchine and Ashton, we'll take it.
Photo by Amitava Sarkar
"I'm kind of a collector of clothes," says Natalie Varnum. The Houston Ballet corps member turned a spare room in her home into a walk-in closet and fills it with eccentric pieces. "I love big, clear oversized sunglasses; or a high-waisted pant, socks and loafers; or a newsboy hat," she says. Varnum is inspired by icons from the '60s and '70s—Jimi Hendrix, Jane Birkin, Elton John—and she finds endless ideas on social media. She'll search Pinterest for photos, follow up-and-coming stylists on Instagram or update her own blog with "outfit of the day" posts. It was through Instagram that she recently met South Korea–based designer Sandra Meynier Kang, who reached out in hopes of collaborating and sent her a sample from her new leotard line. "It's the best way to make faraway friends now," Varnum says.
In the studio, Varnum takes a more conventional approach—sometimes. "I like a classic ballerina look, like light pink, long sleeves," she says, "or I go for something completely crazy." She commissions fun patterned leotards from her friend, former company dancer Jordan Reed, who now runs Lone Reed Designs. Her collection includes leos printed with pizza and doughnuts. Whatever she's wearing, Varnum is not afraid to stand out. "There's a time and place for a classic little black dress," she says, "but I tend to go for the more out-there pieces and colors."
Keep reading...
Show less
A still from "Medicine Man"
Is there anything Tiler Peck can't do?
Promoted to principal at New York City Ballet by 20. Leads in everything from Balanchine's jazzy Who Cares? to classics like Sleeping Beauty to entirely new creations. A starring role in the musical Little Dancer. Check, check, check. (And that's just the beginning of the list.)
Now, her latest accomplishment is music video dancer. And we're not talking about a tiny back-up role. In Charlotte OC's new video for "Medicine Man," Peck is the sole performer of a lush contemporary ballet solo on pointe.
Keep reading...
Show less
Jul. 18, 2017 11:18PM EST
San Francisco Ballet's Jennifer Stahl in William Forsythe's "Pas/Parts." Photo by Erik Tomasson, Courtesy of SFB.
The past few months have brought promotions galore. We already shared Miami City Ballet's list in May as well as the major news from American Ballet Theatre last week, but we rounded up the news from nine other major companies to keep you in the loop.
The Royal Ballet
Exciting news came from London last week when Yasmine Naghdi was promoted to principal dancer after what director Kevin O'Hare called an "extraordinary year." Additional promotions include Matthew Ball and Marcelino Sambé to first soloist, and Reece Clarke, Benjamin Ella and Anna Rose O'Sullivan to soloist. Hannah Grennel, Calvin Richardson, Gina Storm-Jensen and David Yudes will take on the rank of first artists.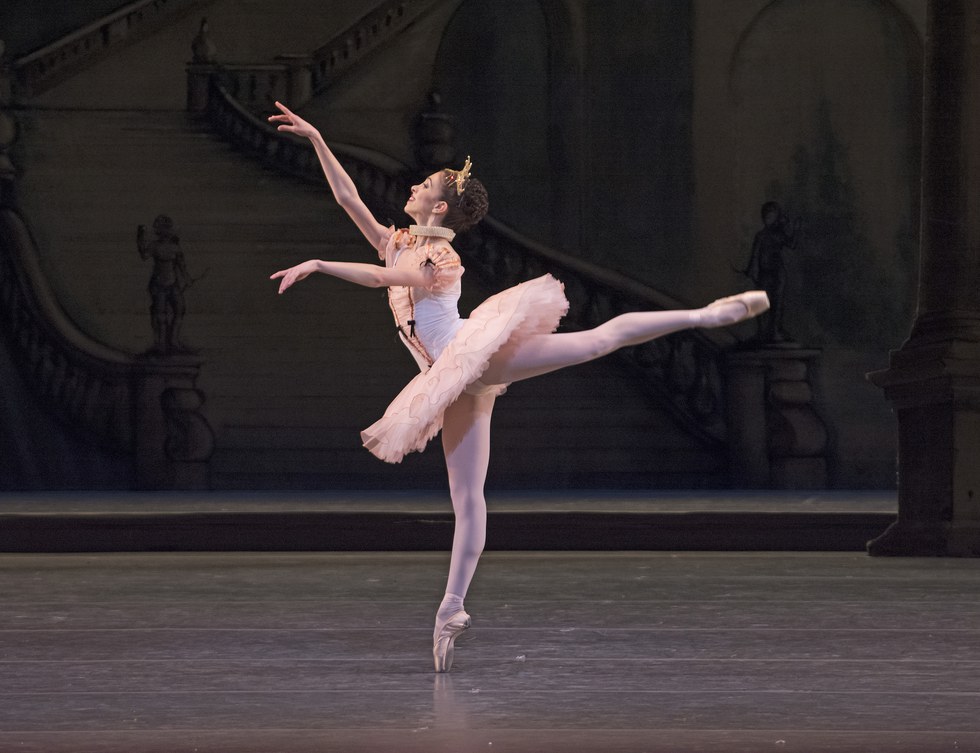 Yasmine Naghdi in "The Sleeping Beauty." Photo by Tristram Kenton, Courtesy of ROH.
San Francisco Ballet

With the retirement of longtime principal Lorena Feijoo and husband and wife team Davit Karapetyan and Vanessa Zahorian after the 2017 season, SFB had big (ballet) shoes to fill. In June the company announced ten promotions, including eight new members and six apprentices. Who's moving up? Jennifer Stahl (check out her crunchy kale recipe here) has been promoted to principal, and Isabella DeVivo, Jahna Frantziskonis (our February/March cover star), Esteban Hernandez and Steven Morse will be soloists. Filling those spots in the corps are SFB apprentices Alexandre Cagnat, Shené Lazarus, Davide Occhipinti, Nathaniel Remez and Isabella Walsh. Ulrik Birkkjaer and Ana Sophia Scheller are coming into the company as principals as well as a list of new corps members including English National Ballet dancer Madison Keesler. This spring will bring SFB's exciting Unbound festival of new works, and we're looking forward to seeing these dancers get their moment in the spotlight.
Keep reading...
Show less


Get Pointe Magazine in your inbox