And the Nominees for the Benois de la Danse Are...
Stella Abrera in "Le Corsaire," Photo by Rosalie O'Connor
Hollywood may have the Oscars, but ballet has the Benois de la Danse. The glamorous awards ceremony, held each year at Moscow's Bolshoi Theatre, recognizes the year's best dancers and choreographers around the globe. The 2017 nominees were announced yesterday, and they include some of our favorite dancers, including two Pointe cover stars!
Two principal ballerinas from U.S. companies, American Ballet Theatre's Stella Abrera and Boston Ballet's Misa Kuranaga, were nominated for best female dancer. Abrera who graced our December/January cover, was nominated for her debut as Aurora in Sleeping Beauty. It's heartening to see this longtime ABT dancer receive the star treatment she deserves since her promotion to principal in 2015. Kuranaga, who was our August/September 2012 cover star, is being recognized for her performances in not one, but two roles: Tatiana in Onegin and Medora in Ivan Liška's Le Corsaire.
---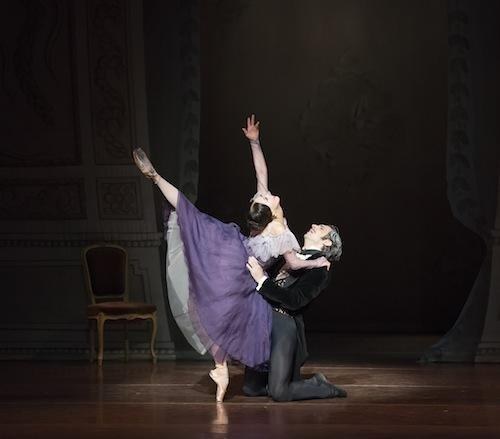 Kuranaga in OneginPhoto by Gene Schiavone, Courtesy Boston Ballet.
The Benois de la Danse will take place May 30–31. Stay tuned to find out who wins. Check out the complete list of nominees below:
Ballerinas
Stella Abrera for Princess Aurora in The Sleeping Beauty, American Ballet Theatre
Nina Kaptsova for Short Time Together, Bolshoi Ballet
Misa Kuranaga for Tatiana in Onegin and Medora in Le Corsaire, Boston Ballet
Ludmila Pagliero for Other Dances, Paris Opéra Ballet
Seul-Ki Park for Aegina in Spartacus, Korean National Ballet
María Riccetto for Tatiana in Onegin, National Ballet of Uruguay
Dancers
Gustavo Carvalho for Don Jose in Carmen, National Ballet of Uruguay
Davide Dato for Abderakhman in Raymonda, Vienna State Ballet
Jae-Woo Lee for Carabosse in The Sleeping Beauty, Korean National Ballet
Brooklyn Mack for Theme and Variations, The Washington Ballet
Hugo Marchand for Romeo in Romeo and Juliet, Paris Opéra Ballet
Denis Rodkin for Solor in La Bayadère, Bolshoi Ballet
Jeffrey Cirio for Colas in La Fille mal gardée and title role in Prodigal Son, American Ballet Theatre
Choreographers
Sidi Larbi Cherkaoui for Exhibition, Royal Ballet of Flanders
Edward Clug for Handman, Nederlands Dans Theater
Hyo-Hyung Kang for Into the Pulse, Korean National Ballet
Akram Khan for Giselle, English National Ballet
Crystal Pite for The Seasons' Canon, Paris Opéra Ballet
Alexei Ratmansky for Serenade after Plato's Symposium, American Ballet Theatre
Demis Volpi for Salomé, Stuttgart Ballet
For more news on all things ballet, don't miss a single issue.
American Ballet Theatre's Cassandra Trenary seems to have it all—not only is our June/July 2016 cover star a dazzling soloist at ABT, she has a sunny, down-to-earth personality and a life-saving hero for a husband. But her first year in the company had its fair share of disappointments—in fact, she almost left dance altogether to pursue acting.
In May, the National YoungArts Foundation, an organization that provides scholarships and mentorship to aspiring performing artists, brought Trenary (herself a 2011 YoungArts winner) and ABT artist in residence Alexei Ratmansky together for a salon-style discussion. Together they talked about critical turning points in their careers, as well as the challenges of navigating the dance world as a young professional. Below are exclusive excerpts of their interview—we hope their words inspire you as much as they inspire us!
There's still time to enter YoungArts's national arts competition for a chance at scholarships, workshops and more. Click here for information on how to apply.
ADrian Durham in CPYB's production of "The Legend of Sleepy Hollow." Photo by Rosalie O'Connor, Courtesy CPYB.
As a teenager, Adrian Durham studied at his local ballet school in Lake Charles, Louisiana. "I was one of three or four guys training there, and there were no male teachers," says Durham. "Most of my partnering experience came from rehearsals for performances." But after he began training with the male scholarship program at Central Pennsylvania Youth Ballet in 2014, he experienced a sea change. "It challenged me mentally, physically and emotionally, because it's such an intense program," he says. Now 20, he is preparing for a professional career with an integrated set of tools: ballet technique, physical strength and partnering skills.
Men's ballet technique classes have been available for decades, especially at summer intensives and urban ballet schools. Yet programs designed specifically for male dancers, often offering full scholarships, have been rarer—until now, that is. Training that allows boys to separately explore their skills, above and beyond a supplement of double tours en l'air and pirouettes à la seconde at the conclusion of a mixed class, can literally give young men a leg up as they aspire towards a dance career.
Keep reading...
Show less
Mar. 20, 2013 08:25PM EST
Alessandra Ferri in "Romeo and Juliet." Photo by Rosalie O'Connor, Courtesy ABT.
To watch Irina Kolpakova coach Swan Lake is to witness a true artist at work. Although long retired from the stage, the American Ballet Theatre ballet mistress still possesses a commanding presence and an instinctive artistic spirit.

"Don't think about your shape when you first see Siegfried," she tells principal Isabella Boylston during rehearsal for Odette's Act II entrance. "This is not 'port de bras.' This is 'Don't touch me!' " Kolpakova demonstrates, transforming instantly into the Swan Queen. Her eyes sparkling and alive, every inch of her diminutive stature swells with a palpable energy capable of reaching the highest ring of the balcony.

Call it stage presence, call it the "it" factor, some dancers just have a natural ability to draw people in and change the atmosphere around them. Stage presence can carry a dancer to a higher artistic realm. It's the final piece of the puzzle, the emotional heart of a performance that can bring an audience to tears. Without it, even the best choreography risks falling flat.
Keep reading...
Show less
Jun. 23, 2017 05:46PM EST
Via Instagram
Last fall, Diana Vishneva shocked her NYC following when she announced that she would give her final performance with American Ballet Theatre on June 23, 2017. The Russian-born dancer has been part of ABT since performing in Romeo and Juliet as a guest artist in 2003, and has held the title of principal dancer with the company since 2005 in addition to her principal role with the Mariinksy Ballet. Throughout her time with ABT, which she spoke about in the below video for The New Yorker, Vishneva has danced as a guest artist with Bolshoi Ballet, Paris Opera Ballet and Berlin State Ballet.
Keep reading...
Show less


Get Pointe Magazine in your inbox