popular
Sep. 19, 2017 05:51PM EST
The Wortham Theater Center, where Houston Ballet performs, after Hurricane Harvey. Photo by Monica Guerra, Courtesy Guerra.
After Hurricane Harvey flooded Houston Ballet's facilities and damaged its home theater, the Wortham Center, the company wasted no time finding temporary rehearsal space and rescheduling its first two programs of the season at the nearby Hobby Center. But today, the Texas company faced another major blow: The Wortham Center announced that it will be closed for repairs until at least mid-May. That means Houston Ballet now needs to reschedule more than half of its season—including 34 performances of Nutcracker.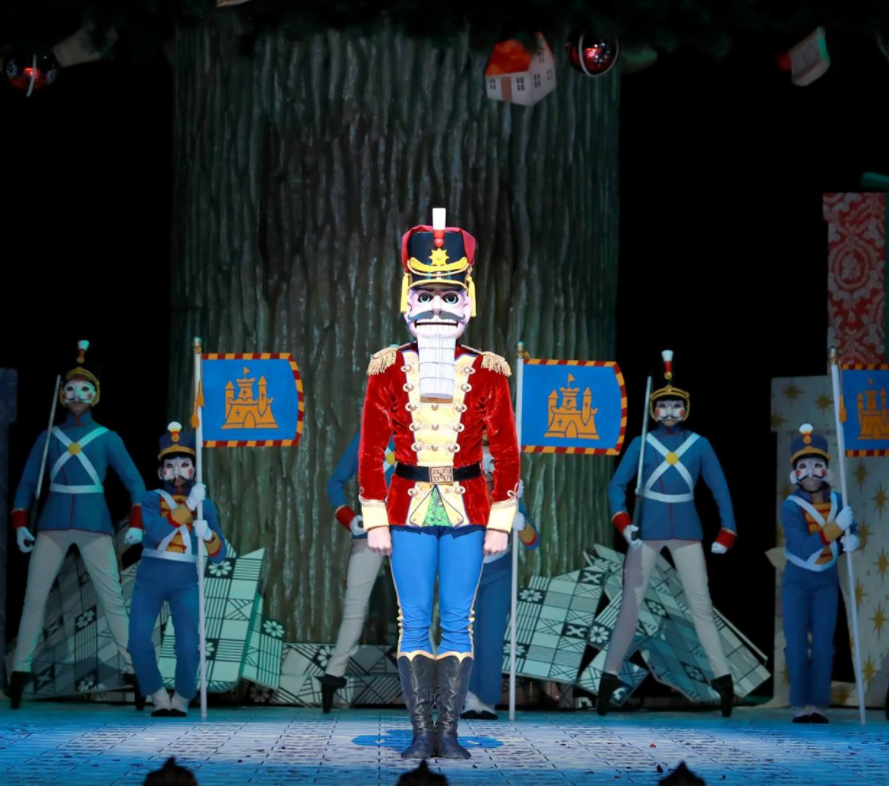 A scene from Stanton Welch's "Nutcracker. Photo via Facebook.
As everyone in the dance world knows, Nutcracker is a major financial lifeline for American ballet companies. Houston's production, choreographed by artistic director Stanton Welch with sets and costumes by Tim Goodchild, was brand-new last year. (Fortunately, the company moved its sets and costumes to a safe location during the storm.) Finding space for a month-long run will surely not be easy, and the Hobby Center looks booked. While there's no news of a backup plan yet, here's hoping Houston Ballet will receive some Nutcracker magic—and be able to find a new home for this year's production. We'll keep you posted once they do.
Daniil Simkin. Courtesy Works & Process at the Guggenheim.
On the heels of his successful 2015 project INTENSIO , American Ballet Theatre principal Daniil Simkin is presenting a new multi-media work at the Guggenheim Museum's Works & Process series set in the museum's multistoried rotunda. "The rotunda is iconic, white and symmetrical," he says. "Having dance and projection in there is an amazing sight." The new work, created by Hubbard Street Dance Chicago resident choreographer Alejandro Cerrudo, is titled Falls the Shadow and will premiere September 4.
Keep reading...
Show less
Videos
Aug. 28, 2017 02:45PM EST
From Polina to Anatomy of a Male Ballet Dancer, there are plenty of ballet-themed films hitting movie theaters this month. But if you're looking for something to share with the ballet-loving youngster in your life (or just want to channel your inner dance-happy tween), Leap! might be for you. Released in France in 2016 under the title Ballerina, this animated film tells the story of Félicie (Elle Fanning), an 11-year-old French orphan who arrives in Paris with her best friend, fellow orphan and aspiring inventor Victor, during the height of the Belle Époque. Félicie dreams of becoming a ballerina at the Paris Opéra Ballet. Penniless and with nothing to lose, Félicie finds guidance in POB theater caretaker Odette (played by pop singer Carly Rae Jepsen) and "borrows" the identity of a spoiled brat in order to enter the Opera Ballet School.
While training at the school, Félicie comes up against mean girl Camille, voiced by "Dance Moms" star Maddie Ziegler. In a classic Center Stage-style plot, Camille is pushed by her mother to dance without truly loving it, whereas Félicie dances from a true sense of passion. In order to make the film's dancing look realistic, directors Eric Summer and Éric Warin used keyframe animation of POB artistic director Aurélie Dupont and étoile Jérémie Bélingard's dancing. It's always nice to see real dancers consulted when dance is represented in the realm of pop-culture, and from what we've seen the animated characters' technique looks spot-on (er, with some flying feats thrown in.)
Keep reading...
Show less
Call Board
Aug. 15, 2017 11:04AM EST
Boylston working with choreographer Gemma Bond
With most of American Ballet Theatre's classical repertoire under her belt, principal Isabella Boylston is ready for a new challenge, specifically, launching Ballet Sun Valley, a dance festival with educational outreach in her hometown of Sun Valley, Idaho. "I'm in a place in my career where I can expend a little more creative energy on outside projects," she says. This year, her long-held dream will become reality, with performances on August 22 and 24, and free dance classes on August 23. "Sun Valley has a successful symphony, and a lot of people are interested in the arts," Boylston says. "When I was there three years ago, I realized the Sun Valley Pavilion would be the perfect venue for dance." Hilarie Neely, Boylston's first ballet teacher, put her in touch with a team of executive producers who have assisted with fundraising and technical logistics.
Once Boylston knew the festival was happening, she was faced with the task of creating dynamic programming. "All the dancers I'm inviting are close friends who I've danced with before, and choreographers I have relationships with," she says. Audiences can expect classical repertoire, plus ballets by Justin Peck, Alexei Ratmansky and Pontus Lidberg.
Keep reading...
Show less


Get Pointe Magazine in your inbox