In three brief years, Houston Ballet's Joseph Walsh has become a dancer to watch in works as different as William Forsythe's The Vertiginous Thrill of Exactitude and Kenneth MacMillan's Manon. (His recent debut as Des Grieux earned raves.) Houston Chronicle critic Molly Glentzer describes him as "elegant and light on his feet, with a princely but not arrogant lift of his chin that also gives him a slight air of mystery." After winning a 2009 Princess Grace Award, Walsh was promoted to soloist—though he only joined the second company in 2006, and the main company the following year. This month, Walsh turns his talents to Mark Morris' Sandpaper Ballet. —Nancy Wozny
Joseph Walsh: I've tried to emulate ballet dancers that I've seen do Morris' work, like Ethan Stiefel;
that floating, airy quality really fits my body. Morris choreographs in sentences and paragraphs rather than words, so the steps flow well. The looseness is another story, especially in the men's dance. Morris suggests whistling while we dance, because male dancers can be too stiff. That's where the sandpaper part comes in—it's like we do a soft shoe. We are all supposed to be buddies and super-relaxed, but the patterns are actually very complicated, so I am still thinking a lot. It's not second nature yet, but I'm getting there.
I have the trumpeter solo, which morphs into a pas de deux with Emily Bowen. The phrasing stops and starts with the breath of the trumpeter and it's complex in its coordination and timing. It's also very theatrical. Emily is a great partner—when I look into her eyes, she's always emotionally connected. After doing so much solo and duet work this season, it's really fun to be in such a huge group ballet. That feeling of being absolutely together, when we all know where we are onstage without looking around, is so satisfying. Of course, the challenge is getting to that place.
Merle Park and Wayne Eagling in "Voices of Spring"
Sir Frederick Ashton first choreographed the Voices of Spring pas de deux on Royal Ballet stars Merle Park and Wayne Eagling in 1977 for a ball scene in Johann Strauss II's operetta Die Fledermaus. The lively duet is a favorite in galas and mixed bills these days, but Park and Eagling's version from this 1983 video is a spectacular, must-see combination of cheek and elegance.
Keep reading...
Show less
Honji Wang and Sara Mearns. Photo by Brooke Trisolini, Courtesy of Jacob's Pillow Dance.
We all know that seeing world class dance is expensive. But for two weeks a year New York City Center offers $15 tickets to their Fall for Dance Festival. This magical unicorn of an experience features five unique programs and will run from October 2-14.
The program includes five world premieres commissioned specifically for the Festival, three of which feature some of our favorite ballet superstars.
Program One (Oct. 2-3) will showcase a new work by choreographer and New York City Ballet soloist Troy Schumacher on 14 dancers from Miami City Ballet. While rehearsals are still in progress, we do know that the piece will be a meditation on childhood set to Francis Poulenc's Concerto for Two Pianos in D Minor.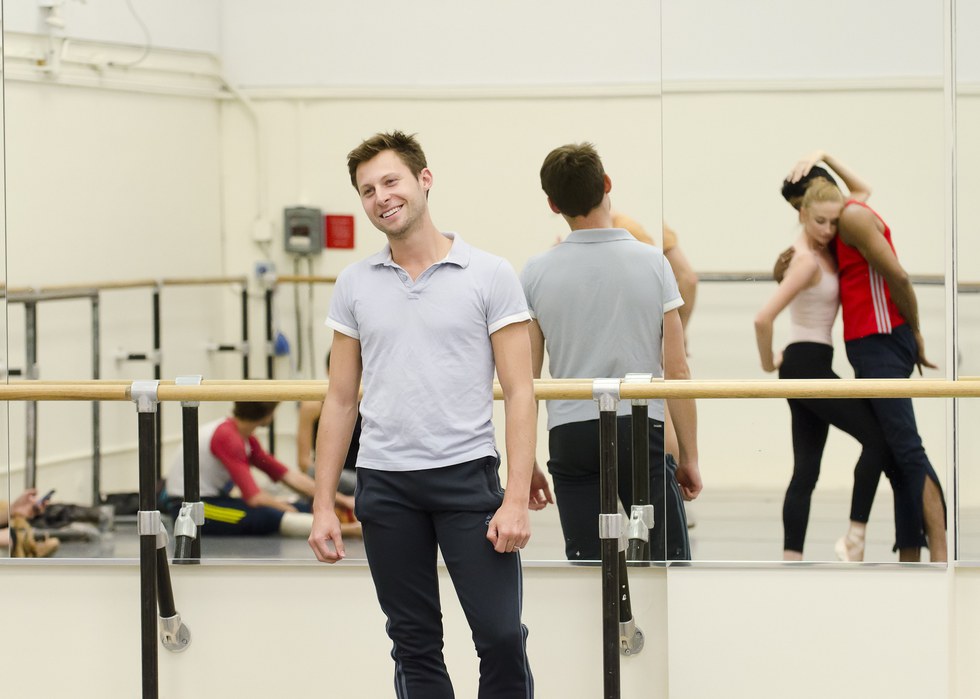 Troy Schumacher in rehearsalPhoto by Kyle Froman for Pointe
Keep reading...
Show less


Get Pointe Magazine in your inbox