The Mariinsky Ballet's Uliana Lopatkina: Purity and Power
Lopatkina and Danila Korsuntsev in Balanchine's "Symphony in C." Photo by N. Razina, Courtesy Mariinsky Theater.
Last weekend, the Mariinsky Ballet announced on its website that one of its most revered prima ballerinas, Uliana Lopatkina, has retired from the stage. A principal dancer since 1995, Lopatkina's interpretation of Odette/Odile and "The Dying Swan", among other roles, was legendary. To honor her dance career, we're re-visiting this interview from the February/March 2013 issue.
What's the toughest part of being a dancer?
More than most professions, ballet erodes the private sphere. You don't fulfill yourself in this career: You serve it; you're a slave to it.
What ballet makes you most nervous?
Swan Lake. Even if it's not the most difficult ballet to perform, it's difficult in another way, a mystical way.
---
You've been dancing Swan Lake for nearly 20 years. Are you still discovering new things in it?
Yes, but the choreography and the traditions behind it are limiting. All you can bring to it is nuances, and not everyone can see them. I also have my limits. Odile can be very evil, brutal, and I could try that, but I don't want the audience to see me that way.
Of which accomplishment are you most proud?
Perhaps the birth of my daughter, but it's not an accomplishment; it's a gift for me to have been able to have a child.
Who is your toughest critic?
My mother. She comes to all my performances in St. Petersburg. I don't even want to call her afterwards, but she calls me!
What do you do to stay injury-free?
I try to be very reasonable with rehearsals, to warm up well and be precise in the studio. You have to treat your body like a child: Don't indulge its whims, but know the limits of what it can endure.
When you're offstage, are you more sneakers and sweatpants or high heels?
Neither. I like wearing ballet flats, jeans and a lace top or something made of natural fibers.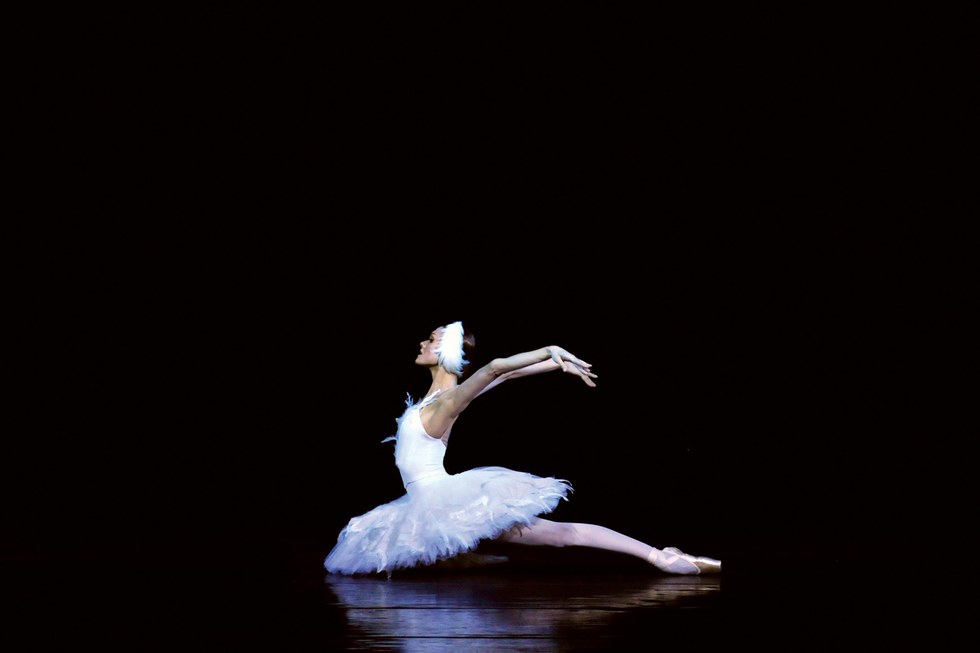 Photo courtesy Lopatkina
What do you do on your days off?
I try to think of ways I can keep my figure!
What would you take with you to a desert island?
My faith in God.
How would you like to be remembered?
With very simple words: She was a good person.
Amir Shah being coached by Yehuda Maor. Photo via Shah's GoFundMe campaign.
Ballet is a global art form, with top dancers hailing from around the world. Wherever you go, a plié is a plié, regardless of the language spoken. Still, it's not everyday that you hear about a classical ballet dancer from India.
Amir Shah, a 15 year old from a low-income neighborhood in Mumbai, hopes to change that. According to a GoFundMe page created by the teen's teacher, he's only been studying ballet for two years. Still, the ambitious dancer has been granted something countless students could only dream of: admittance into American Ballet Theatre's prestigious Jacqueline Kennedy Onassis School.
Keep reading...
Show less
Jun. 27, 2017 08:44PM EST
From left: Hayden Stark, Derek Dunn and Daniel Durrett
When we chose Houston Ballet soloist Derek Dunn as our October/November cover star last year, we knew he could do just about everything. But what we didn't know is that he—along with his fellow HB chums Hayden Stark and Daniel Durrett—can also kill it in pointe shoes! Apparently while the company was preparing for La Bayadère earlier this month, Dunn, Durrett and Stark got inspired to tackle the three Shades' variations from Act III. And they do not disappoint. From Stark's rock-solid relevés in arabesque to Dunn's near-silent footwork to Durrett's super-controlled ballonnés, these three pretty much nail their variations with both grace and aplomb. And, you know, with some double cabrioles and saut de basques thrown in.

This isn't the first time "sur les pointes" for Dunn (who announced on Instagram that he's leaving Houston Ballet for a yet-undisclosed company) or for Stark. Both were required to wear pointe shoes as the evil stepsisters in Stanton Welch's Cinderella in March. Still, knowing how many years it took me to perfect my pointework, I can't help but feel a little jealous of these guys.
Jun. 27, 2017 04:27PM EST
Photo by Joe Plimmer
A gentle presence in the studio, Kevin O'Hare was widely seen as a safe pair of hands when he took over as The Royal Ballet's director upon Monica Mason's retirement in 2012. A former principal with Birmingham Royal Ballet, a sister company of The Royal, he had danced much of the British repertoire; as The Royal's administrative director, he knew the London-based institution inside out.
Yet when he was appointed, O'Hare quietly set himself a radical challenge: In 2020, for a full year, he intended to present only works created in the decade prior. "I think we can do it. We're on track," he says now with a laugh. "If we're not pushing ourselves, giving the dancers opportunities to create new roles, then there's no point in being here."
That commitment to renewed creativity, balanced with a sensible respect for the British ballet heritage, has been the hallmark of O'Hare's directorship. Since he took the helm, The Royal has produced at least one new full-length ballet nearly every season, with hits including Christopher Wheeldon's The Winter's Tale and Wayne McGregor's Woolf Works, but not at the expense of his- torical works. A new generation of British- trained dancers has also emerged, nurtured by O'Hare to take over the repertoire.
Keep reading...
Show less
Jun. 26, 2017 10:11PM EST
Andersen in Balanchine's "Valse-Fantaisie." Photo by Daniel Azoulay, Courtesy Miami City Ballet.
I got my corps contract on my 18th birthday. It was such a relief. I had convinced myself that I would be okay not dancing, but inside I just wanted to get a contract with Miami City Ballet.
I'd trained at Milwaukee Ballet School pretty much my whole life, and in 2014 I went to the MCB summer program and loved it. They invited me to stay for the year, and right when I got there, they offered me an apprenticeship. I spent the next two years as an apprentice. My second year I got to tour with the company and did Swan Lake, The Nutcracker and Bourrée Fantasque.
Once I was told that I had a contract, it felt like so much weight was lifted off my shoulders. Every single person came up and individually congratulated me. They were so kind, and ever since then they've been like a big family.
It's such a jump from being in a school setting to being in the company. I'm lucky that I was able to experience so much firsthand as an apprentice, but there were still some things that I couldn't get used to. As an apprentice, I would spend half my day rehearsing and taking class at the school, and the other half rehearsing with MCB. Once I got into the company, there was so much less work. It was hard to stay in shape and make sure that I was on top of my dancing. The ballet masters don't give you as many corrections, and I didn't have anybody there to discipline me. It was all self-motivation.
Keep reading...
Show less


Get Pointe Magazine in your inbox