When Miami City Ballet soloist Allynne Noelle dances the "tall girl" in Balanchine's "Rubies" from Jewels, her long, supple legs and natural vivacity punctuate the jazzy choreography. Her sheer enjoyment of the movement gives the solo an all-American dash of wholesome sex appeal. "I love 'Rubies,' " she says. "I think the solo girl's personality fits me well. She's sassy, but classy."
Noelle never expected her favorite role to be in a Balanchine work, nor to end up in a company where Balanchine remains the lynchpin of the repertoire. "Ironically, I never had formal Balanchine training," she says. A native of Huntington Beach, California, Noelle began dancing at the Huntington Academy of Dance at age 5. The school focuses on Cecchetti technique, and even when Noelle moved on to Ballet Pacifica's school, the emphasis was on a clean, uninflected style.
Her first real Balanchine exposure came when she began dancing at Inland Pacific Ballet in Montclair, California. Former NYCB?dancer Patricia Neary set Serenade, Concerto Barocco and Who Cares? on the company. Noelle found herself surprisingly at ease in the movement. "In classical ballet, you're either right or wrong," she says. "Balanchine has a lot more freedom. You can go to extremes."
During a production of Coppélia, she met celebrated coach Stanley Holden. He suggested Noelle audition for Edward Villella, MCB's artistic director, when the company toured California. Noelle took his advice, then went to see the company that night. "I thought the dancers were gorgeous," she recalls. " 'Rubies' was on the bill and I fell in love."
She joined the company as a coryphée in 2003. Villella says he values a dancer's curiosity and ability to "physicalize" music. "Allynne has the powerful mind necessary to drive her immense talent," says Villella. "You cannot dance Stravinsky without understanding what you are attempting to articulate." Noelle proved a quick study, moving into the corps midway through her first season.
Dancing under Villella's direction has cultivated Noelle's understanding of Balanchine's work. "Edward knows the ins and outs of the roles so well. He gives us the freedom to explore our own timing and interpretation." She has thrived on the Balanchine repertoire. "I love plotless ballets where I don't have to act," she says. "I can create passion and drama with my dancing."
In her downtime, Noelle likes to go to the beach and play with her dog, a 4-year-old lab mix named Dolce. Still, she doesn't like to take much time away from dancing. Even when the company is off, she continues to take class—men's class in pointe shoes. Before she was promoted to soloist in 2008, she regularly learned not only the part she was assigned, but every other corps part. As a result, she became the company's unofficial "swing," able to jump in whenever there was an injury. Ballet mistress Joan Latham singles out that work ethic as part of what has brought?Noelle success. "She is very fast and focused," says Latham. "I love her determination. She helps me remember details of the ballets I'm setting."
Noelle has also caught critics' attention dancing Taylor and Tharp. While the Balanchine roles remain her favorites—she would love to dance the lead in "Diamonds"—her dream role is one that Balanchine never choreographed: Juliet. "She's a hopeless romantic, willing to go to any extreme to find love," says Noelle. "It's the quintessential ballerina role."
Meanwhile, she feels happy to be where she is. "I'm living my dream every day," Noelle says. "I am a soloist in a company with international acclaim—that's what I've wanted to do since I was 5."

Susan Fulks contributed to the reporting of this story.
Photo by Amitava Sarkar
"I'm kind of a collector of clothes," says Natalie Varnum. The Houston Ballet corps member turned a spare room in her home into a walk-in closet and fills it with eccentric pieces. "I love big, clear oversized sunglasses; or a high-waisted pant, socks and loafers; or a newsboy hat," she says. Varnum is inspired by icons from the '60s and '70s—Jimi Hendrix, Jane Birkin, Elton John—and she finds endless ideas on social media. She'll search Pinterest for photos, follow up-and-coming stylists on Instagram or update her own blog with "outfit of the day" posts. It was through Instagram that she recently met South Korea–based designer Sandra Meynier Kang, who reached out in hopes of collaborating and sent her a sample from her new leotard line. "It's the best way to make faraway friends now," Varnum says.
In the studio, Varnum takes a more conventional approach—sometimes. "I like a classic ballerina look, like light pink, long sleeves," she says, "or I go for something completely crazy." She commissions fun patterned leotards from her friend, former company dancer Jordan Reed, who now runs Lone Reed Designs. Her collection includes leos printed with pizza and doughnuts. Whatever she's wearing, Varnum is not afraid to stand out. "There's a time and place for a classic little black dress," she says, "but I tend to go for the more out-there pieces and colors."
Keep reading...
Show less
A still from "Medicine Man"
Is there anything Tiler Peck can't do?
Promoted to principal at New York City Ballet by 20. Leads in everything from Balanchine's jazzy Who Cares? to classics like Sleeping Beauty to entirely new creations. A starring role in the musical Little Dancer. Check, check, check. (And that's just the beginning of the list.)
Now, her latest accomplishment is music video dancer. And we're not talking about a tiny back-up role. In Charlotte OC's new video for "Medicine Man," Peck is the sole performer of a lush contemporary ballet solo on pointe.
Keep reading...
Show less
Jul. 18, 2017 11:18PM EST
San Francisco Ballet's Jennifer Stahl in William Forsythe's "Pas/Parts." Photo by Erik Tomasson, Courtesy of SFB.
The past few months have brought promotions galore. We already shared Miami City Ballet's list in May as well as the major news from American Ballet Theatre last week, but we rounded up the news from nine other major companies to keep you in the loop.
The Royal Ballet
Exciting news came from London last week when Yasmine Naghdi was promoted to principal dancer after what director Kevin O'Hare called an "extraordinary year." Additional promotions include Matthew Ball and Marcelino Sambé to first soloist, and Reece Clarke, Benjamin Ella and Anna Rose O'Sullivan to soloist. Hannah Grennel, Calvin Richardson, Gina Storm-Jensen and David Yudes will take on the rank of first artists.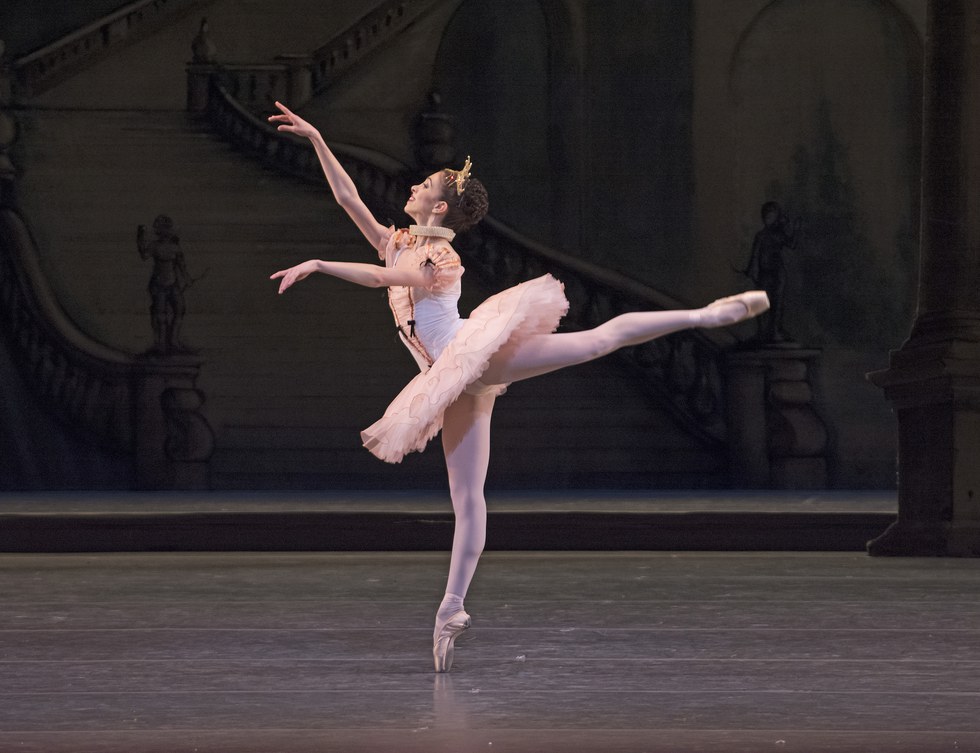 Yasmine Naghdi in "The Sleeping Beauty." Photo by Tristram Kenton, Courtesy of ROH.
San Francisco Ballet

With the retirement of longtime principal Lorena Feijoo and husband and wife team Davit Karapetyan and Vanessa Zahorian after the 2017 season, SFB had big (ballet) shoes to fill. In June the company announced ten promotions, including eight new members and six apprentices. Who's moving up? Jennifer Stahl (check out her crunchy kale recipe here) has been promoted to principal, and Isabella DeVivo, Jahna Frantziskonis (our February/March cover star), Esteban Hernandez and Steven Morse will be soloists. Filling those spots in the corps are SFB apprentices Alexandre Cagnat, Shené Lazarus, Davide Occhipinti, Nathaniel Remez and Isabella Walsh. Ulrik Birkkjaer and Ana Sophia Scheller are coming into the company as principals as well as a list of new corps members including English National Ballet dancer Madison Keesler. This spring will bring SFB's exciting Unbound festival of new works, and we're looking forward to seeing these dancers get their moment in the spotlight.
Keep reading...
Show less


Get Pointe Magazine in your inbox