Fall has officially arrived. With Thanksgiving just one month away and Christmas two months away, cold-weather cravings have kicked into high gear. And yet Nutcracker looms right around the corner. Luckily, one of my favorite dancers, Shelby Elsbree of the Royal Danish Ballet, emailed today with her recipe for a seasonal, yet nutritious spiced granola. It's definitely healthier than the cinnamon buns I've been craving.
"This spiced granola recipe is especially seasonal and delicious," she says, "not to mention a great power snack before, after and during rehearsals or performances." Be sure to check out Shelby's other baking and ballet adventures at
tutusandtea.wordpress.com
.
Shelby's Spiced Granola: 
5 cups old fashioned rolled oats
1 teaspoon pumpkin pie spice
1 teaspoon cinnamon
1/4 teaspoon freshly grated nutmeg
3/4 teaspoon salt
2 tablespoons ground flaxseed and/or wheat germ
3/4 cup brown sugar
1/2 cup pumpkin puree
1/2 cup maple syrup
1/3 cup apple sauce
1 teaspoon pure vanilla extract
Optional Add-Ins:
3/4 cup dried cherries and/or cranberries
1/2 cup sliced nuts (almonds, walnuts)
1/2 cup pumpkin seeds
1/3 cup chocolate chips
Directions:
1. Combine the rolled oats, pumpkin pie spice, cinnamon, nutmeg, salt, flaxseed/wheatgerm and brown sugar in a large bowl. 
2. In a separate bowl, combine the pumpkin puree, maple syrup, applesauce and vanilla.
3. Pour the wet mixture into the dry mixture and stir to combine.
4. Spread your granola out onto a prepared baking sheet lined with foil or parchment paper.
5. Bake in a preheated 325 degree oven for 20 minutes. Stir/flip the granola, and bake for another 20 minutes or so until the granola gets crisp.
6. Let cool and mix in your add-ins. Enjoy by itself, over greek yogurt or with cold soy milk!
Merle Park and Wayne Eagling in "Voices of Spring"
Sir Frederick Ashton first choreographed the Voices of Spring pas de deux on Royal Ballet stars Merle Park and Wayne Eagling in 1977 for a ball scene in Johann Strauss II's operetta Die Fledermaus. The lively duet is a favorite in galas and mixed bills these days, but Park and Eagling's version from this 1983 video is a spectacular, must-see combination of cheek and elegance.
Keep reading...
Show less
Honji Wang and Sara Mearns. Photo by Brooke Trisolini, Courtesy of Jacob's Pillow Dance.
We all know that seeing world class dance is expensive. But for two weeks a year New York City Center offers $15 tickets to their Fall for Dance Festival. This magical unicorn of an experience features five unique programs and will run from October 2-14.
The program includes five world premieres commissioned specifically for the Festival, three of which feature some of our favorite ballet superstars.
Program One (Oct. 2-3) will showcase a new work by choreographer and New York City Ballet soloist Troy Schumacher on 14 dancers from Miami City Ballet. While rehearsals are still in progress, we do know that the piece will be a meditation on childhood set to Francis Poulenc's Concerto for Two Pianos in D Minor.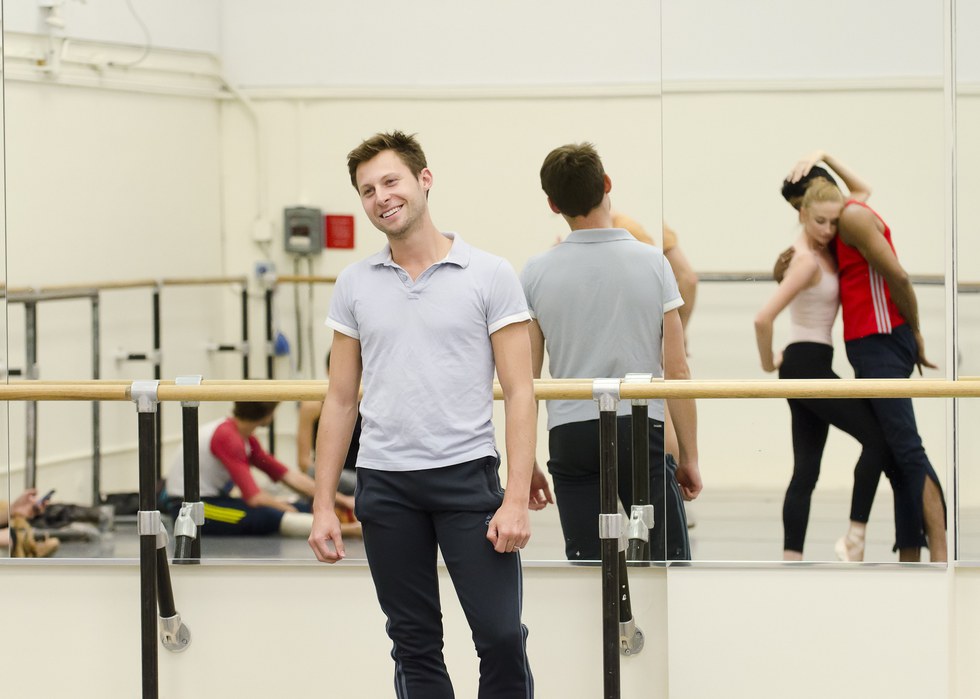 Troy Schumacher in rehearsalPhoto by Kyle Froman for Pointe
Keep reading...
Show less


Get Pointe Magazine in your inbox