Growing up in an Italian family, lasagna was always one of Houston Ballet principal Amy Fote's favorite comfort foods. Now she adds a healthy Texas twist. "I use low fat cottage cheese instead of ricotta, salsa instead of spaghetti sauce, ground turkey instead of beef, and there is also a spinach layer because my rule is that I have to eat something green every day," she says. Fote often makes a batch before a week of performances because it's an easy meal to reheat. "And of course," she adds, "the flavor gets even better the second day."
TEXAN LASAGNA
Ingredients:
1 t. olive oil
1 medium onion, chopped
1 lb. lean ground turkey
4 c. salsa
2 t. cumin
2 cloves garlic, minced
15 oz. can pinto beans, rinsed and drained
15 oz. low fat cottage cheese
1/2 c. neufchatel cheese softened
1/2 c. parmesan cheese, shredded
1 egg white
10 oz. package frozen chopped spinach
15 no-boil lasagna noodles
1-2 c. sharp cheddar cheese, shredded
cilantro for garnish
1. Preheat oven to 375. Spray a glass lasagna pan with non-stick
cooking spray.
2. In a large skillet, saute onion in olive oil for 3 minutes. Add the turkey and cook until no longer pink. Add the next four ingredients and bring to a boil. Reduce heat and simmer uncovered for 20 minutes, stirring occasionally.
3. Meanwhile, cook the spinach according to directions and drain thoroughly.
4. In a medium bowl combine the cottage cheese, neufchatel, parmesan, egg white and spinach.
5. In lasagna pan layer noodles, spinach sauce, red sauce, cheddar cheese.  Repeat until pan is full, ending with red sauce on top and sprinkling with cheddar cheese. (It could be two or more layers, depending on the size of your pan.)
6. Bake for 45 minutes covered with foil and uncovered for an additional 10 minutes, or until the cheese is melted. After removing lasagna from the oven top with cilantro and let stand for 15 minutes before serving.
Merle Park and Wayne Eagling in "Voices of Spring"
Sir Frederick Ashton first choreographed the Voices of Spring pas de deux on Royal Ballet stars Merle Park and Wayne Eagling in 1977 for a ball scene in Johann Strauss II's operetta Die Fledermaus. The lively duet is a favorite in galas and mixed bills these days, but Park and Eagling's version from this 1983 video is a spectacular, must-see combination of cheek and elegance.
Keep reading...
Show less
Honji Wang and Sara Mearns. Photo by Brooke Trisolini, Courtesy of Jacob's Pillow Dance.
We all know that seeing world class dance is expensive. But for two weeks a year New York City Center offers $15 tickets to their Fall for Dance Festival. This magical unicorn of an experience features five unique programs and will run from October 2-14.
The program includes five world premieres commissioned specifically for the Festival, three of which feature some of our favorite ballet superstars.
Program One (Oct. 2-3) will showcase a new work by choreographer and New York City Ballet soloist Troy Schumacher on 14 dancers from Miami City Ballet. While rehearsals are still in progress, we do know that the piece will be a meditation on childhood set to Francis Poulenc's Concerto for Two Pianos in D Minor.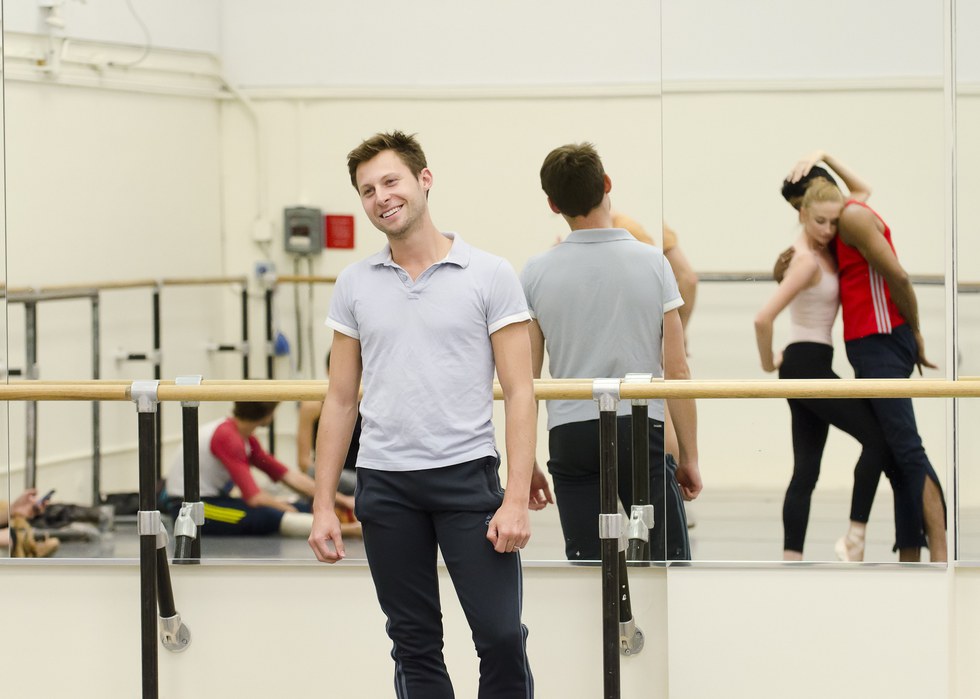 Troy Schumacher in rehearsalPhoto by Kyle Froman for Pointe
Keep reading...
Show less


Get Pointe Magazine in your inbox