News
May. 03, 2017 04:30PM EST
Daniel Ulbricht's Dance Against Cancer Brings Together Ballet's Biggest Stars
NYCB's Amar Ramasar and Tiler Peck perfrom at the 2016 Dance Against Cancer benefit. Photo by Christopher Duggan, Courtesy of DAC.
When New York City Ballet principal Daniel Ulbricht and Manhattan Youth Ballet programming director Erin Fogarty first produced Dance Against Cancer: An Evening to Benefit the American Cancer Society back in 2010, they likely had no idea how big it would become. Now a highly anticipated annual event, Dance Against Cancer has raised almost $1 million for cancer research and has expanded to include THE YOUTH MOVEMENT, a performance featuring local dance students. DAC has even outgrown its venue—this year's one-night-only performance, held on Monday, May 8, at the AXA Equitable Theater, has long been sold out.
The evening features star dancers and choreographers, who all donate their time to create a memorable and heartfelt performance. Many have been touched personally by cancer (Ulbricht and Fogarty have both lost a parent to the disease). In an interview with Pointe last year, Ulbricht noted that so many ask to participate that they have to turn dancers away. "As their own family or friends or mentors suffer," he said, "I think they feel compelled to ask, 'What can I do?' "
---
This year's lineup includes American Ballet Theatre's Gillian Murphy, James Whiteside, Gabe Stone Shayer and Cassandra Trenary; NYCB's Maria Kowroski, Jared Angle, Megan Fairchild and Harrison Coll; Orlando Ballet's principal guest artist Joseph Gatti; former Miami City ballet principal Patricia Delgado; Alvin Ailey's Matthew Rushing; Dance Theatre of Harlem; Ballet Met; and Josh Prince's Broadway Dance Lab. If that's not glamorous enough, there are five world premieres specifically created for DAC.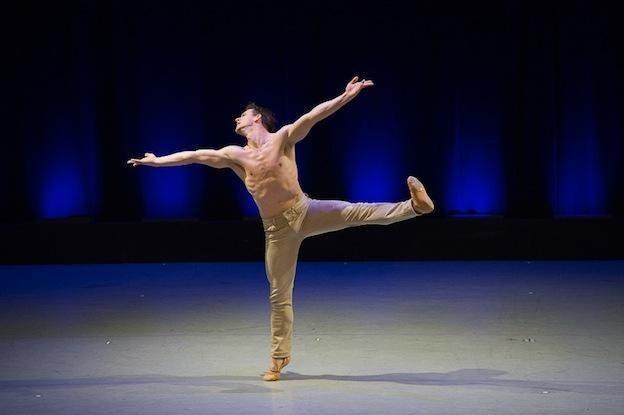 Daniel Ulbricht performing at the 2016 Dance Against Cancer benefit. Photo by Christopher Duggan, Courtesy DAC.
Even though the show is sold out, you can still get involved. Donations to the American Cancer Society can be made here, and Ulbricht has started a fun #TourforaCure social media campaign to spread awareness. And stay tuned – Pointe will be offering live coverage on our Instagram page during Monday's dress rehearsal.
For more news on all things ballet, don't miss a single issue.
Pacific Northwest Ballet's Lesley Rausch in George Balanchine's "Agon." Photo by Angela Sterling, Courtesy PNB.
Nothing's more impressive than a fluttery entrechat six. Here, School of American Ballet's Suki Schorer gives her tips for perfecting this tricky jump.
1. Your power is in the plié: One of the most common problems Suki Schorer sees is dancers taking too short of a plié. "They bounce off the floor and then don't have the power to go high in the air," she says. You'll need that height to create the beats. A juicy plié will also allow you to control the landing and hold on to the tempo.

2. Timing can help. As you plié, think "and-down-entrechat six" rather than "and-up-entrechat six."
3. Keep legs and chest forward: "As students start to jump, they often throw their upper bodies back and then their feet get behind their bodies," says Schorer. As a result, the legs swing front and back instead of scissoring through first and fifth. "You need your legs underneath you or a teensy bit in front, with your chest also forward."

Keep reading...
Show less
Photo by Jacob Jonas, via Instagram
New York City Ballet's Tiler Peck makes her curatorial debut this evening at the The Music Center's Dorothy Chandler Pavilion in Los Angeles, and she's brought an all-star dance cast with her to the West Coast. The BalletNow program will run through July 30, and features a mix of classical and contemporary works danced by 24 international stars.
But if you can't make it to LA this weekend for a performance, we've got the next best thing—courtesy of the BalletNow dancers themselves. We've been spotting rehearsal clips on Instagram all week, and we've gathered them right here. From Romeo and Juliet to Justin Peck's Chutes and Ladders, the dancers (which include Lauren Cuthbertson of The Royal Ballet and Jeanette Delgado who is currently on a leave of absence from Miami City Ballet) are as diverse as the program lineup. Just do yourself a favor, and watch with the sound on.
Keep reading...
Show less
Aug. 01, 2016 04:45PM EST
Zhong-Jing Fang in Alexei Ratmansky's "Nutcracker." Photo by Gene Schiavone, Courtesy American Ballet Theatre.
Five years after joining American Ballet Theatre, corps member Zhong-Jing Fang sustained a serious ankle injury. Not one to let a setback take her off course, Fang wondered: What other things can I do as an artist? She loved imitating movie actresses as a child, so she decided to try acting while she recovered. For two years, she went every Wednesday evening to a four-hour group class with acting coach Diaan Ainslee. There she learned to dissect a monologue, develop a character, listen and feel emotionally exposed. The experience thrust Fang out of her comfort zone and transformed her as an artist. "It's a different layer of becoming a person," Fang says, "and becoming much more real."
Acting classes, which often incorporate exercises aimed at self-exploration, can offer dancers tools to deepen their artistry. Even simple things, Fang notes, like working without mirrors, can inspire you to go beyond image and find a deeper sense of self. "There is a lot more to say, beyond just being able to dance," she says. Here, Fang and three other dancers explain how acting skills have made them better performers.
Keep reading...
Show less


Get Pointe Magazine in your inbox