Maggie Small as the Butterfly in Stoner Winslett's "The Nutcracker." Photo by Sarah Ferguson.
You've gone from Clara to Sugar Plum in one place. What made that possible?
I was lucky to grow up here, in a school that fed directly into a company, so as a child I could visualize exactly what I wanted. I think my career is due in part to being aware of how lucky I am, being grateful for it and preserving it.
What does it mean to be a "ballerina" in a non-ranked company?
It means you do it all. The last time we did Romeo and Juliet I was a harlot, and it was so much fun. If we did the same thing all the time it wouldn't be as stimulating or exciting.
Keep reading...
Show less
popular
Oct. 13, 2017 06:02PM EST
Herman Cornejo in "La Bayadere." Photo by Gene Schiavone, Courtesy American Ballet Theatre.
A double tour, says American Ballet Theatre principal Herman Cornejo, "is the step that defines a male dancer." Here, he shares his thoughts on mastering this necessary trick.

Don't anticipate: "The takeoff is hard," Herman Cornejo acknowledges. "You want to take all your force around, and that twists your back to the side and your fifth out of place." Instead, the impulse for the rotations comes from the bottom of the plié. "Be calm to start. Prepare to a relevé, plié, and the moment the heels touch down, then you take the force."
Use your glutes: A common error Cornejo sees is "sticking your butt out and your chest forward in plié so that you're not on top of your hips. You'll never make it to the other side!" Your glutes, he adds, are "so powerful that when you engage them, it really makes a difference."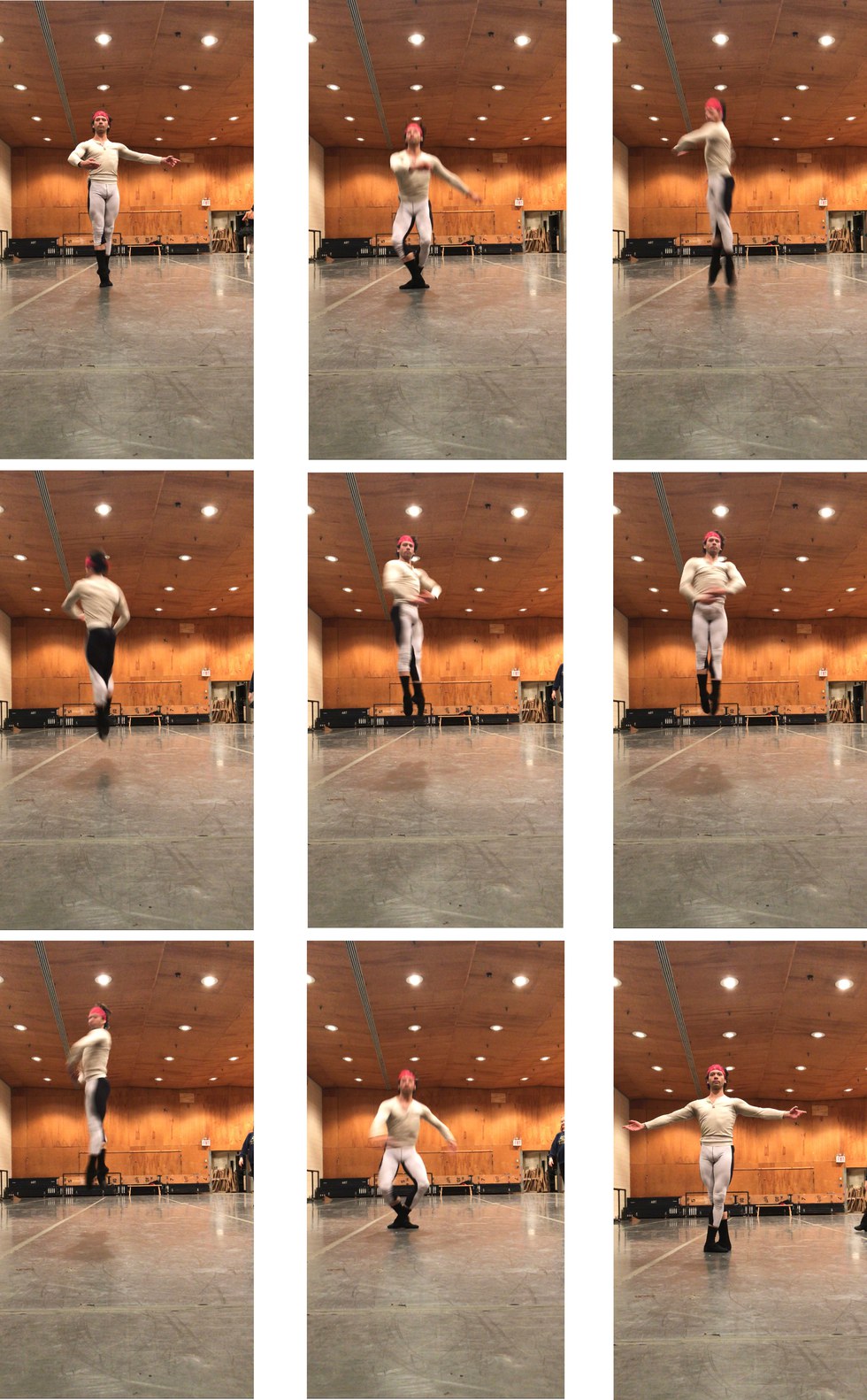 Cornejo in a double tour en l'air. Photo Courtesy Cornejo.
Keep reading...
Show less
Kleber Rebello in George Balanchine's "A Midsummer Night's Dream." Photo by Daniel Azoulay, Courtesy Miami City Ballet.
It's a staple of grand allégro, but tour jeté—also called grand jeté entournant or entrelacé—is not easy. Miami City Ballet School's Geta Constantinescu shares how she helps her students fly higher.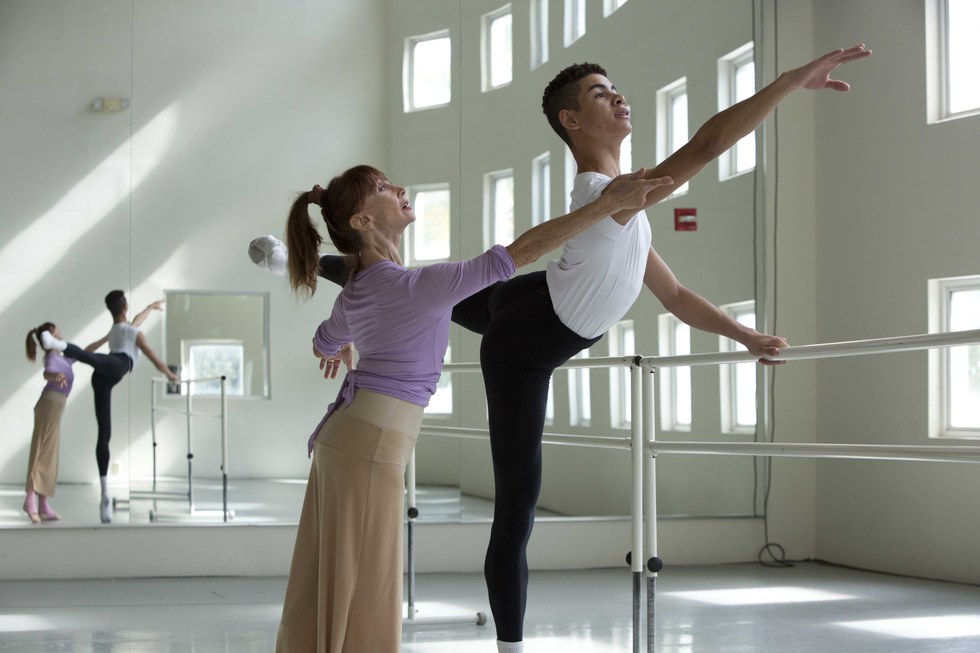 Geta Constatinescu working with a Miami City Ballet School student. Photo by Pavel Antonov, Courtesy Miami City Ballet.
Prepare with care: "Let's say you piqué arabesque on the right leg," says Miami City Ballet School faculty member Geta Constantinescu. As you chassé sideways, "that right leg has to go in back, not in front of the left leg. Many don't even notice that little mistake!" The left foot is then available as you turn to step forward onto it, going into the tour jeté.
Plié both legs generously as you brush the leg through first position, so you don't jump from just one. "Use the floor to help elevate yourself."

Be direct: Instead of brushing to grand battement devant, Constantinescu often sees dancers go through a rond de jambe or "something not very clear," she says. "What is front, where is the toe going when you toss it in the air?" She suggests practicing the brush en avant in tendu and adagio combinations, to "imprint" that pathway.
Let the arms assist: Coordinate your port de bras with your grand battement. The arms go up through high fifth as you take off. They begin to open, Constantinescu says, "right at the top of the jump."

Practice your takeoff and landing at the barre with this combination: Grand battement devant on demi-point, turning towards the barre as you close fifth to finish on the other side with the opposite leg in arabesque plié.
Think "forward": As the legs switch, think of the arabesque in the air as a "demi-penché" to create space for a greater split. "Feel connected from the lower belly to the heart center as the leg goes back," says Constantinescu. "That lifting of the sternum supports the line of the demi-penché."

Imagine you're "kicking a ball" with the front leg as the back leg scissors into arabesque, like in a big sissone ouvert. "This will incorporate that quality of split in the air."
Thinkstock
Few turns make dancers more tempted to cheat than pirouettes from fifth, especially doubles. Colburn Dance Academy director Jenifer Ringer gives her tips for nailing them every time.
1. Have faith in your fifth: It's hard to trust that your fifth position will give you enough force to turn. As a result, Jenifer Ringer sees dancers "lean forward, stick their bottoms out or move their front legs so they're not really turning from fifth." Try practicing a clean single pirouette without cheating. "It takes figuring out," she acknowledges, but you'll add rotations "without losing the integrity of your technique."
Keep reading...
Show less
Vanessa Zahorian in Tomasson/Possokhov's Don Quixote.
(Photo by Erik Tomasson)
You trained partly at the Kirov Academy of Ballet in Washington, DC. What's the most important thing you got out of that experience?
The opportunity to go to Russia at age 16. Oleg Vinogradov, the director at the time, chose me to be an apprentice with the Kirov (now Mariinsky) Ballet. I worked with Andris Liepa and Ninel Kurgapkina, and took class next to ballerinas like Diana Vishneva and Uliana Lopatkina. It was an honor.
Since then, you spent your entire career at San Francisco Ballet. How have you grown as a dancer?
When I first came I was very focused on technique. I was 18, in the corps, and all of a sudden I was Sugar Plum. At this point 20 years later, I'm focused on the emotional aspects of my performance. I'm not concerned about how many turns I'm going to do, or how long I'm going to balance.
How do you prepare for full-length ballets?
Keep reading...
Show less
Photo by Aleksander Antonijevic, Courtesy National Ballet of Canada
You're celebrating 25 years with the National Ballet of Canada. What makes it home?
I wanted to join the National Ballet because it had one of the best repertoires in the world. We do all the staples of the classical canon and yet get to work with amazing creators like Jirˇí Kylián, William Forsythe, Glen Tetley and all the iconic choreographers of the 21st century. I still feel that way.
What have you learned that could be helpful for young professionals?
Look around and really watch the people around you. I can't tell you how important that was for me, to have so many great dancers to learn from. You can absorb a lot by watching, you don't always have to do.
Your tenure has spanned three directors. Do you have tips for surviving directorial changeover?
Keep reading...
Show less
Featured Article
Nov. 23, 2016 07:34PM EST
Griffith in rehearsal for Milwaukee Ballet's "Waltz of the Flowers" (photo by Timothy O'Donnell, courtesy Milwaukee Ballet)
Alana Griffith
Artist, Milwaukee Ballet
Favorite role: Clara
"Clara was my first soloist role and the first role I did where my character danced through the entire ballet. I liked playing with different ways of making her sweet and lovable or bratty and funny. Switching from Clara to the corps to divertissements makes the rehearsal process exciting and challenging."
Number of Nutcrackers per season: 17–18
Pre-Warm-Up
"In the morning I take a hot bath for 5–7 minutes as a way to pre-warm my muscles before class."
Multitasking Tape
"If I have a quick change into pointe shoes, I rip a piece of soft, white tape off my toes and use it to hold my ribbons."
Conjuring Calm
"I take a homeopathic supplement called Quietude, which helps me wind down after a show."
Miranda Silveira in company class.
(photo by Erik Tomasson, courtesy SFB)
Miranda Silveira
Corps de ballet, San Francisco Ballet
Favorite role: Spanish
"It's a very energetic and dynamic part, and there's a lot of character dancing."
Number of Nutcrackers per season: approximately 33
 Keep Toasty
"When I'm doing Maid or Party Parent in the Party Scene, I wear legwarmers under the long dress so I'm ready for Snow."
Warm Toes
"I stick my pointe shoes under the heater at the theater to warm them up."
Listen Closely
"Take advantage of the differences between each conductor by really listening to the changes in the music."
Eva Burton (center) with the "Marzipan Shepherdesses" in Oregon Ballet Theatre's 2015 production of "George Balanchine's The Nutcracker" (photo by James McGrew, courtesy OBT)
Eva Burton
Company artist, Oregon Ballet Theatre
Favorite role: Sugar Plum Fairy
"I love that in George Balanchine's The Nutcracker, the Sugar Plum Fairy does her variation at the beginning of Act II surrounded by the angels. Sharing the stage with young students reminds me that every audience is full of children who are seeing ballet for the first time."
Number of Nutcrackers per season: 15–19
Time Your Hydration
"I drink water well before the show so I can stay focused but not have to go to the bathroom once I'm in costume."
Pointe Shoe Prep
"I sew as many pointe shoes as possible before we even get to the theater."
Check Off Christmas Shopping
"I do all of my Christmas shopping before Nutcracker!"
Grace in Tulsa Ballet's Snow scene (courtesy Tulsa Ballet)
Jennifer Grace
Demi-soloist, Tulsa Ballet
Favorite role: Maid of Honor, in "Waltz of the Flowers"
"In Marcello Angelini's Nutcracker, the Maid of Honor is partnered by four different cavaliers, and it flows together beautifully. I wouldn't say it's easy to dance, but it's very enjoyable."
Number of Nutcrackers per season: 8
Soup-er Food
"Soup is my go-to meal. It keeps you hydrated and makes you feel full, but you can still move."
Fresh-Faced
"I take my makeup off immediately after the show, wash my face as soon as I get home, and I don't put any makeup on until I have to, the next night, so my skin has a chance to breathe."
Salt Solutions
"Epsom salt baths help my muscles to recover from that feeling of lactic acid crunchiness."
Mosher performs Spanish Chocolate at NBoC
(photo by Cylla von Tiedemann)
Tiffany Mosher
Second soloist, National Ballet of Canada
Favorite role: Bee, in "Waltz of the Flowers"
"Although it's an extremely difficult and tiring role with a lot of jumping and quick movements, the fast-paced choreography makes it a joy."
Number of Nutcrackers per season: 24
Get Rest
"We bring a blow-up mattress into the change room, to lie down between shows."
Be a Team Player
"I always volunteer to do a new spot if someone gets sick or injured. Everyone will go to the wings to watch, and if you make eye contact onstage it's fun!"
Balance Is Key
"Doing the same roles all the time works the same muscles. For example, the Snowflake choreography has a lot of quick footwork and relevés, so it's taxing on our calves and ankles. To balance that I do lunges and squats with weights to engage my hamstrings, quads and glutes."
Grant as Mother Ginger in PNB's George Balanchine's The Nutcracker (photo by Angela Sterling, courtesy PNB)
Joshua Grant
Soloist, Pacific Northwest Ballet
Favorite roles: Cavalier and Mother Ginger
"The Sugar Plum Fairy's Cavalier is the most rewarding role because of the beautiful music, and Mother Ginger is an all-out hoot to perform."
Number of Nutcrackers per season:  approximately 35
Natural Skin Care
"Coconut oil is an all-natural way to moisturize your skin. It doesn't have to be refrigerated, so you can keep it in your makeup case."
Advance Check-In
"I always check in with my partner before a pas de deux. Maybe my shoulder hurts that day or her shoes are more dead than usual."
Hit Refresh
"It helps to step out of the theater, even if it's just for lunch or coffee, especially on double show days." P
Photo by Theo Kossenas, courtesy The Washington Ballet.
Murphy with Johnathan Jordan. Photo by Theo Kossenas, courtesy The Washington Ballet.
The Washington Ballet's Ashley Murphy isn't afraid to step outside her comfort zone.
Why did you make the move from Dance Theatre of Harlem to The Washington Ballet?
I had been at DTH for 13 years, and I wanted to see what else was out there. I felt like it was time for me to experience other choreography and a bigger company setting.
Has the change helped you grow as a dancer?
Definitely. At DTH, they knew me and trusted me with a lot of principal roles. Here, I had to work my way back up. I'm more of a performer onstage than in the studio, so it was hard for me to show them what I could do. But the people around me were so encouraging, which helped my confidence. As my first year went on, things got better.
Keep reading...
Show less


Get Pointe Magazine in your inbox