Hupoy (right, as Alla Snizova) and Laszlo Major in "Le Corsaire." Photo by Zoren Jelenic, Courtesy Ballets de Trockadero de Monte Carlo.
One of the highlights of New York City's Fall for Dance Festival this year was an appearance by the Ballets Trockadéro de Monte Carlo, a company of men who dance on pointe with as much panache and style as any prima ballerina. Their performance of Paquita was funny, of course—they specialize in comic renditions of classical ballets— but also bracingly well executed. The star of the evening, Carlos Hopuy, aka Alla Snizova, was simply astonishing. His pointework sparkled, his hops on pointe were clean and strong, and he looked like he could have balanced in attitude forever. There was something deeply exciting about the way he combined delicacy and control with the explosive power and steel of a man's physique.
Hopuy, who was born in Havana, Cuba, and trained at the country's famed National Ballet School, has been with the company since 2012. Like all the Trocks, he has both a female and a male alter-ego: when he's not portraying Alla Snizova, he's Innokenti Smoktumuchsky, a dopey cavalier. He is also one of the dancers featured in the upcoming documentary Rebels on Pointe, which will have its theatrical release November 15 (click here for theaters and dates near you). I recently caught up with Hopuy, who, when he's not on tour, lives in Orlando with his husband Paolo Cervellera, a former Trock. We spoke by phone, in Spanish.
Did you always want to dance?
I always liked ballet. My mother, Norma Hopuy, was a principal with the Ballet de Camagüey. I used to hang around the rehearsals. She started giving me lessons at home. Then, when I was nine, I auditioned for the National Ballet School. I had the choice between that and gymnastics and I chose ballet.
When did you start going on pointe?
When I was 11. I would ask my classmates for their old pointe shoes and would try them on at home. When my mother realized that I liked to go on pointe, she started training me and bought me my own pair.
Keep reading...
Show less
An emotional Hallberg during bows after a performance of "Giselle" last May at the Metropolitan Opera House. Photo by Kent. G. Becker, Courtesy Simon & Schuster.
On November 7, David Hallberg's highly anticipated memoir, A Body of Work: Dancing to the Edge and Back, will be available in bookstores. (It's currently available for pre-order from Simon & Schuster and various other retailers.) Published by Touchstone Books, the autobiography details Hallberg's arduous recovery from a series of career-threatening injuries, and his triumphant return to the stage. Marina Harss spoke with the American Ballet Theatre principal about how his experience has changed him, his future with the Bolshoi and his desire to someday direct a company.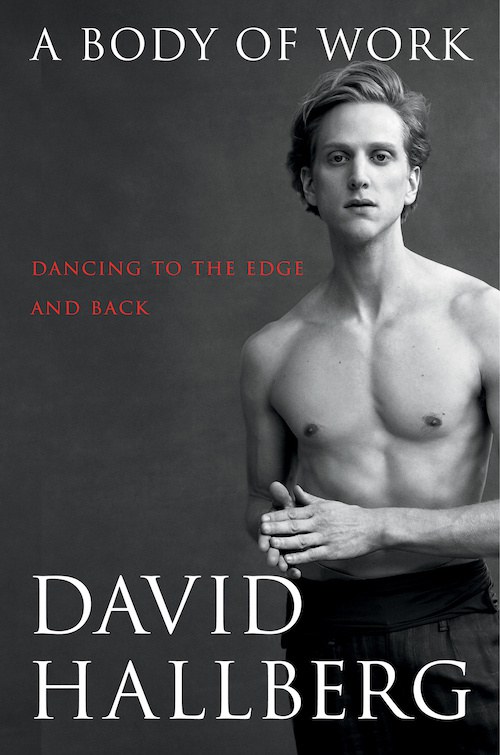 Courtesy Simon & Schuster
Why did you decide to write a memoir?

The initial seed was planted by New York Times dance critic Roslyn Sulcas. This was way before the Bolshoi. She just said you're traveling a lot now. You know, maybe just start to jot some things down about your experiences. So I took her advice, and then Simon & Schuster called and expressed interest in a book, and I dove in headfirst.
The focus of the book must have changed a lot after the injury.
Absolutely, and to be honest, the book had no backbone before the injury. It was "dance memoir 101." Not to say I didn't have a story to tell. But the meat of the book and for me, the heart, and soul, and the gut, is the nightmare that I went through with the injury.
As I was reading the book it felt almost as if you were a survivor of some kind of trauma.
It was emotionally traumatic. It was physically traumatic. It was mentally traumatic. Everything unraveled, and everything went wrong.
Keep reading...
Show less
Alexei Ratmansky with members of the corps de ballet. Photo by Gene Schiavone, Courtesy American Ballet Theatre.
When the choreographer Alexei Ratmansky joined American Ballet Theatre as artist in residence eight years ago, the company hadn't had a house choreographer since the days of Antony Tudor. The gamble seems to have paid off handsomely. In that time Ratmansky has either made or restaged 12 ballets for the company. In 2011, the company extended his contract to 2023. Such commitments are practically unheard of at a time when top dancers and choreographers hop from company to company, continent to continent. The scale and ambition of the works Ratmansky is making for ABT is a rarity too, in a world of tight budgets, scant rehearsal time and pared-down esthetics.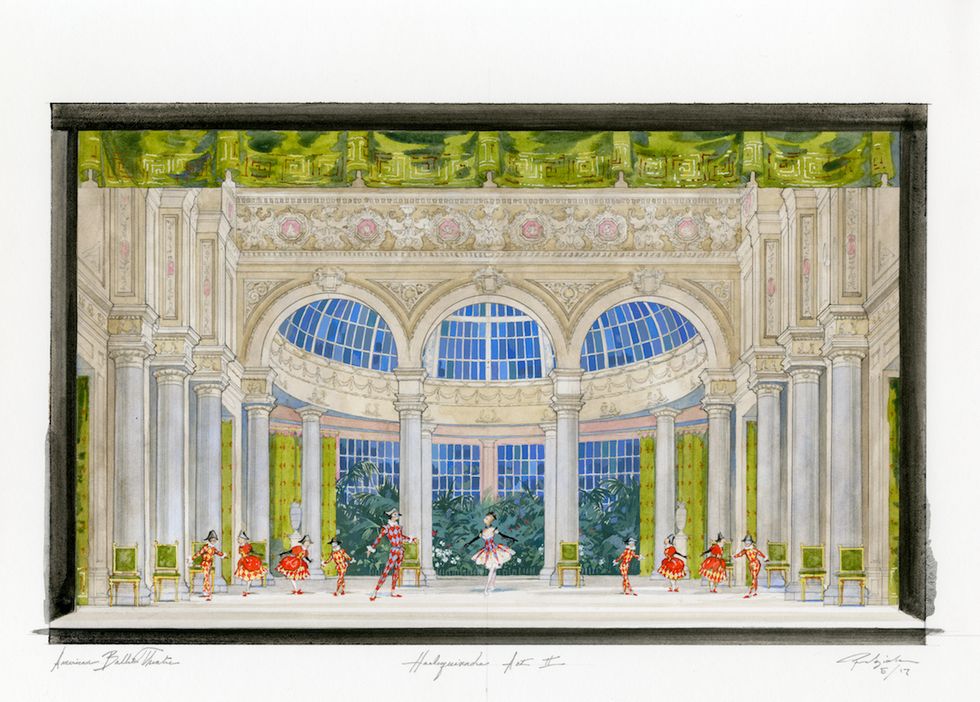 Set design for new "Harlequinade." Courtesy ABT.
Keep reading...
Show less
Macgill in Peter Martins' Fearful Symmetries. Photo by Paul Kolnik, Courtesy New York City Ballet.
"I remember looking out and feeling the light," says Alston Macgill of her debut in the third movement of Symphony in C during New York City Ballet's 2016 tour to Paris. "I felt this enormous joy going through me." She was just an apprentice at the time, and the production was being taped for PBS's "Great Performances." From the moment Macgill flew onstage—light, energetic, buoyant—she seemed to barely touch the ground. Despite her speed and elevation, there was nothing forced about her performance; her energy was calm and free, the coordination seemingly natural.

The Savannah, Georgia, native was already turning heads as a stu- dent at the School of American Ballet, where she enrolled after training at The STUDIO Savannah and The Rock School for Dance Education in Philadelphia. She became an NYCB apprentice in 2015, and was soon selected by the French choreographer Nicolas Blanc for his ballet Mothership. A few months later came her big break in Symphony in C, which she found out about a week before the performance.
Keep reading...
Show less


Get Pointe Magazine in your inbox