Fairchild and De Luz brought wit and jazzy abandon to "Rubies." Photo by Paul Kolnik, Courtesy NYCB.
Ask the Paris Opéra Ballet, the New York City Ballet and the Bolshoi Ballet to share a stage, with each performing one act of Balanchine's Jewels, and you might expect a degree of friendly (or less-than-friendly) competition. But as POB gave its exquisitely polite rendition of "Emeralds" during the Lincoln Center Festival's three-company production this summer, one-upsmanship seemed far from everyone's mind.
Then the curtain rose on New York City Ballet, its dancers visibly shaking with excitement in their "Rubies" finery. And the David H. Koch Theater audience collectively leaned forward.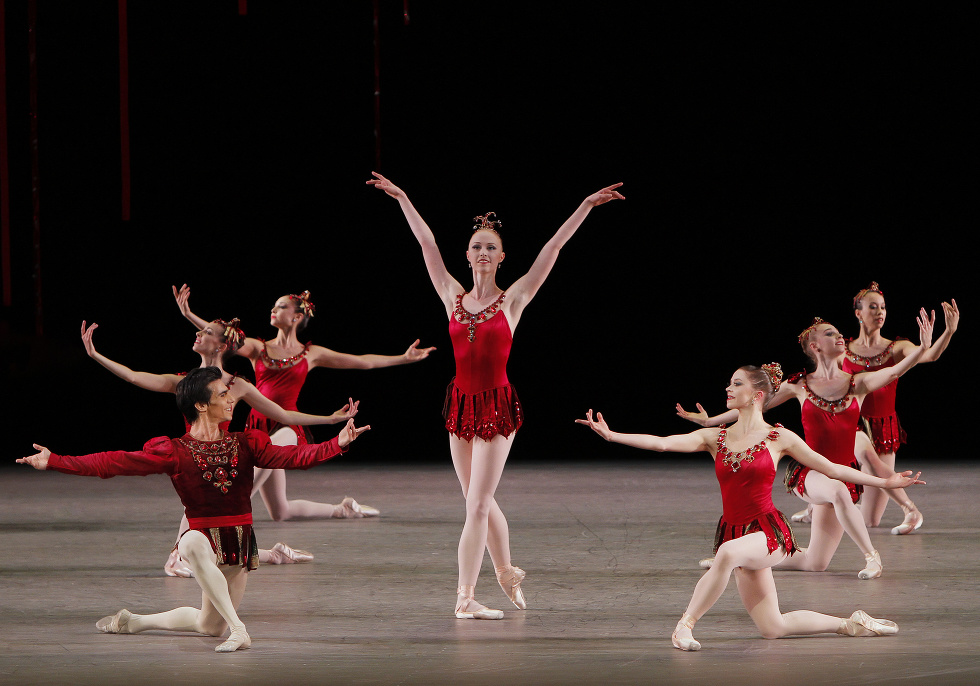 Photo by Paul Kolnik, Courtesy NYCB.
Keep reading...
Show less
Career
Aug. 27, 2017 05:00PM EST
Photo by Mary Sohl, Courtesy American Ballet Theatre.
Petite and fine-boned, American Ballet Theatre's Rachel Richardson can look younger than her 21 years, vulnerable in a way that makes you want to give her a hug. That is, until she begins to move. Elegant and precise, with beautifully articulated legs and feet, Richardson radi- ates authority onstage, commanding attention rather than asking for it. There's a lot of power in that delicate frame.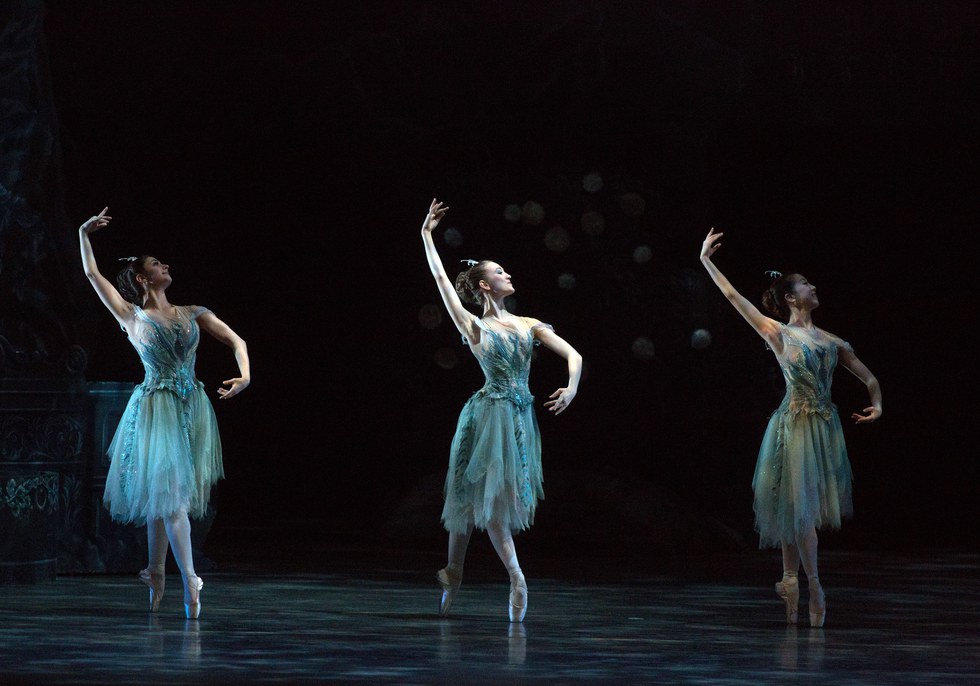 Photo by Rosalie O'Connor, Courtesy of ABT.
Keep reading...
Show less
In costume for Robert Binet's The Blue of Distance (photo by Nathan Sayers for Pointe)
Last December—a few days before her 23rd birthday—Indiana Woodward did a quick barre backstage at Lincoln Center's David H. Koch Theater. In the purity of her port de bras and articulation of her cambered feet, she epitomized Russian-style elegance. Then she removed her warm-ups and suddenly looked more French than Russian, her pastel practice tutu and black choker evoking Degas' paintings. Rehearsal began, and as the music gathered speed, she transformed again. Sweeping headlong across the stage, buoyant and boundless, she was pure New York, pure Balanchine.
Born in Paris and trained in Russian technique before coming to the School of American Ballet, Woodward brings an unusually diverse perspective to her growing repertoire at New York City Ballet, which she joined in 2012. She's the rare dancer who can project worldly glamour and youthful exuberance simultaneously, who can toggle between the precision of the Russian style and the freedom of Balanchine's. One senses she'd make a regal Theme and Variations lead, or an eloquent Odette. But while she's had many opportunities at NYCB, she's such a natural soubrette—petite and bubbly—that we've yet to see the other sides of her artistry. Recently promoted to soloist, she seems about to fully flower.
Keep reading...
Show less
(Photo by Rosalie O'Connor, courtesy Pittsburgh Ballet Theatre)
Nikiya's epic "death" solo at the end of La Bayadère's second act is more than a test of stamina: It's integral to the ballet's plot. In it, Nikiya laments her doomed relationship with Prince Solor, rejoices upon receiving a basket of flowers she believes to be from him and collapses after being bitten by a snake hidden in the basket. "There's a lot of storytelling in the steps," says Pittsburgh Ballet Theatre principal Julia Erickson, who danced the role this spring. Here are her tips for navigating the variation's technical and emotional complexities.
1. Let the Character Drive the Choreography
One of the most difficult aspects of the variation is making the spare choreography fill the music. If you're having trouble slowing down, focus on what Nikiya is feeling as much as what she's doing. "Her love has betrayed her—and she's mourning," Erickson says. "When you grieve, it's like you're suspended in time, and that's exactly how the variation should feel."
2. Stay Grounded
Maintaining your balance through the solo's prolonged sous-sus, penchées and backbends can also prove challenging. "Feel a constant connection to the floor," Erickson advises. "In sous-sus, for example, I think about rooting my legs in the ground, while simultaneously growing taller in my upper body." Once you're given the basket of flowers, let the prop work for you. "When you penchée, you naturally want to hold on to something—and the basket is something to hold on to!" Erickson says. "Its steadying influence may be all in your head, but it helps."
3. Relish Small Details
Because the solo is so slow, it leaves room to play with the port de bras. Erickson likes to incorporate Nikiya's "sacred, palms-to-the-heavens" gesture from the first act's choreography. "In the context of this variation, it becomes especially powerful—like you're asking, 'Why, God, why?' " She also repeatedly reaches the palm of her flexed hand toward Solor. "It's a very exposed, very human movement," she says. "It reads as pleading."
4. Don't Oversell It
It's easy to get swept up in the variation's swoony theatrics. But a little restraint makes Nikiya's suffering even more acute. "Don't give too much face," Erickson says. "The port de bras is doing enough to speak for the emotion." So, she adds, is the "beautifully sad" score. "I almost cry just listening to it! Subtler interpretations give the audience a chance to hear the music as well as see it."
5. Avoid Fake Snake Syndrome
Making Nikiya's death by snakebite look believable can be tricky. "I definitely got called out on that in rehearsal," Erickson says, laughing. "My fix is to bring the basket of flowers very close to my face, enveloping it, right before the bite is supposed to happen. That way, there's no visible hand-going-into-the-basket moment." It's a character-driven solution to a logistical problem. "I'm inhaling the flowers' scent, having a moment as I remember Solor's love," Erickson says. "And then the snakebite shocks me out of it."


Get Pointe Magazine in your inbox