Postelwaite and Pantastico's powerful reunion in "Cendrillon." Photo by Angela Sterling, Courtesy PNB.
Lucien Postlewaite's Prince was anything but charming last February in Pacific Northwest Ballet's production of Cendrillon, Jean-Christophe Maillot's contemporary take on the Cinderella story. He strutted and preened, egged on by his friends. But once this prince met Cendrillon at the ball, his egotism gave way to lyrical grace, from the curve of his neck through his elegant extensions. For her part, Noelani Pantastico embodied the role of Cendrillon, taking us on her journey from a lonely, unwanted stepdaughter to a lovestruck young woman. Both dancers glided through the technically demanding choreography, infusing it with heartfelt emotion. This may be a fairy tale, but the romance felt real.
Keep reading...
Show less
Macy performs David Dawson's Empire Noir. Photo by Angela Sterling, Courtesy PNB.
Elle Macy was a first-year corps member in 2013 when Twyla Tharp chose to feature her in Pacific Northwest Ballet's premiere of Waiting At The Station. Four years later, 24-year-old Macy is still in the corps, but choreographers from David Dawson to Jessica Lang to William Forsythe have noticed her long, elegant lines and boundless energy, and have singled her out to dance in their ballets.
"In the middle, somewhat elevated was on my bucket list," says Macy, who danced it in 2015. "It drew me into Forsythe, and having him come here was a dream!"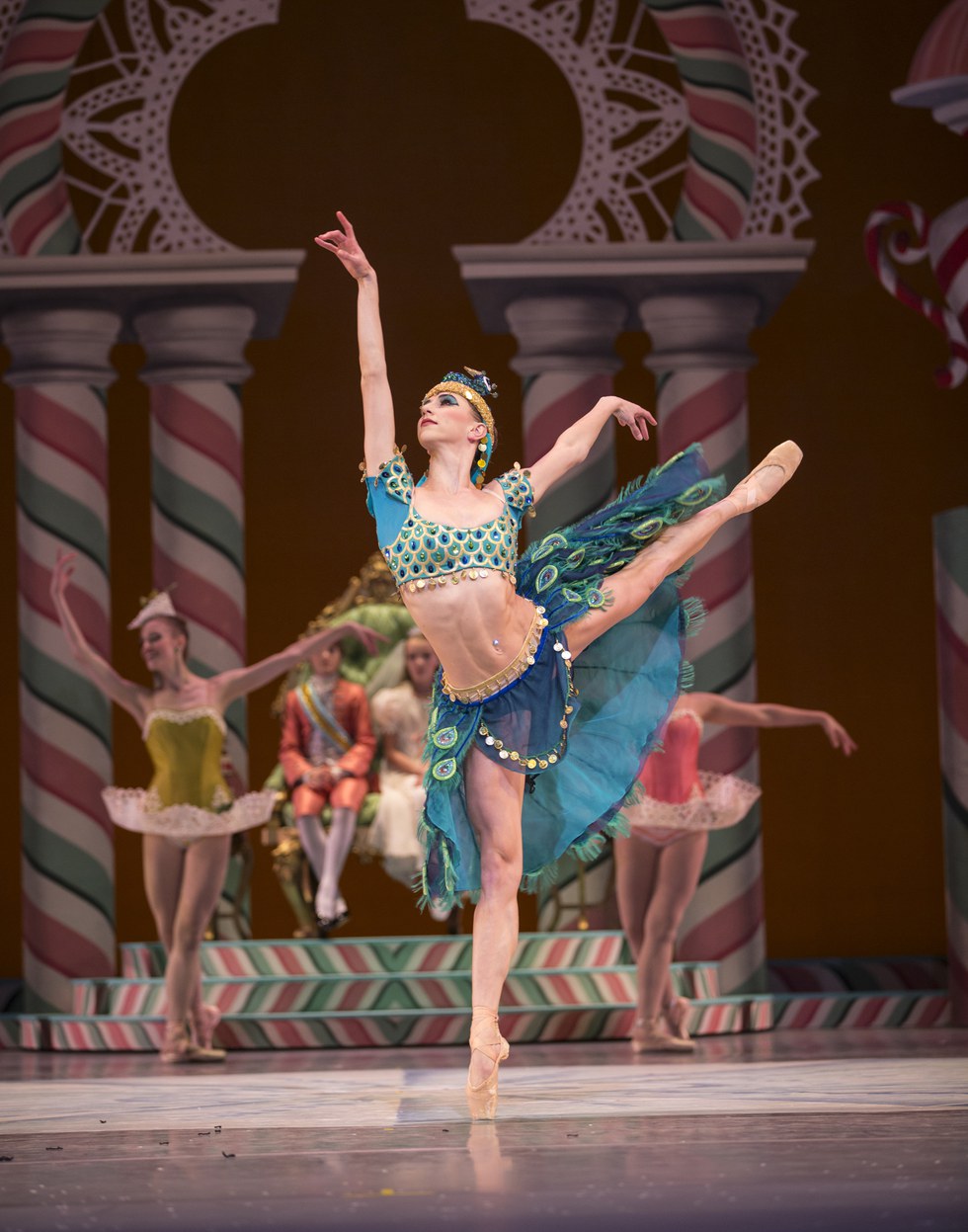 Macy in Balanchine's The NutcrackerPhoto by Angela Sterling, Courtesy PNB
Keep reading...
Show less
popular
Jul. 03, 2017 01:00PM EST
Lindsay Thomas
Pacific Northwest Ballet principal dancers Lindsi Dec and Karel Cruz became friends almost 15 years ago, standing at the back of a rehearsal studio with their fellow corps de ballet members. "We were fourth cast in one of the ballets," Dec recalls, "and we said, 'Let's do something. We can't just hang around here!' "
So, in their free time, Dec and Cruz started working together on a pas de deux from Don Quixote.
They weren't a couple yet, but it didn't take long for their friendship to deepen into romance. They started dating and eventually married, in 2009.
The couple often brings their work home, studying videos or talking through complicated choreography. But these days they have less free time to think about ballet. Two years ago, they were finally cast together in the lead roles in Don Quixote, the culmination of the dream from their corps days. Afterwards, Dec told Cruz it was time to start a family. "I thought, 'I've gotten to do everything I wanted to do.' I felt so blessed, and I was like, 'What are we waiting for?' "
In January 2016, Dec and Cruz welcomed their son, Koan, into the world. Life with a baby is tough, but Cruz insists that parenthood has made them better artists. "It's like somebody stirs you inside," he says. "When you have a cup of coffee, and all the sugar is on the bottom and you stir it? Something changes inside of you. We've become stronger."
Pointe spent a day with Cruz and Dec to see how they do it all.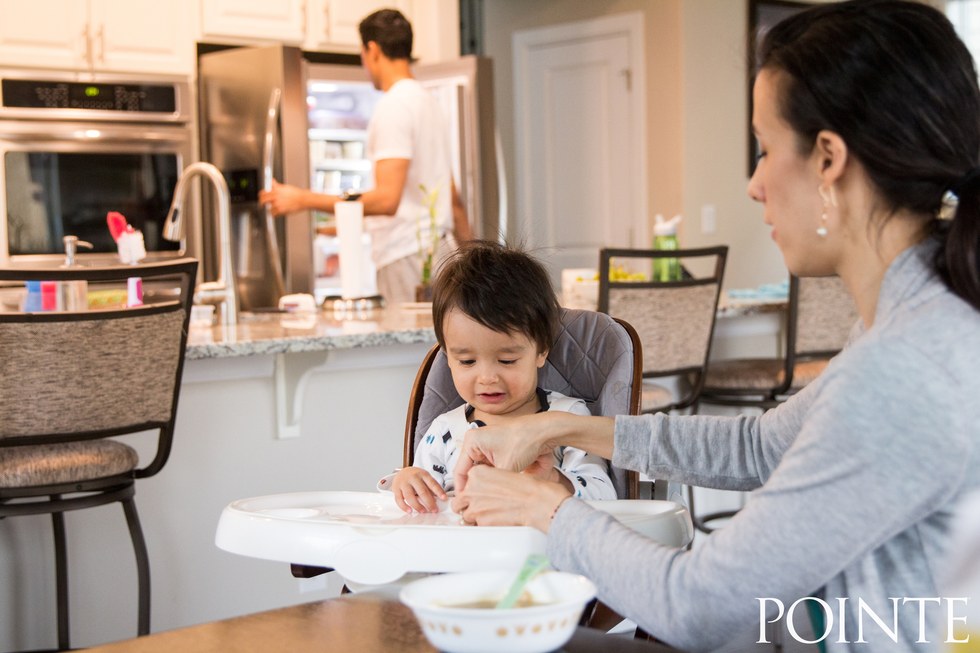 Photo by Lindsay Thomas
Keep reading...
Show less
Vancouver, British Columbia's 2010 Olympic Winter Games were golden for more than just big-name athletes.
Like so many Vancouverites at that time, Ballet BC dancer Alexis Fletcher and her husband, former rehearsal director Sylvain Senez, struggled to keep pace with the skyrocketing cost of living. The couple wondered if they could rent out two empty bedrooms to Olympic visitors to help make ends meet. "We posted our place on Craigslist, just to see what would happen," Fletcher explains.
Keep reading...
Show less
On any given day, Pacific Northwest Ballet's rehearsal studios are filled with ballerinas decked out in a rainbow of colorful, innovative leotards—many designed and hand-sewn by principal dancer Elizabeth Murphy.
Murphy didn't grow up sewing. In fact, she didn't even know how to run a sewing machine until she was 18. She didn't want to sit still long enough.
The Chelmsford, Massachusetts, native started dance lessons as a child in her hometown, and by her early teens decided to pursue a dance career. She moved to Pennsylvania to train at The Rock School for Dance Education. While still a student, she danced supplementary roles at Pennsylvania Ballet. Murphy then landed a position with Ballet West II before entering its main company in 2007.
But she was miserable. "My first year in the company was the hardest of my career, as of yet," she says. Murphy didn't expect overnight success, but she also never imagined how tedious it would be to stand around for six hours every day, waiting to rehearse short walk-on roles. For the first time, she contemplated quitting.
Instead, she decided to look outside dance for a new creative outlet. She discovered it in sewing.
Murphy found a bargain sewing machine online, along with a few easy patterns. Every evening, she came home from the studio to learn something new. When a friend suggested she try her hand at leotards, she found a simple bathing suit pattern, and turned to YouTube videos for guidance.
"It was freeing to practice and master sewing techniques, whereas in dance I sometimes felt stuck, or limited," Murphy says.
Murphy in one of her own designs (photo by Lindsay Thomas)
The sense of accomplishment she found in sewing motivated her out of her dance rut: In 2007 and 2008 she attended Pacific Northwest Ballet's summer intensive. Impressed by artistic director Peter Boal, and by the dancers she met in Seattle, Murphy kept an eye on the company and joined the corps de ballet in 2011. She's moved up the ranks very quickly, and last November, Boal promoted her to principal dancer. In a pre-show speech, he compared her to a young Meryl Streep. "When she's onstage, the audience can't take its eyes off of her," he says.
At PNB, Murphy has danced everything from Sugar Plum Fairy to featured roles in contemporary works, like William Forsythe's In the middle, somewhat elevated. "It feels so good to dance things that don't put a limit to your range!" she enthuses.
You can say the same thing about her approach to designing dancewear. Murphy sews each leotard using soft spandex and mesh, with the aim of crafting lightweight, breathable garments. "I try to create simple lines that accentuate the beauty of the ballet body," she says. She's also developed a unique leg seam. "It keeps the leotard down better, without cutting into the leg," she explains.
PNB corps member Emma Love Suddarth says she's never worn such flattering, and comfortable, leotards before. "I get a little sad towards the end of the week when my Liz leotard supply runs out," she says.
Last summer, Murphy started to market her eight leotard designs on Etsy, under her own brand, Label Dancewear. "My slogan is 'Love Your Label,' which is essentially 'Love Yourself,' " she says. She wants to inspire younger dancers to accept themselves more than she did at her first job. "We're so passionate about what we do," she says. "But I think a lot of times, when we're in it, we don't see the beauty."
Murphy still makes each leotard herself but plans to hire somebody to help her meet demand. She's sold more than 300 leotards in the past six months and hasn't had time to replenish her stock.
For now, Murphy is content to keep Label Dancewear fairly small. But someday, when she hangs up her pointe shoes, the goal-oriented ballerina may reinvent herself as a big-time entrepreneur.
William Forsythe isn't a large man, and he's not particularly flashy. But when he sidled into Pacific Northwest Ballet's rehearsal studio on a bright winter afternoon, the dancers all gravitated to him, like sunflowers stretching to the sun.
"Gather, my dears!" he greeted them, with a huge smile on his face.
Forsythe spent two weeks in residence at PNB last March, putting the finishing touches on the three dances in the first American all-Forsythe program, which included In the middle, somewhat elevated, The Vertiginous Thrill of Exactitude and New Suite.
New Suite, a collection of pas de deux from some of Forsythe's earlier works, had only been performed by one company, the Dresden Semperoper Ballett, prior to its PNB debut.
"They were pieces that were all lost, basically, because the works themselves were retired," Forsythe explained. "From those works, I managed to save these pas de deux, and group them together."
Forsythe discounts any underlying thematic link, but seen as a whole, the nine duets are a rumination on relationships. New Suite begins with a lyrical piece set to Handel, then becomes increasingly abstract, as Handel gives way to 20th-century composer Luciano Berio. For PNB's production, Forsythe reworked and tweaked material, and ultimately removed a section of New Suite, the "Slingerland" pas de deux, from the 1989 ballet Slingerland (Part I). After the first weekend of performances, Forsythe decided the longer duet didn't fit into the flow of the other eight sections.
While rooted in classical ballet technique, the ballet demands precision, speed and expert partnering skills. Forsythe's choreography challenged the PNB dancers, but they seemed energized by the high bar he set for them.
"Dancing Forsythe feels like somebody took the leash off," says artistic director Peter Boal. "You find a freedom in the euphoric physicality that lies within."
Despite moments of intimidation in the studio, many company members felt empowered by Forsythe's coaching style. Every movement was open to revision, based on individual ability and personality. "He brings only joy, positivity and excitement into the studios. There is not an ego to be found," says PNB principal Laura Tisserand. "The whole company has been on a high since we started rehearsals."
"Usually I say at the beginning of rehearsal: 'You don't get in this room unless you're an expert. So let's just start from there.' " —William Forsythe
All photos by Angela Sterling


Get Pointe Magazine in your inbox