Lane's performance marked a career turning point. Photo by Erin Baiano, Courtesy American Ballet Theatre.
Sarah Lane's loyal fans had been petitioning for her promotion to principal for years when the American Ballet Theatre soloist premiered as Giselle in New York City this summer. But even the most eager among them could not have predicted that this would be the role to define her season and land her the coveted promotion.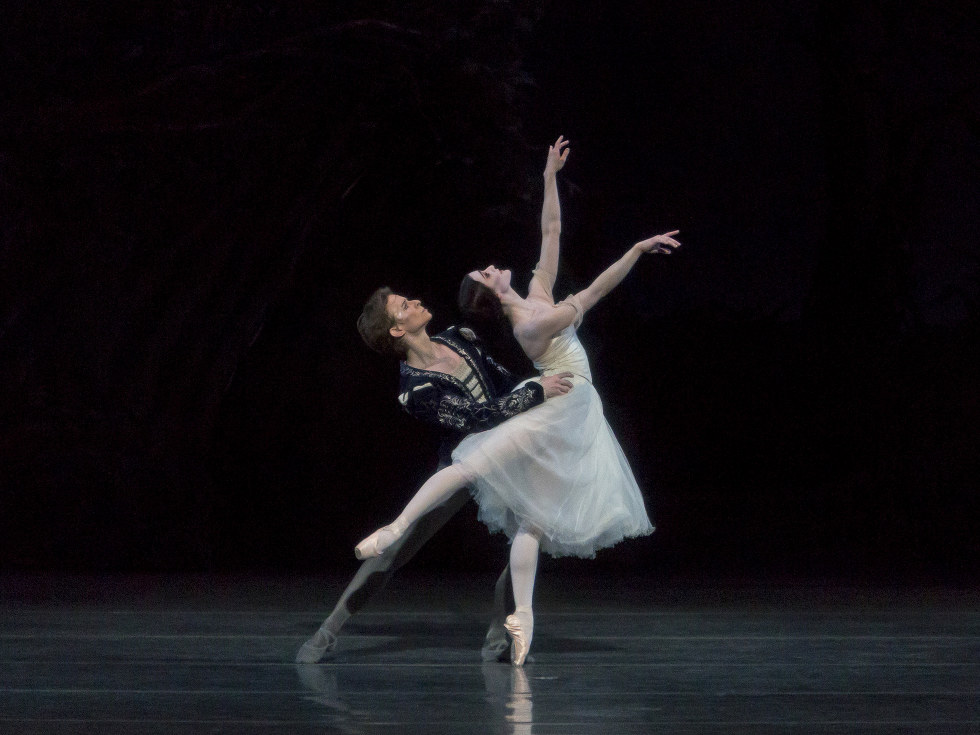 Photo by Erin Baiano, Courtesy ABT.
Keep reading...
Show less
Just when we thought Misty Copeland's stardom couldn't grow more, she's surprised us once again. Now, she's not only your favorite dancing trailblazer, she's one of TIME Magazine's 100 Most Influential People. She's even landed one of five cover spots, along with Kanye West, Ruth Bader Ginsberg, Bradley Cooper and Jorge Ramos.



Gymnast and five-time Olympic gold medalist Nadia Comaneci writes on Misty: "success is not about how you grow up or the color of your skin." TIME seems to include Misty as a "Pioneer" (rather than an "Artist") because she so tenaciously demonstrates this principle - she is an inspiration and an icon as well as an artist.


Misty's had a big week - she appeared as Odette/Odile in The Washington Ballet's Swan Lake alongside Brooklyn Mack as Sigfried, marking the first time in US history that two African-American dancers performed as this leading pair since 1980. Influential, indeed.
Exciting news for emerging choreographers and Trey McIntyre fans. This week, Philadelphia's BalletX announced a Choreographic Fellowship Program that will pair a selected emerging choreographer with Trey McIntyre to create two works for BalletX's 2015-2016 ten year anniversary season - one by McIntyre and one by the Fellow.



McIntyre, founder of the Trey McIntyre Project, has created critically-acclaimed works for American Ballet Theatre, New York City Ballet, Miami City Ballet, and more. He will primarily serve as a mentor to the new artist, but the program allows for exchange in both directions and dialogue between the two choreographers.


Interested? Apply here by July 15th. A panel of leaders in the dance world will review applications and announce the Fellow by early August.
This weekend the ballet world lost a legend. Maya Plisetskaya, a star of the Bolshoi Ballet who danced ambitiously into her 60s, died of a heart attack at age 89 on Saturday. Dancer, choreographer, teacher and director, Plisetskaya was known for her tumultuous history with the Soviets and beloved for her artistry, power and fluidity of movement.
Following a legacy of Bolshoi-affiliated family members, Plisetskaya began her Bolshoi training at age 8 and stayed loyal to the company for the duration of her career. Though she has many other credentials - such as her stint as the director of the Spanish National Ballet and her time dancing for Maurice Béjart  - she will largely be remembered as a longtime face of the Bolshoi.

Check out our #ThrowbackThursday post from a few years ago featuring Plisetskaya performing The Dying Swan in 1986 (at age 61!) and the below video of her performing in Don Quixote in 1959!
This week, The Royal Ballet will premiere Wayne McGregor's Woolf Works, a full-length ballet inspired by the work of modernist writer Virginia Woolf. Paired with a new score by Max Richter, Woolf Works is McGregor's first full-length piece for the Royal, and it is ambitious.

Woolf hedged a new mode of realism with her beloved texts. This bold, genre-transcendent quality of her work seems to be what has attracted McGregor. Though Woolf Works will focus on three of her novels, The Waves, Mrs. Dalloway and Orlando, along with some of her autobiographical work, McGregor is generally interested in the way "the world keeps shifting" in her writing style. It's true - perspective shifts constantly in Woolf's works, destabilizing concepts of time, space and narrator. We got a glimpse of how this will translate to movement in rehearsal footage released earlier this week. Alessandra Ferri and Federico Bonelli capture the fluidity of Woolf's writing in a duet inspired by The Waves, and Edward Watson embodies the disruptive quality of her narrative style in a fast-paced solo. (Check out a run of each section in the last four minutes of each video!)


Get Pointe Magazine in your inbox