Boston Ballet's Dawn Atkins in Balanchine's "Episodes." Photo by Rosalie O'Connor, Courtesy Boston Ballet.
When Boston Ballet artist Dawn Atkins was a little girl, she set a goal: to be a principal dancer by age 21. More specifically, a principal at New York City Ballet. Atkins was a successful student, joining Boston Ballet School's trainee program in 2011. She moved up to Boston Ballet II the following year and was given a company contract in 2013. But it was after knee surgery in 2015 that Atkins completely changed her approach to dance goals. "I had to set small ones, like being able to plié on one leg," she remembers. "I learned that I had to be kind to myself and celebrate those little goals."
Goal setting can help you advance as a dancer and a person. But it's easy to overly focus on far-off accolades rather than on meaningful advancements that will take you to the next level. "One should aspire to have dreams, of course, but it is important to keep reality in perspective," advises Pittsburgh Ballet Theatre School co-director Dennis Marshall. Instead of tethering yourself to a dream that is ultimately out of your control, you can learn to set goals that will feed your dance career and your confidence.
Keep reading...
Show less
The summer I turned 16, my head swirled with "what ifs" as I counted down the days until the start of the Chautauqua intensive. I'd attended the program four years earlier, and the experience had been a harrowing one—my first lesson in the competitive nature of ballet. Leaving the temperate waters of my little pond, I'd found myself a very small, uncoordinated fish in a pool deep with talent. Now, I was going back to test myself again, this time in Chautauqua's top level. Would I be as good as the other dancers? Would the teachers like me? Would I make friends?
Summer intensives are aptly titled. Their extreme demands can cause anxiety, nerves, jealousy and stress. But put down the question marks! Don't let a negative state of mind keep you from soaking up everything your summer has to offer.
Keep reading...
Show less
Thinkstock
By the time Pittsburgh Ballet Theatre soloist Gabrielle Thurlow reached high school, she knew she wanted to pursue a professional ballet career. But to do so, she had to make the tough decision to leave her local studio in Buffalo, New York, to train at Pittsburgh Ballet Theatre School. "I wanted a school attached to a professional company, where I could train full-time," she says. With her parents' support, she approached her teachers a year in advance to begin talking to them about leaving. "It's a difficult conversation to have," she says. "They trained me, and we had this special relationship. But as former professional dancers, they understood where I was coming from."
Dancers often face this decision as they plan their pre-professional training. They are forever indebted to the teachers who molded them, and broaching the subject of leaving can seem like an impossible conversation. While it's normal to be nervous, there are ways to sensitively navigate the situation, without burning any bridges.
Keep reading...
Show less
Lying awake in her hotel bed in Washington, DC, the night before her audition, Richmond Ballet dancer Valerie Tellmann-Henning was tormented with anxiety. At 31 years old, she was comfortable in her career. So comfortable that she decided to seek new artistic challenges. With the support of her director, she decided to audition for The Suzanne Farrell Ballet with the hope of juggling two contracts. The only thing that stood between her and her goal was a bout of anxiety. "I felt like I was 19 again trying to get my first job," she remembers. "It made me second-guess a lot of things about myself: Is Suzanne going to like my body type? Will my legs be high enough?" The anxious feeling made Tellmann-Henning irritable, and she even found herself holding her breath during the audition class, as a stream of insecurities cycled through her mind.
Anxiety is an irrational sense of fear that pairs perfectly with perfectionism. Most, if not all, ballet dancers will feel anxious from time to time. In fact, the psychologists we spoke to said it is one of the most common reasons dancers come to them for treatment. While a dash of nerves before you go onstage can add electricity to your performance, anxiety can kill your confidence and even limit your ability to live your life normally if it goes unchecked. In a field that's filled with stressful situations—like casting, audition jitters, contract renewals, mounting bills and stage fright—it's important to learn how to identify anxiety, evaluate the seriousness and take steps to cope with it before it holds you back.
Keep reading...
Show less
Learning from your competition can help rechannel jealous feelings. Photo by Eric Ostling.
They are the urban legends of the dance studio: glass in a dancer's pointe shoes, ribbons cut before she goes onstage. The film Black Swan took things a step further, depicting a dancer so wracked with obsessive jealousy that she turns into a monster.
While these caricatures of the jealous ballerina are far from reality, it is not surprising that most dancers will battle bouts of green envy at least a few times in their careers. "It happens to all of us," says American Ballet Theatre corps dancer Paulina Waski, who despite signing a contract with ABT at 16 admits she's felt envious of fellow dancers. "Especially when you are at the point of transitioning from a student to a professional dancer."

According to Dr. Nadine Kaslow, a psychologist who works with dancers at Atlanta Ballet, jealousy is completely normal. However, it creates both physical and mental tension. "It can get in the way of relationships," she says. When Waski was promoted into ABT, she sensed that some of her colleagues from the ABT Studio Company grew distant. Later, she experienced jealous behavior from older company members. "It felt lonely," she says.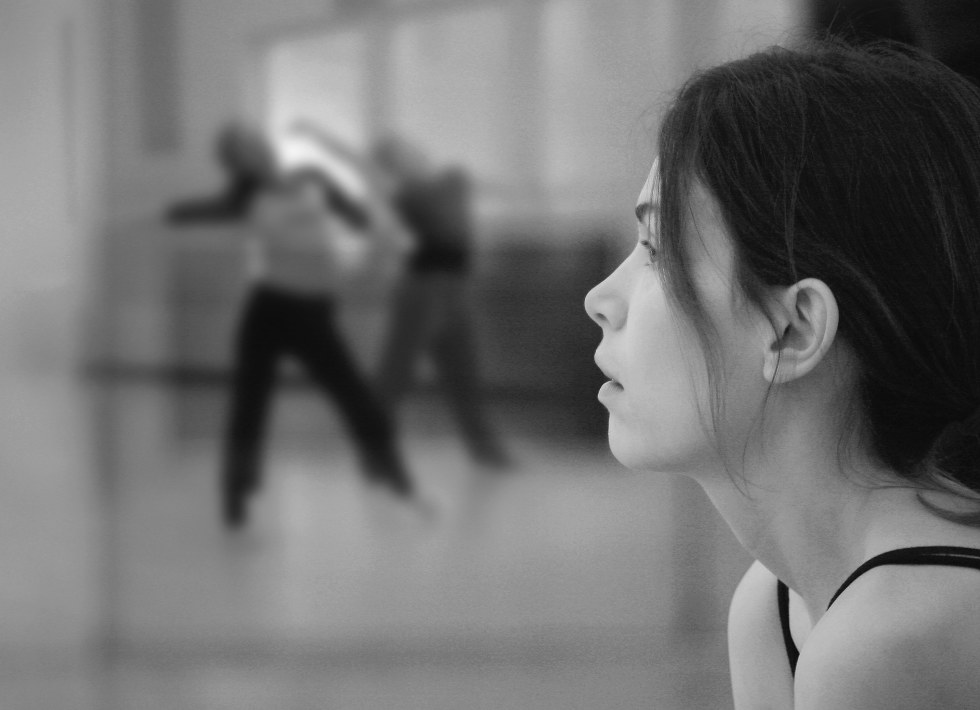 Thinkstock.
Keep reading...
Show less
Photo by Nathan Sayers for Pointe
When Lilliana Hagerman auditioned for Orlando Ballet School's summer intensive, she felt overwhelmingly intimidated. "The other dancers were all so beautiful," remembers Hagerman, now a dancer with Kansas City Ballet. "I thought that if I made one mistake it would be over." Hagerman did make a mistake: She slipped and fell during grand allégro. "I got back up and I smiled," she says. To her relief, the teacher smiled back.
Summer intensive auditions give you only a few moments to make a good impression—often while crammed into a crowded room, after traveling distances in the car and with little time or space to warm up. It's hard not to obsess over a small mistake or feel discouraged if you're put on the intensive's waitlist afterwards. But according to school directors, many of your fears are overreactions. Here are a few of the most common audition misconceptions, along with what's really going on inside the teachers' heads.
Keep reading...
Show less
Reduce the disappointment of a college rejection by having a strong backup plan.
Young in Nashville's Nutcracker. Photo by Karyn Kipley, courtesy Nashville Ballet.
Kristin Young's family is a legacy at Indiana University. While they weren't dancers, both her mother and her sister had attended IU, and she grew up near Indianapolis making regular pilgrimages to Bloomington for sports events. So when the rejection to IU's highly competitive ballet program came, it was a huge blow. "I always thought that I would either go to IU or straight into the professional ballet world," says Young, who is now an apprentice with Nashville Ballet. Luckily, she was careful to apply to several universities. When she was accepted to the University of Oklahoma, she began imagining a different path.
Attending college before a professional ballet career has become a legitimate option for dancers. But because there aren't as many ballet-focused dance programs, serious bunheads tend to only consider a few. If you've got your sights set on just one or two schools, the competition can be as fierce as any company audition. But getting rejected from your preferred college doesn't have to be the end of the world. By researching all the options available to you, and planning your audition process strategically, you can improve your chances of getting into a good second- or third-choice school. Plan B may even end up being the best thing that ever happened to you.
Cast a Wide Net
In this information age, we have multiple resources at our fingertips for researching all the possibilities. First, make a list of the things that are most important to you in a university setting and then do your homework to find colleges with ballet-focused programs that meet those criteria. To get an idea of what's out there, you might begin by searching universities and colleges through the Dance Magazine College Guide.
Young wanted the full college experience, complete with football games and Greek life. For this reason she focused on larger schools with robust athletic departments and reputable ballet programs. Even with her specific criteria she homed in on three—IU, Butler University and OU—instead of putting all her eggs in one basket.
As for dance programs, look for a diversity of high-caliber teachers. Performance opportunities should also be paramount in your decision-making. "I grew up in a school affiliated with a professional company, so I did children's roles or corps roles in high school," recalls Young. The opportunity to perform soloist and principal roles at OU was particularly attractive to her.
When you are narrowing down schools, do more than skim its website—especially for programs you're not as familiar with. Call the department and ask questions, and look for YouTube videos of their performances, or news features about their programs. Schools may offer surprising extras not publicized online, such as touring, study abroad and internship opportunities.
From there, Mercyhurst University Dance Department chair Tauna Hunter suggests narrowing your list to at least three to five colleges to see in person. "Visit while the school is in session, not during the summer," she advises. "See how the faculty interacts with the students." In this process, you may find that the school of your dreams isn't quite the right fit and discover others that surprise you.
Make a Plan
Next, organize an audition strategy. Scheduling them early in the year gives you time to plan more if you receive a rejection. You may even want to get your feet wet at a plan-B college before trying for your top choice. Young, who auditioned at IU first, admits that she was nervous and not in her best ballet shape. "I think getting that audition under my belt gave me the confidence to shine in my next one, which happened to be at OU," she says.
That said, if you didn't perform your best, schools may allow you to audition again for the same academic year. Mary Margaret Holt, director of OU's School of Dance, says dancers who are not successful at the October audition will often try again in January. If your first-choice school offers multiple audition opportunities, try scheduling one early enough so that you can request another later if necessary.
If you're wait-listed for your favorite college, it's hard to predict if you'll ever make it off. Therefore, don't let deadlines pass before accepting a place at your backup school. Hunter says that most colleges have their incoming class set by May 1. However, it is permissible, if you're accepted off the wait list, to pull out of another program (although you may lose a deposit). Hunter advises that dancers be forthcoming as soon as they decide to go someplace else. Doing so isn't just polite—it's also important to protect your network, since the dance world is so small.
Be Open to a Different Path
While getting rejected from your first-choice college is understandably upsetting, it won't hurt to ask for feedback. Holt is happy to discuss with students why they've been rejected and suggest other programs that might be a better fit.
In addition, try focusing on the opportunities available to you rather than those that aren't. After getting rejected from IU, Young got over her disappointment by seizing the opportunity to leave her comfort zone and move to a new city.
"I absolutely thrived at Oklahoma," says Young. "It was the perfect place for me." She graduated in three and a half years and, thanks to a recommendation from Holt, immediately joined Tulsa Ballet as a guest artist for their production of Twyla Tharp's Push Comes to Shove. She started the following season with Nashville Ballet 2 before being promoted to apprentice last year. "Don't be discouraged if you don't get into your favorite school," she says. "Something better could be around the next corner."
Photo courtesy Juilliard
Get Inside Juilliard
The Juilliard School has been a powerhouse of dance education for decades. Now, the walls enclosing this prestigious institution have become a little more transparent. In partnership with the app developer Touchpress, the school has released the app Juilliard Open Studios, which provides an inside look at its classes, coaching and rehearsals. Every episode has educational features for greater insight: layered videos with multiple camera angles, interviews, voice-over commentary, interactive scores and guides pertaining to each work-in-progress.
The app covers all of Juilliard's artistic divisions, and there's no shortage of dance in the mix. This year's batch of episodes features distinguished faculty, alumni and guest artists, including American Ballet Theatre dancers Marcelo Gomes and Luciana Paris in their recent and upcoming projects with Juilliard students. If you want to get an exclusive peek into a potential school or merely peer into Juilliard's rich creative processes, download Juilliard Open Studios for iPad, iPhone and iPod touch from the App Store—get one episode for free and subscribe to the rest for $7.99 per month. —Hannah Foster

Sasaki in the peasant pas de deux from Giselle. Photo by Mike Watson, courtesy Colorado Ballet
Technique Tip
"I am always working to improve my plié. When I get tired or nervous onstage, I remind myself to relax and fully utilize it so I can perform any step to perfection. A good example would be fouettés; sometimes I shorten my plié and the step is almost impossible. But, if I take a breath and use my entire plié, it becomes enjoyable."
—Asuka Sasaki, Colorado Ballet
Pittsburgh Ballet Theatre corps member Caitlin Peabody was dancing famously at her small variety-dance school in Derry, New Hampshire, as a young student. She had so much potential that her instructor encouraged her to audition for Boston Ballet's summer intensive, and she was accepted. Months earlier, she had starred as Cinderella in her school's production. But when she reached Boston, the competition was such that she was placed into the program's lowest level. "I was not where I should have been for my age," Peabody says.    
Perhaps you've had a great year at your studio. When you rehearse your variation for The Nutcracker, the younger ones sit cross-legged on the floor watching in awe, and you feel the tiniest air of jealousy from your peers. But being at the top of your class back home won't exactly help you improve. For many hometown heroes, assessing the competition at a large summer program can be a bitter reality check. Rather than grow discouraged, here's how to use the experience as an opportunity for growth.

Focus on Your Goals, Not Your Level
It's hard not to size up your place in the pecking order once your summer intensive's level placement is posted. A lower-than-expected level can feel like a death sentence, while a higher placement can leave you struggling in a room of dancers you can't stack up to. But these decisions are thoughtfully made. "Sometimes I place dancers in a lower level because I want them to be at the top of their class," says Sharon Story, dean of the Atlanta Ballet Centre for Dance Education. "Especially if they seem very shy and withdrawn, but their technique is very good. Other times I want them to be at the bottom of the class because they need to be pushed."
Wherever you land, you have to believe it is where you are meant to be and move forward with confidence. "If someone is going to succeed in this profession they have to have belief that they will meet the demands necessary," says Orlando Ballet School director Dierdre Miles Burger. She advises her students to not get caught up with what they can't do but use it as inspiration to work hard. "While you are at the summer program, keep a journal," says Burger. "Write down corrections that are not only given to you, but given to others as well, and keep a list of goals to work towards."
 
Competition Is Good for You
Peabody, whose studio back home was more recreational, remembers being profoundly impressed by her classmates' intensity during her first summer in Boston. "Some of the girls would have a look on their faces every day like the world would end if they weren't perfect in adagio," she recalls. "I just didn't get it."
"In a summer intensive, you see the ones who have to dance—the ones who ask questions and improve," says Pacific Northwest Ballet School faculty member Marjorie Thompson. "And then there are the ones who sit in the hall and have a headache and don't dance." Being surrounded by more professionally minded dancers can be an eye-opening opportunity to assess and improve upon your own levels of motivation and discipline.
Story says that while it's beneficial to watch other dancers and observe how they nail those triple pirouettes, don't waste your time on constant comparisons that will kill your confidence. She tells her students to "put their blinders on" and focus on their own journey. The culmination of your efforts is greater than each individual day, so don't expect leaps and bounds when true advancement is inch by inch.
Story also notes that dancers who face challenges with a "determination that is fierce, focused and unrelenting, with a positive 'can do' attitude," can reach higher levels of achievement. "They become some of the most interesting artists that I have seen," she says. By applying these qualities to your own work, Story says, you can turn your challenges into attributes.
    
Think Long Term
Even if you are not among the favorites at your summer program, don't throw in the towel. Keep in mind that at this point in your training, your dancing and physicality can and will change rapidly. Instead, use your experience to evaluate your own training regimen.
Once you return home (and back to the top of your class), Burger recommends referring back to your notebook for inspiration—especially if you feel you're losing momentum. "Many students improve in the summer because there are more classes offered," says Burger. She suggests taking additional classes at home, even if they're in a lower level, to continue pushing yourself.
A challenging summer experience may ultimately teach you that you need a more competitive atmosphere to advance. Peabody and her mother realized halfway through her intensive that she had gone as far as she could go at her local studio. Rather than feeling discouraged about her summer level placement, Peabody auditioned for Boston Ballet's year-round program and was accepted. While she was originally placed with students two years younger than her, she progressed quickly, eventually receiving a contract with Boston Ballet II before joining PBT (where she frequently dances soloist and principal roles). "The underdog," says Story, "makes it more than you think."
Opportunity Is Knocking: Apply to YoungArts
Gillian Murphy. Desmond Richardson. Callie Manning. What do these three great dancers have in common? As teenagers, they were all YoungArts winners. The National YoungArts Foundation is now accepting applications from students in the performing, literary and visual arts for a chance to win scholarships and monetary awards, as well as attend regional YoungArts workshops and receive national recognition (an impressive credential on resumés and college applications). Applicants must be between ages 15 and 18 (or between grades 10 and 12) and be either a U.S. citizen or have a student visa.
Winners are selected through a blind adjudication process. In addition, a select group of finalists will be invited to attend the National YoungArts Week in Miami, where they will have the opportunity to perform, attend master classes with teachers like Richardson, Lourdes Lopez and Philip Neal, and attend interdisciplinary workshops with other artists. Finalists who are high school seniors may also be nominated to be a U.S. Presidential Scholar in the Arts, the most prestigious national honor for graduating artists. Applications are available online at youngarts.org/apply and are due October 16. —Amy Brandt
Technique Tip: Push Your Boundaries
"One image that has really stuck with me (and the one that I pass on to all of my students) is the idea of dancing as if you were Leonardo da Vinci's Vitruvian Man. It's had a huge influence on the way I dance by helping me to concretely 'fill the space' with my movement. When you dance as if every part of your body has energy expanding outward—touching something like the nearest wall, or your own personal circle—you can really fill the stage no matter how simple or complicated your movement." —Courtney Connor Jones, Cincinnati Ballet


Get Pointe Magazine in your inbox