At just 16 years old, the Bolshoi Ballet's Maria Alexandrova already had the makings of a great artist. In this variation from Coppélia, she portrays the carefree Swanilda with blithe, youthful ease.
When she bounds on stage in her perky pink tutu, you immediately notice her legs–they just go on forever. In the first sequence of steps she keeps her jetés and développés low, but then the phrase repeats and she lets her gorgeous extensions fly. She sails through Italian fouettés and whirls around in piqués en manège that get faster and faster. While she nails all the virtuosic movement, Alexandrova also pays beautiful attention to detail throughout the variation. Even the simplest steps become something exciting, like her precise pas de bourrées beginning at 1:03 that sing with musicality.
Swanilda has been one of Alexandrova's signature roles throughout her career. For a fun side by side, watch her perform the same variation almost 20 years later in this video. Although Alexandrova formally retired from the Bolshoi in February, she still performs frequently in Moscow and internationally as a guest artist. Happy #ThrowbackThursday!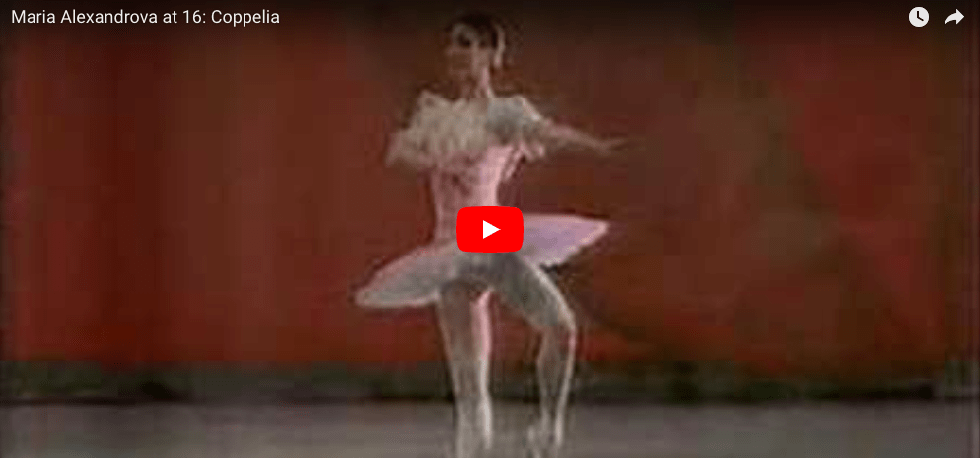 Videos
Nov. 02, 2017 08:11PM EST
When La Sylphide premiered at the Paris Opéra Ballet in 1832, it was an instant hit, establishing the romantic aesthetic and ushering in a golden age of French ballet. La Sylphide's legacy is part of the fabric of the Paris Opéra Ballet—as is Aurélie Dupont, the company's current artistic director and former étoile of 17 years. As the Sylph in Pierre Lacotte's version of the ballet, based on Filippo Taglioni's 1830s original, Dupont breathes fresh life into the traditional romantic style.
In this variation, Dupont dances with inward focus, creating an intimate scene of the Sylph alone in the forest. The long tutu highlights her precise footwork; each point of her foot is a supple articulation, harkening to the romantic era when pointe shoes were little more than ballet slippers with a bit of darning. She invokes an ethereal character without looking fragile. Instead, she floats through each movement with gentle, sustained energy. Even during her bow, Dupont embodies the sophistication and purity that make this art form timeless. Happy #ThrowbackThursday!
When Maya Plisetskaya first toured abroad with the Bolshoi Ballet, she stunned the world. Her dramatic and technical abilities were far beyond what anyone outside the Soviet Union had seen before. She quickly became an icon, symbolizing Russian ballet.
Plisetskaya was the perfect ballerina to play the Tsar Maiden in The Little Humpbacked Horse when choreographer Alexander Radunsky and composer Rodion Shchedrin recreated the classic Russian folktale in the 1960s. This vintage clip of the ballet offers a glimpse into an era gone by. Although ballet technique has advanced since then, Plisetskaya's performance is still electrifying. She is daring and agile in her manèges and fouettés, while she shows gentle purity and authentic emotion in the pas de deux with the wide-eyed Ivan. Even half a century later, this magnificent artist continues to transfix us with her radiant presence onstage. Happy #ThrowbackThursday!
Later this month, six dance companies from around the UK will come together to celebrate Sir Kenneth MacMillan's life and works with performances at Covent Garden. As the program highlight, members of five different troupes will perform in the British choreographer's ballet Elite Syncopations. The fanciful and colorful piece set to Scott Joplin's ragtime tunes reveals MacMillan's lighthearted side and delight in the unconventional. In this video, The Royal Ballet's former principal, Darcey Bussell, shows why Elite Syncopations is a favorite among audiences and dancers alike.
Bussell introduces the ballet, followed by clip of her performing a section called "The Bethena Waltz" (1:40) with Gary Avis. The music in this duet has a smooth, loopy quality that the dancers mimic with continuously circulating movement. As Bussell explains in the intro, subtle moments are key–like when Avis emerges from the "scenery" to grab her hand at the start of the duet, or at 3:35 when the dancers undulate through the upper body to resume dance position. These simple details playfully contrast the over the top costumes and wacky lifts. MacMillan also uses extreme extensions to create humor; at 4:12 the dancers are surprised to find Bussell's foot above her head, and when the dancers exit the stage Bussell is flipped over her partner's head in a full split. Of course, she does it all looking sophisticated and elegant, even in a shiny white jumpsuit with two stars printed on her bum. Happy #ThrowbackThursday!



Get Pointe Magazine in your inbox