popular
Oct. 20, 2017 12:50PM EST
Tiler Peck in "Who Cares?". Photo by Paul Kolnik, Courtesy NYCB.
New York City Ballet principal Tiler Peck and Emmy-winning actress Elisabeth Moss (of Mad Men and Handmaid's Tale fame) may seem like unlikely friends, until you dig a little deeper into their backgrounds. Both attended Westside School of Ballet in Santa Monica and spent summers at the School of American Ballet in their youths. Moss and Peck's career paths diverged when the former fell in love with acting and Peck went on to study at SAB full time, eventually becoming the star we know today. Now, the pairs' artistic pursuits are uniting in an exciting new project.
According to Deadline.com, Moss will produce a documentary featuring Peck and her work curating BalletNOW, last summer's star-studded, critically acclaimed program at Los Angeles's Dorothy Chandler Pavilion. Peck was the first woman to lead BalletNOW's programming, and she brought together dancers from companies including The Royal Ballet, Miami City Ballet, American Ballet Theatre and the Paris Opéra Ballet, putting them on stage with tappers, clowns and break dancers (sometimes simultaneously).
Keep reading...
Show less
Moira Shearer and Robert Helpmann in "The Red Shoes."
Black Swan wasn't the film industry's first ballet-themed psychological drama. In The Red Shoes (1948), theater and life conflate, with tragic results for the dancer caught in the middle. Unlike Black Swan, however, The Red Shoes starred a real life ballerina. Moira Shearer, then a leading dancer with Sadler's Wells Ballet (now The Royal Ballet) plays Victoria Page, a young prodigy who catches a Russian impresario's eye, joins his company and stars in a new ballet based on the Hans Christian Andersen fairy tale, The Red Shoes.
In this clip from the dance sequences, the ballet character sees the infamous shoes at a carnival booth and immediately covets them. Shearer's skill as a dancer and actress are evident. Each twirl, reach and penché evokes her desperate longing. The shoemaker, danced with incredible precision by famous choreographer Léonide Massine, taunts the girl. When she finally leaps into the red shoes (with kitschy film effects), she forgets her partner completely. She dances with bounding energy, depicted by Shearer's crisp, light petit allégro. Later, it becomes clear that the shoes have a fatal sort of magic, both onstage and off.

Keep reading...
Show less
Allison DeBona teaching class at her artÉmotion summer intensive at Ballet West. Photo by Joshua Whitehead, Courtesy Ballet West.


After Ballet West first soloist Allison DeBona appeared on The CW's "Breaking Pointe," studio directors nationwide started calling her up, inviting her to teach master classes. Soon DeBona was traveling every month out of the year, honing her passion for coaching the next generation of artists.
While jet setting may not be in your future, regular teaching gigs are a great way to boost your resumé—and your income. Whether you're looking for layoff-season work or want to branch into coaching and choreography, dipping your toe in the teaching world is a smart way to start.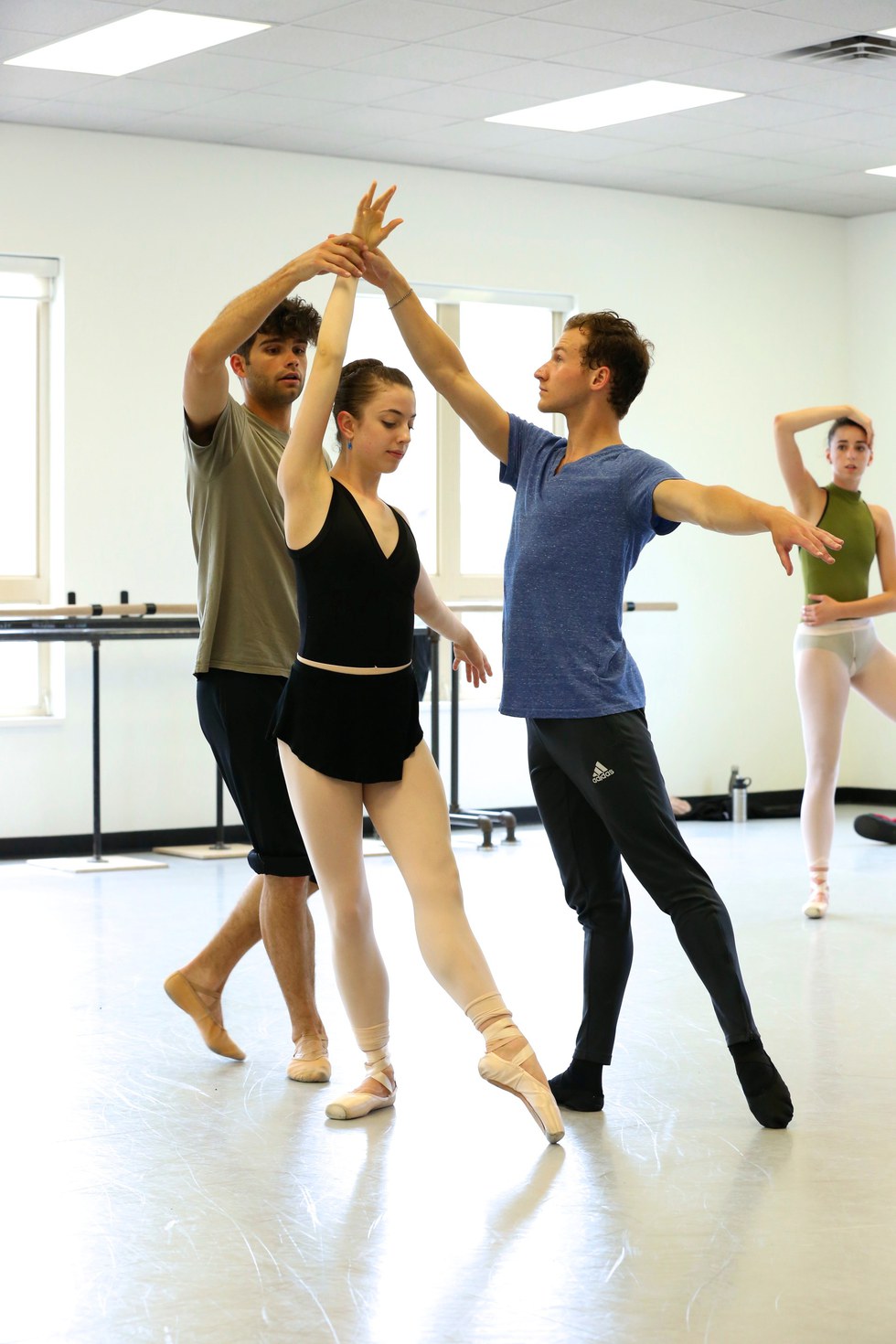 Ballet West principal Rex Tilton works with students at artÉmotion. Photo by Joshua Whitehead, Courtesy Ballet West.
Getting Started
Few of us have a small-screen platform like DeBona, but you likely already have a network in place. Key contacts might be a teacher friend in need of a sub, the studio owner in your hometown or even your company's academy director.
Whoever it is, you won't get gigs without expressing interest. Nashville Ballet's Mollie Sansone built her studio clientele by good old-fashioned cold calling. "I looked up all the dance studios in Nashville, wrote the numbers down and called around," she says. If directors aren't looking to hire, offer to put your name on a substitutes list. This can help you play the long game for future staff openings, and you might even prefer the flexible, ad-hoc work.
Keep reading...
Show less
popular
Sep. 15, 2017 07:08PM EST
Miami City Ballet prepares for Hurricane Irma. Photo via Twitter.
As Hurricane Irma made its way through the Caribbean last week, Sarasota Ballet principal Ellen Overstreet was closely following the news. Tracking its progress, she made plans with fellow company members Asia Bui and Madysen Felber: "Wednesday was the most stressful day. We went to five different grocery stores. There was no gas; there was no water. Our plan was to stock up one of our apartments and sleep over all together."
By Friday night, however, the storm had shifted west, its radius enveloping Sarasota and prompting many company members (those who hadn't already booked flights out) to evacuate. In a last-minute decision, Overstreet, Bui and Felber packed up a car and drove to Tampa, where they spent the night safely. Yet the storm progressed, and in another night flight they headed for Orlando to stay with Overstreet's friend's family. The central Floridian city saw flooding damage, downed awnings, and power outages like much of the state, but Overstreet says that she was in "a strong house and felt secure" while hunkering down to wait out the storm.
Few things are more terrifying than the prospect of 170+ mile per hour winds literally chasing you upstate. But the anticipation for Irma intensified sharply in Hurricane Harvey's aftermath. Last week, we reported that the Houston Ballet Center for Dance and its home theater sustained serious flooding damage. The company's first program has been postponed, to be performed at a later date in a back-up venue.

We checked in with some of Florida's ballet companies to see how they weathered this most recent storm.
Keep reading...
Show less


Get Pointe Magazine in your inbox