Students taking class at the Miami City Ballet School. Photo by Alexander Iziliaev, Courtesy Miami City Ballet.
Growing up in Michigan, Jessy Dick was used to her daily hour-long drives to the Grand Rapids Ballet School, where she trained. But when she started to think about summer intensives, a new problem emerged: Auditions for the schools she was interested in were even farther away, in Chicago or Detroit. "I learned early on that if I wanted to do any summer programs, I'd have to travel at least three hours in order to audition," says Dick, now a member of The Washington Ballet's Studio Company.
Making plans for your summer training is complicated enough, especially with the sheer number of programs to choose between. But students who live far from popular audition hubs face the additional hurdle of organizing, scheduling and budgeting for audition trips. Luckily, with strategic planning, what can feel overwhelming at first can become a rewarding experience.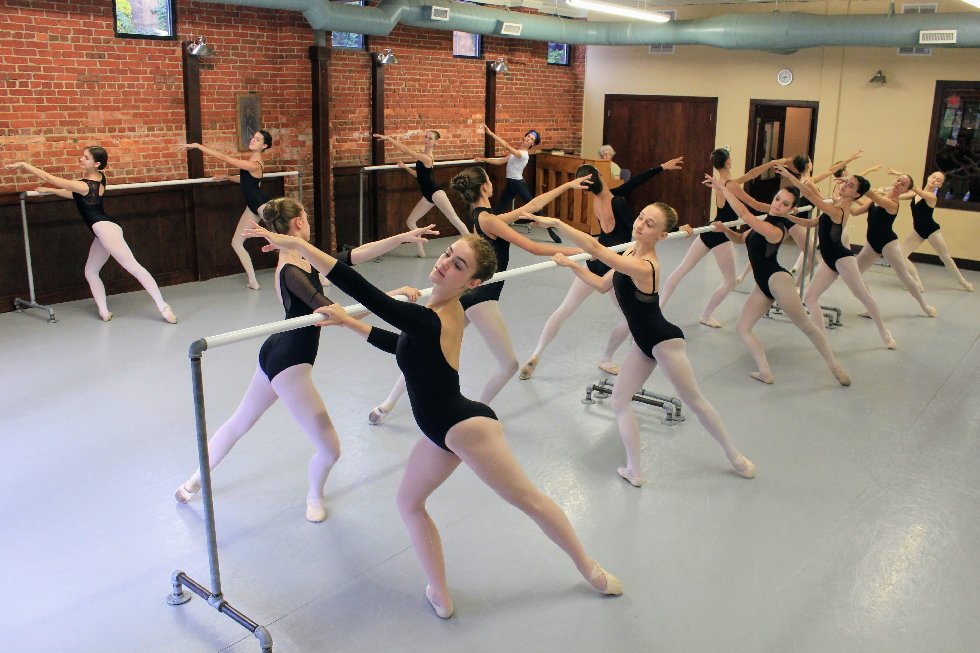 Students at the Ballet Conservatory of Asheville look for weekends when auditions overlap in one city. Photo by Blair Chamberlain, Courtesy Ballet Conservatory of Asheville.
Organize, Prioritize
For dancers without the luxury of an audition city nearby, prioritizing which schools to aim for is crucial. How to decide? Research, research, research. (Pointe's "2018 Summer Intensive Guide" is a good place to start.) Emily McDougall, a 14-year-old student at The School of Oklahoma City Ballet who's made several six-hour drives to auditions in Dallas and Kansas City, does some serious investigating in order to narrow down her choices.
Keep reading...
Show less
Saneshige performing the Black Swan pas de deux with Cincinnati Ballet's Patric Palkens. Photo by Will Brenner. Courtesy CCM.
Pointe caught up with three college dancers last spring to see what it's like juggling ballet, academics and a social life on campus. Here's Kiahna Saneshige, a student at the College-Conservatory of Music at the University of Cincinnati getting her BFA in dance with a minor in communications.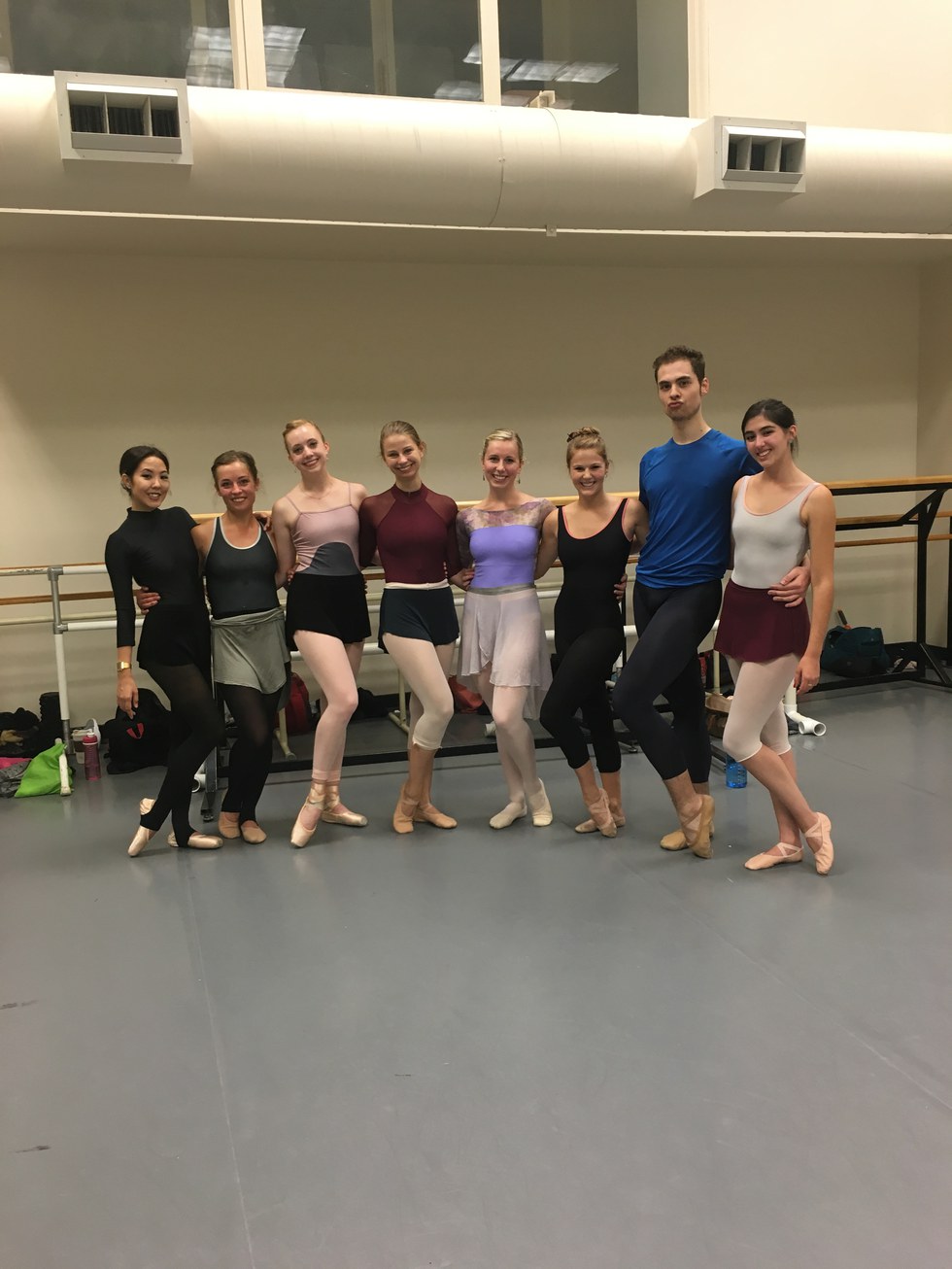 Saneshige posing with friends in CCM's dance studios. Photo Courtesy Saneshige.
When Kiahna Saneshige attended Cincinnati Ballet's summer intensive after her junior year of high school, she knew she wanted a professional career but wasn't sure joining a company after graduation would completely satisfy her. "The RAs were all University of Cincinnati, College-Conservatory of Music students, and they gave me the rundown of what the school was like," she recalls. "It's known for the excellent quality of its dancers, plus I could have the social life of college and the chance to pursue another degree besides dance." Saneshige, who graduated from CCM in May, says the last four years were challenging but couldn't have prepared her better for her next step: a position with Columbus Dance Theatre.
Keep reading...
Show less
Jackie Schiffner rehearsing onstage for the BFA Spring Dance Performance. Photo by Carolyn DiLoreto, Courtesy USC.
Pointe caught up with three college dancers last spring to see what it's like juggling ballet, academics and a social life on campus. Here's Jackie Schiffner, a student at the Glorya Kaufman School of Dance at the University of Southern California getting her BFA in dance with a concentration in dance performance.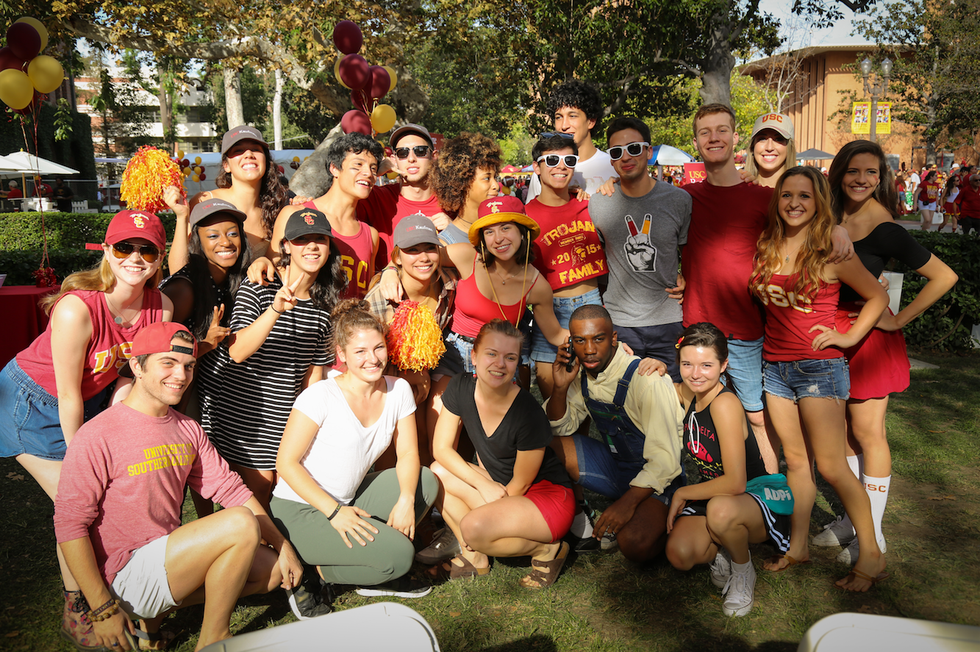 Schiffner with friends during USC's Trojan Family Weekend. Photo by Justina Gaddy, Courtesy USC.
Jackie Schiffner grew up in Huntington Beach, California, training in everything from ballet to hip hop. Now a junior at University of Southern California's Glorya Kaufman School of Dance, she was drawn by the school's mission to develop "hybrid artists." "Even at the audition, we were required to do contemporary, hip hop, improv. And the faculty was so focused on each of us as individuals, which has definitely carried over into my experience here," Schiffner says. Her teachers' influence has already inspired Schiffner's future goal. "After I graduate, I definitely want to join a company, but then get my MFA in dance to teach at the collegiate level."
Keep reading...
Show less
Elizabeth Abbick as the Snow Queen in Butler Ballet's "Nutcracker." Photo by Brent Smith, Courtesy Abbick.
Pointe caught up with three college dancers last spring to see what it's like juggling ballet, academics and a social life on campus. First up is Elizabeth Abbick, a student at Jordan College of the Arts, Butler University getting her BFA in dance performance and her BA in mathematics.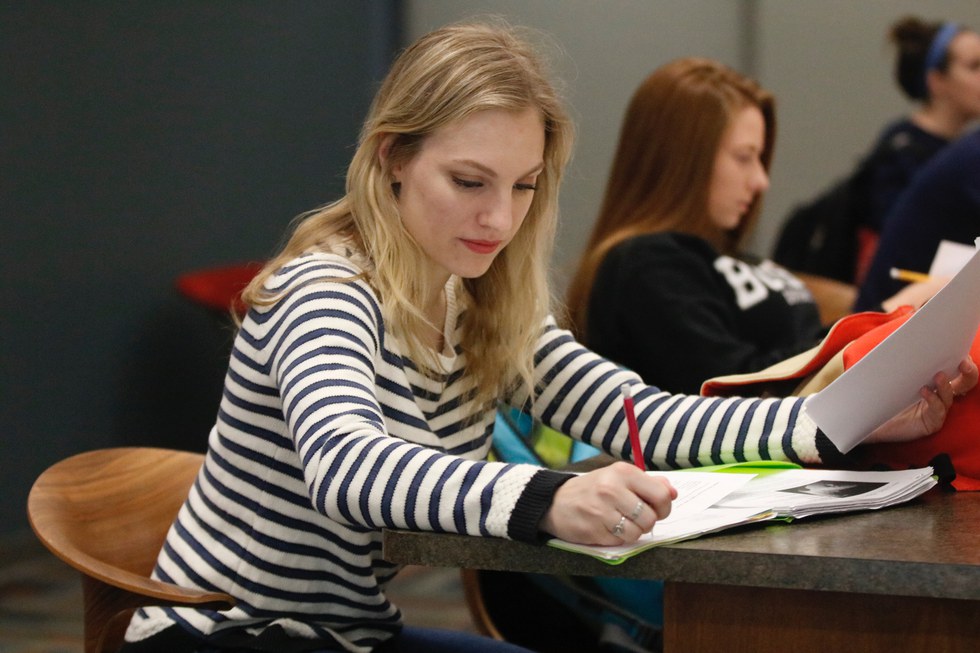 Abbick studying in the library. Photo by Jimmy Lafakis for Pointe.
Leawood, Kansas, native Elizabeth Abbick faced some tough choices her senior year of high school. Equally talented in math and ballet, she wanted a professional dance career but also desired to plan her post-performance life. "Butler University had always been on my radar because I knew the faculty was stellar and the students are the best of the best. I realized it could offer me both worlds," she says. Now a senior majoring in dance performance and mathematics, she hopes to work on the business side of the ballet world after her stage career.

Keep reading...
Show less


Get Pointe Magazine in your inbox