Chava Lansky
Originally from Amherst, MA, Chava graduated from Barnard College with a B.A. in Dance and a minor in English. She has worked for Jacob's Pillow Dance and the Bates Dance Festival, and held a fellowship in the Dance Division of the Library of Congress. Chava has performed works by Martha Graham, Mark Morris, Molissa Fenley, Patricia Hoffbauer, Joanna Kotze, Loni Landon and Kate Weare. She continues to create work and perform in the city, and is a member of DJM Dance Collective. Chava also reviews books for Paper Brigade literary magazine.
P.O. Alienz in Lavender Leotard; Paulina Waski modelling a Kreature Kulture t-shirt. Photos Courtesy Paulina Waski.
Walk into any ballet class and you're bound to see a row of dancers clad in leotards patterned with dainty flowers and lace. But nearly three years ago, American Ballet Theatre corps dancer Paulina Waski wore a very different kind of leotard to class—and her colleagues loved it. Now an average day at ABT includes any number of dancers in leotards featuring angry aliens, detached eyeballs and grinning monsters.
"My dad, John, is an artist, and he draws all these crazy creatures," Waski explains. "One year he did what he called his paper plate project; he drew a new creature onto a paper plate every single day for 365 days. I thought, 'he should put one on a leotard!' He screen printed one onto one of my old leotards himself, and when I wore it to class everyone was wowed." And so, Kreature Kulture was born.
Keep reading...
Show less
popular
Oct. 16, 2017 09:26PM EST
Houston Ballet's Jared Matthews and Sara Webb in"The Sleeping Beauty." Photo by Amitava Sarkar, Courtesy Houston Ballet.
Despite the devastation and pain that Hurricanes Harvey and Irma have left in their wake this fall, it's been encouraging to see dancers step up in aid of their communities: When the future of Houston Ballet's Nutcracker seemed uncertain, venues around the city pulled together to allow the company to produce the show on a "hometown tour." And when Florida ballet companies had to evacuate, Atlanta Ballet and Charlotte Ballet welcomed them with open arms. In addition, New York City-based studio Broadway Dance Center offered community classes in September with proceeds donated to the American Red Cross.
The next in this series of good deeds is Hearts for Houston, a benefit performance bringing dancers from seven major companies together at New York City's Alvin Ailey Citigroup Theater to raise money for the United Way of Greater Houston's Harvey Relief Fund. Scheduled for Sunday, October 22, the evening will feature members of the Houston Ballet, American Ballet Theatre, New York City Ballet, Pennsylvania Ballet, Texas Ballet Theater, The Washington Ballet and Alvin Ailey American Dance Theater. Hearts for Houston is imagined and produced by Houston Ballet principal dancers Yuriko Kajiya and Jared Matthews (both formerly of ABT) and funded by patrons Phoebe and Bobby Tudor and sponsor Neiman Marcus.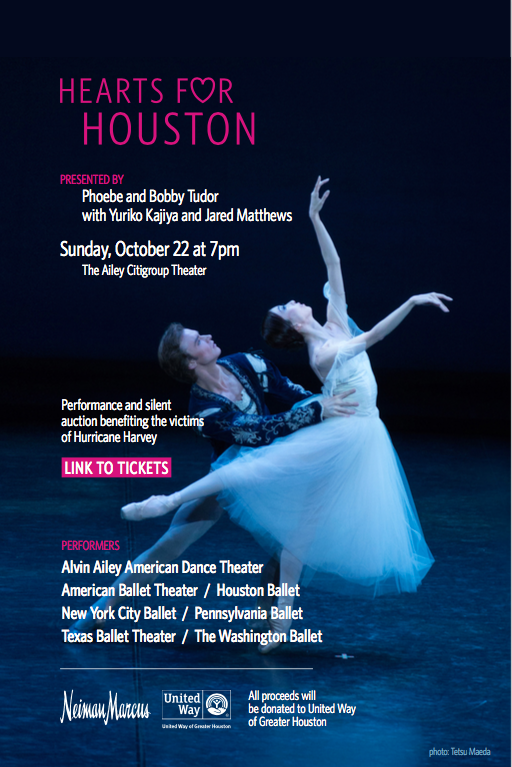 Keep reading...
Show less
Members of San Francisco Ballet in company class as part of World Ballet Day LIVE 2017. Photo by Erik Tomasson via San Francisco Ballet on Instagram.
Last Thursday was World Ballet Day LIVE, the official 22-hour live-stream relay showcasing companies across the globe. If you were busy (we know that you don't always have the luxury to spend an entire day watching ballet), don't fret. Many of the companies involved recorded their classes, rehearsals and interviews from the day of, and we rounded them up for you to watch at your leisure. Careful, though; there are more than twenty hours of footage included here... make sure you take a break to, you know, sleep.
First up is San Francisco Ballet with a full five hours, including rehearsal for Balanchine's timeless classic, Serenade.
The Royal Ballet's WBD stream is split into three parts. Here's the first chunk, featuring company rehearsals of a few Sir Kenneth MacMillan ballets as well as Christopher Wheeldon's Alice in Wonderland (a measly two hours and 45 minutes). You can find part 2 here and the full company class here. The video also features a quick aerial tour of London from the balcony of the Royal Opera House.
Keep reading...
Show less
popular
Oct. 06, 2017 08:30PM EST
Roy Kaiser with Pennsylvania Ballet Dancers. Photo by Alexander Iziliaev, Courtesy Nevada Ballet Theatre.
In 2014 the dance world was surprised when longtime Pennsylvania Ballet artistic director Roy Kaiser stepped down. It was announced yesterday that Kaiser will be rising to the helm again as the Las Vegas-based Nevada Ballet Theatre's new artistic director, replacing James Canfield. Kaiser will be the fourth artistic director in NBT's 46 year history.
The company will be gaining a highly experienced leader. Following his rise through the ranks to principal dancer at Pennsylvania Ballet, Kaiser worked as a ballet master and eventually took the reigns as the company's artistic director in 1995. Pennsylvania Ballet added 90 new ballets and 35 world premieres to their repertoire under his leadership.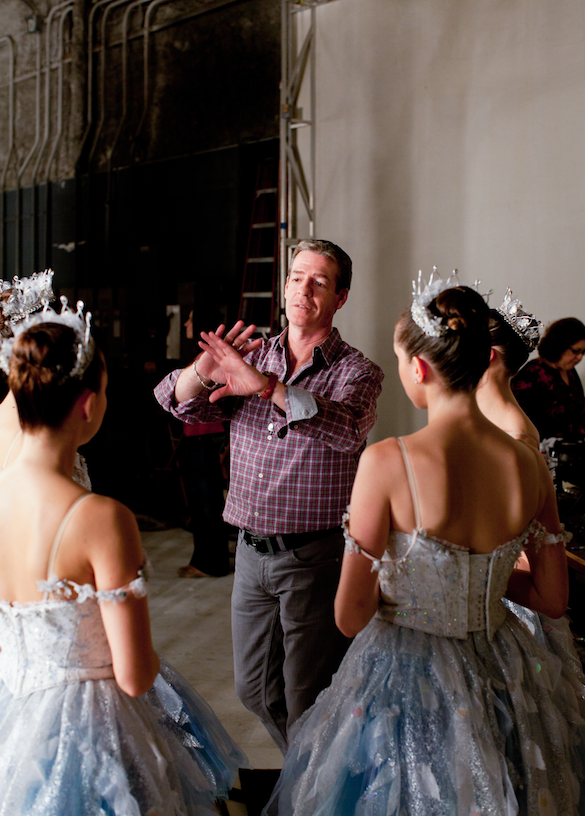 Roy Kaiser with Pennsylvania Ballet Dancers. Photo by Alexander Iziliaev, Courtesy Nevada Ballet Theatre.
Keep reading...
Show less


Get Pointe Magazine in your inbox