Chava Lansky
Originally from Amherst, MA, Chava graduated from Barnard College with a B.A. in Dance and a minor in English. She has worked for Jacob's Pillow Dance and the Bates Dance Festival, and held a fellowship in the Dance Division of the Library of Congress. Chava has performed works by Martha Graham, Mark Morris, Molissa Fenley, Patricia Hoffbauer, Joanna Kotze, Loni Landon and Kate Weare. She continues to create work and perform in the city, and is a member of DJM Dance Collective. Chava also reviews books for Paper Brigade literary magazine.
popular
Dec. 13, 2017 08:42PM EST
Photo by Kyle Froman
Peek inside Devon Teuscher's pointe shoes and you'll see a discreetly placed number. "I want to see how many shoes I go through in a year," says the American Ballet Theatre principal. "Last year it was close to 200 pairs." Teuscher keeps a Sharpie handy for this season's count in a small pouch containing other shoe accessories like ribbons and elastics. It's one of a handful of carefully organized pouches stored in her red mesh bag. "I'm definitely not a pack rat," she says of her no-frills style. Teuscher's bag came from Ascot + Hart, a California boutique that her sister introduced her to. "I love that it's breathable and lightweight and it can pack quite a bit. It's also easy to wash."
Keep reading...
Show less
Texas Ballet Theater's Brett Young as Edward Scissorhands in "The Nutty Nutcracker." Photo by Steven Visneau, Courtesy Texas Ballet Theater.
On December 15, Texas Ballet Theater will set aside its familiar Nutcracker costumes, variations and sets for their one-night-only performance of The Nutty Nutcracker. A satirical take on the classic story, The Nutty Nutcracker combines the most riotous in current pop culture and politics with Tchaikovsky's well-worn refrains.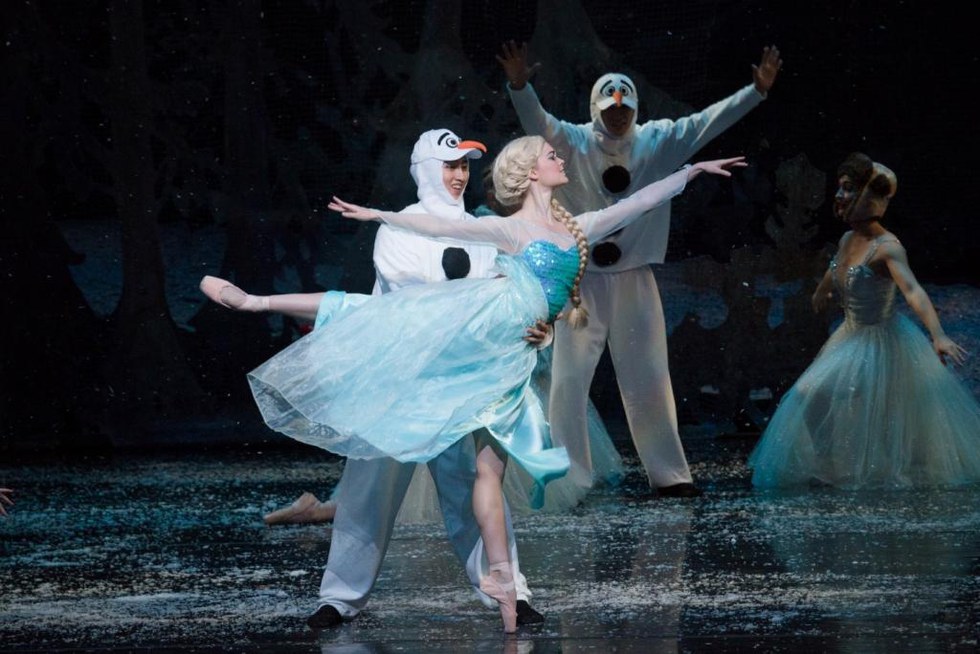 TBT dancers portray Elsa and Olaf in the snow scene of the Nutty Nut in 2015. Photo by Ellen Appel, Courtesy TBT.
Keep reading...
Show less
New York City Ballet's famous growing tree. Photo by Paul Kolnik, Courtesy NYCB.
Literary Roots

E.T.A. Hoffmann, a German writer, penned the eerie and dark tale "Nutcracker and Mouse King" in 1816. About 30 years later, the French writer Alexandre Dumas took the Nutcracker story into his own hands, lightening things up and softening the character descriptions. Dumas even cheered up the name of the protagonist. "Marie Stahlbaum" (meaning "steel tree," representing the repressive family Marie found herself in, which led her imagination to run wild) became "Clara Silberhaus" (translated to "silver house," a magnificent home filled with shiny magic.)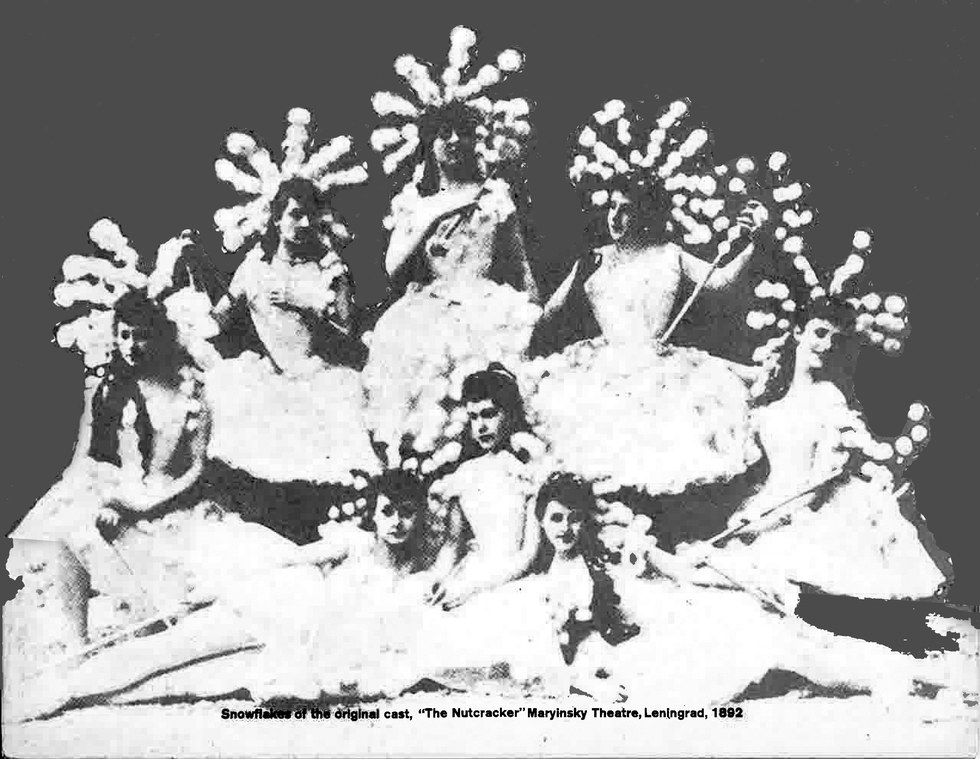 Snowflakes of the original cast, "The Nutcracker" at the Mariinsky Theatre, 1892. Photo by Walter E. Owen, Courtesy Dance Magazine Archives.
From Page to Stage
In 1892 St. Petersburg, choreographer Marius Petipa and composer Pyotr Ilyich Tchaikovsky pulled the story off the page and onto the stage of the Mariinsky Theatre. But Petipa fell ill while choreographing The Nutcracker and handed his duties over to his assistant, Lev Ivanov. Critics at the 1892 premiere were not pleased. Balletomanes felt the work to be uneven, and lamented the lack of a main ballerina in the first act. Many thought that the story was too light compared to historically based stories.
Out of Russia
Despite its initial reception, the ballet survived, partially due to the success of Tchaikovsky's score. Performances were scarce, though, as the Russian Revolution scattered its original dancers. The Nutcracker's first major exposure outside of Russia took place in London in 1934. Former Mariinsky ballet master Nikolas Sergeyev was tasked with staging Petipa's story ballets on the Vic-Wells Ballet (today The Royal Ballet) from the original notation. The notes were incomplete and difficult to read, yet Sergeyev persisted, and The Nutcracker made it to the stage.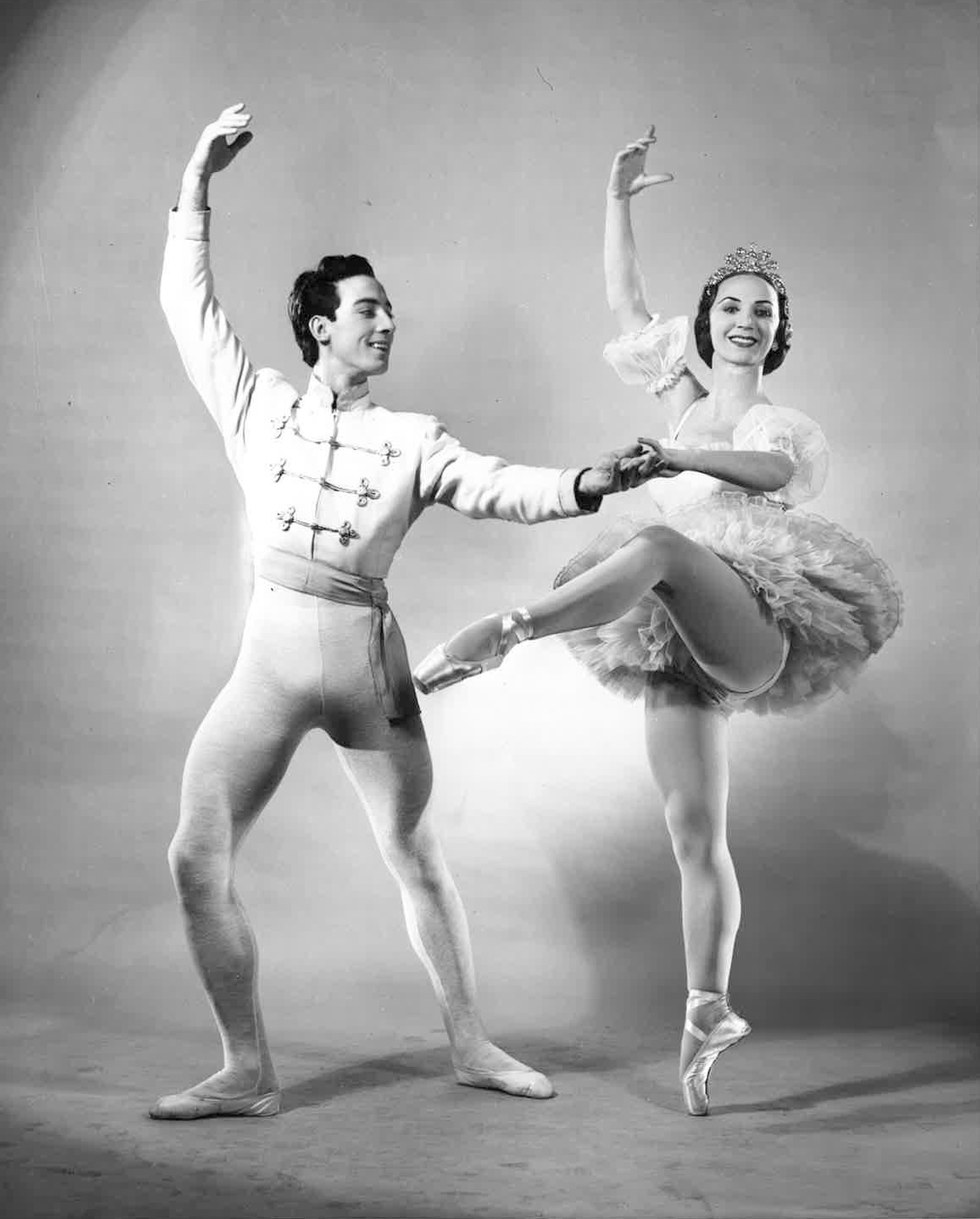 Dancers from ballet Russe de Monte Carlo in "The Nutcracker" pas de deux. Photo Courtesy Dance Magazine Archives.
Keep reading...
Show less
Trending
Dec. 11, 2017 05:02PM EST
From left: Justin Peck, Rebecca Krohn, Jonathan Stafford and Craig Hall. Photo by Erin Baiano, Courtesy New York City Ballet.
The New York City Ballet Board of Directors announced on Saturday the interim team that has been appointed to run the artistic side of the company during ballet master in chief Peter Martins' leave of absence. Martins requested a temporary leave from both NYCB and the School of American Ballet last Thursday while the company undergoes an internal investigation into the sexual harassment accusations aimed at him.
The four-person group is made up of members of the company's current artistic staff, led by ballet master and former principal dancer Jonathan Stafford. Joining Stafford are NYCB resident choreographer and soloist Justin Peck and ballet masters Craig Hall and Rebecca Krohn, both former dancers with the company. While the members of this group haven't had much leadership experience, their close familiarity with the company (Krohn left the stage for her new role just two months ago) should help to ease the dancers' transition.

The team will be responsible for the day-to-day artistic needs of the company including scheduling, casting and conducting rehearsals. While there's no word yet on the length of their tenure, we'll continue to keep you updated as the story surrounding Martins unfolds.


Get Pointe Magazine in your inbox