Candice Thompson
Candice Thompson is a former Milwaukee Ballet dancer and a frequent contributor to Pointe.
Nadia Mara (second from left) with Atlanta Ballet patrons. Photo by J. Clemmons, Courtesy Atlanta Ballet.
Ballet companies cannot survive without the financial support of their patrons and donors. In addition to underwriting new buildings and world premieres, and contributing to endowments, individual patrons and corporate donors often sit on the company's board. Many even sponsor the salaries of dancers, or support their side projects.
Yet your ballet training does not prepare you for the formal, sometimes awkward socializing you are asked to do with these VIPs at galas, backstage champagne toasts and other events. Atlanta Ballet dancer Nadia Mara remembers feeling uncomfortable at patron events her first year as a professional. "My English wasn't great," says Mara, who grew up in Uruguay, "and I was unsure of what to do, how to act." Yet she found that as she gained more experience speaking with patrons about where she had come from and her interests, the awkwardness melted away. "We have so much in common. We are passionate about the same things: ballet, art, fitness, culture."
Cultivating strong relationships with donors and patrons often means stepping outside your comfort zone. "Our livelihood depends on them," says Sona Kharatian, a dancer with The Washington Ballet. "It is important that we make them feel included and let them know we know they are doing this for the greater good of culture in their city." Read on for some tips on how to initiate conversation and make some new, supportive friends.
Keep reading...
Show less
Ashley Thursby in Louisville Ballet's "Swan Lake." Photo by Sam English, Courtesy Louisville Ballet.
In her third year as a full company member of Alberta Ballet, Alexandra Gibson was amazed to learn she would be understudying Myrtha in Giselle. "Prior to that I had mostly played to my strengths in innocent, young roles," remembers Gibson, who didn't expect to actually perform the icy Queen of the Wilis. Yet when the first-cast Myrtha sprained her ankle a few weeks before opening night, Gibson was suddenly cast for six out of the nine shows. "Learning how to be cold, authoritative and mature in a short amount of time was as challenging as the choreography."
Every once in a while, you'll encounter roles that just don't click. Sometimes you will be cast against type, or thrown into a part that you don't feel ready for. Other times, unfamiliar choreography or movement styles may throw you off your game. In those instances, how do you remain unflappable and open to feedback in order to mold your body and mind to the role at hand? Three professionals get real about how they have struggled to do just that, and how they have grown as artists through the process.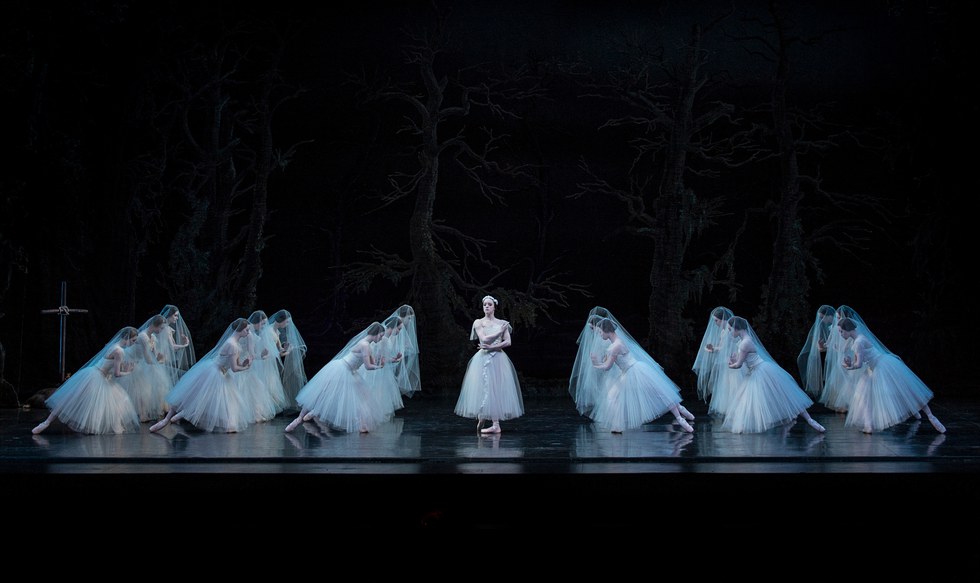 Alexandra Gibson and artists of Alberta Ballet in "Giselle." Photo by Maximillian Tortoriello, Courtesy Alberta Ballet.
When in Doubt, Ask

Keep reading...
Show less
Tiler Peck with Andrew Veyette in "Allegro Brillante." Photo by Paul Kolnik, Courtesy New York City Ballet.
"I was particularly excited when I saw my name on casting for Allegro Brillante in 2009," remembers principal dancer Tiler Peck. "Balanchine had said Allegro was, 'everything I know about classical ballet in 13 minutes,' and of course that terrified me." To calm her fear, Peck followed her regular process for debuts: begin by going back to the original performers to get an idea of the quality and feeling of the ballet and ballerina. "It is never to imitate, but rather to surround myself with as much knowledge from the past as I can so that I can find my own way," says Peck.
Keep reading...
Show less
Jurgita Dronina as Kitri in "Don Quixote." Photo by Angela Sterling, Courtesy National Ballet of Canada.
When Jurgita Dronina first danced Kitri for a guest performance of Don Quixote with Teatro Filarmonico-Fondazione Arena Di Verona, she was in essence cast against type. "Before Kitri, I was dancing only lyrical or dramatic roles, so I had to start from scratch in finding my own signature in the steps and my own interpretation of the character," says Dronina, who was dancing with Royal Swedish Ballet at the time.
Keep reading...
Show less
Simone Messmer as Giselle. Photo by Gene Schiavone, Courtesy Miami City Ballet.
When Miami City Ballet brought Giselle back into its repertoire recently, the company borrowed sets and costumes from American Ballet Theatre. MCB principal (and former ABT soloist) Simone Messmer would dance the lead after years of watching and performing alongside famous ballerinas in the title role. "I had so much attachment to that production, and those costumes," says Messmer, who had danced nearly every role except the coveted Giselle. "When I finally performed it, I think I wore Alessandra Ferri's costume for Act I and Natalia Makarova's for Act II." To add to the emotional roller coaster, ABT company members had written "merde" messages for Messmer's debut and tucked them in with the costumes when they were shipped to Miami.
Taking on a classic role such as Giselle comes with a tall order: respecting history while trying to make history. The ballerina must come into her own within a role, even as she hews close to decades- or centuries-old choreography. Below, Messmer talks about what it took for them to make a classic role her own.
Keep reading...
Show less
Courtesy Terminus Modern Ballet Theatre
After a shakeup at Atlanta Ballet this past April, several leading dancers chose not to renew their contracts. Led by John McFall for more than 20 years, the company's direction and repertoire had favored contemporary ballet. When McFall retired in 2016, former San Francisco Ballet principal Gennadi Nedvigin took over as artistic director with a more traditional approach.
While it is not unusual for dancers to be let go or move on after a change at the top, many were surprised when Tara Lee, Christian Clark, Rachel Van Buskirk and Heath Gill revealed where they were going. Along with veteran AB dancer John Welker, a runner-up in the company's search for a new artistic director, these tenured dancers had planned quietly to form their own company: Terminus Modern Ballet Theatre. "We were all at a point in our careers where we were asking 'What do we want?' " says Welker, who had directed AB's summer company Wabi Sabi. "And we were aware that time in this career is short. This city has an energy here. I think Atlanta is ready for another dance company to thrive."
Keep reading...
Show less
Georgina Pazcoguin as Victoria in the Broadway revival of CATS (photo by Matthew Murphy, courtesy CATS)
A debilitating illness forced Katelyn Prominski to retire early from Pennsylvania Ballet. However, once she recovered, she felt ready to tackle a new stage: Broadway. But before she began booking musicals like Flashdance and Dirty Dancing, she had to reckon with a new and humbling audition process. "When you go into a Broadway audition, you learn a dance combo first and then by the time they ask you to sing, your heart rate is going," says Prominski. "I remember one audition where I forgot the words and la-di-da'd my way through instead of singing the lyrics."
More and more ballet dancers are taking a chance on Broadway musicals. New York City Ballet principal Megan Fairchild recently starred in On the Town, while ballet-centric shows such as Christopher Wheeldon's An American in Paris have provided starring and ensemble opportunities for dancers from NYCB, The Royal Ballet Miami City Ballet and more. Many cite the artistic benefits of exploring an entirely new side of performance and the challenge of dancing, acting and singing. With eight shows a week, you get to practically live onstage and dive deep into a role. The pay is usually better, too. But in order to make this new world your own, you must be ready to rethink your audition approach and be open to a different set of professional expectations.
Keep reading...
Show less
Caralin Curcio at the International Summer Course for Professional Dancers. Courtesy Kathleen Breen Combes.
While New York City Ballet was off last August, corps member Sasonah Huttenbach was hard at work at the Danish Ballet Masters program, a two-week Bournonville workshop in New York City led by former Royal Danish Ballet dancers Mogens Boesen and Linda Hindberg. While they have always offered a student intensive, last summer Boesen and Hindberg added a program for working dancers. "A lot of professionals just lean toward open classes or giving themselves class during layoffs, but sometimes you need the basics because you're rehearsing and performing so much," says Huttenbach, who attended the student intensive twice before joining NYCB. "It was great to spend time off perfecting my alignment and technique."
Wondering about how to spend your summer layoff weeks this year? While teaching or performance gigs are good ways to stay busy, off-time can also be perfect for brushing up your technique, exploring another style and networking with a broader range of dance professionals. From big cities to the beach, programs geared towards professionals can help reinvigorate your career and remind you that you can always go back to summer camp.
Keep reading...
Show less


Get Pointe Magazine in your inbox