Amy Brandt
Amy has been the editor in chief of Pointe magazine since 2014, following a 19-year dance career. She danced professionally with the Milwaukee Ballet and The Suzanne Farrell Ballet, among others, and performed in honor of Ms. Farrell at the 2005 Kennedy Center Honors. While pursuing her college degree part-time, she began writing extensively for several dance publications, including Pointe's "Ask Amy" advice column. Amy graduated summa cum laude from Marymount Manhattan College with a BA in English and World Literatures, and currently serves on its advisory board. Before joining Pointe, she was an associate editor for Dance Teacher and Dance Magazine.
Doane and Fentroy brought musical sensitivity to "Brahms Variations." From left: Heiko DeWees, Courtesy DTH; Rachel Neville, Courtesy DTH.
There's nothing more satisfying than witnessing young dancers take their artistry to the next level. During Dance Theatre of Harlem's spring season at New York City Center, Chyrstyn Mariah Fentroy and Da'Von Doane—two dancers who had grown up at DTH since the company relaunched in 2013—brought joy and sophistication to Robert Garland's Brahms Variations. Costumed in sunny yellow and muted gray, the pair were perfect vessels for Johannes Brahms' Variations on a Theme by Haydn, punctuating accents and lengthening through legatos with heightened musical sensitivity.
Keep reading...
Show less
Karin von Aroldingen and Mikhail Baryshnikov in "Prodigal Son." Photo by Costas, Courtesy Dance Magazine Archives.
"My whole mission in life is to keep Balanchine's work alive," says former New York City Ballet dancer Karin von Aroldingen in Frances Mason's I Remember Balanchine, a collection of interviews by George Balanchine's friends and colleagues. Her words feel especially potent now—and never more true. On Friday, January 5, news came to light that the German-born dancer, teacher, NYCB ballet master and longtime stager for the Balanchine Trust had died at age 76.
Born in East Germany in 1941, von Aroldingen joined Frankfurt Ballet as a first soloist before George Balanchine invited her to join NYCB in 1962. Trained in the Russian method, she had to adjust her technique to fit NYCB's fast, streamlined style. "It took me years to unwind myself, to be good," she says in Mason's book. She eventually rose to principal dancer in 1972. Her dancing was strong, assertive and passionate. During her 22-year career at NYCB, Balanchine created 20 roles for her, including Kammermusik No. 2, Union Jack, Vienna Waltzes, Who Cares?, Robert Schumann's Davidsbündlertanze and her most well-known, Stravinsky Violin Concerto. (Who hasn't marveled at her elastic backbends in the 1972 "Dance in America" broadcast above?)
Keep reading...
Show less
popular
Jan. 05, 2018 10:02PM EST
Photo Courtesy Shanghai Dance Theatre
Birds, with their expressive wings and glorious flight patterns, have always made good fodder for beautiful ballets: Swan Lake, Firebird, Sleeping Beauty's Bluebird pas de deux and variation, for example. This month, Shanghai Dance Theatre is presenting the U.S. premiere of Soaring Wings: Journey of the Crested Ibis at New York's Koch Theater (January 5–7) and Boston's Boch Center Shubert Theatre (January 11–12). Blending traditional Chinese, ballet and contemporary dance styles, the two-act production is not a love story; instead, it focuses on the fate of the endangered crested ibis, a symbol of happiness and blessings in China.
Once populous throughout Asia and Russia, the elegant birds became nearly extinct during the 20th century due to human industrialization and urbanization. By the 1980s, only a handful were left, although conservation efforts have helped to slowly bring the species back. "It's not a simple, linear storyline," says Soaring Wings director/choreographer Tong Ruirui. Instead, the ballet aims to show the bird at different stages of its existence, as well as the interdependence between humankind and nature.
Keep reading...
Show less
popular
Dec. 19, 2017 09:27PM EST
Photo by Susan Bestul, Courtesy Verb Ballets.
Ever since President Obama reestablished diplomatic relations with Cuba in 2014, the two countries' dance communities have been eager to strengthen relationships. Now, in spite of tightened travel and business restrictions by the Trump administration, an exciting new collaboration is on the horizon: Cleveland–based Verb Ballets is teaming up with Cuban ballet company ProDanza for a series of performances in Havana. There, the two companies will combine to form the Cleveland Havana Ballet, presenting a full-length production at the prestigious Alicia Alonso Grand Theater.

Last spring, the Cleveland Foundation, through its Creative Fusion: Cuba Edition program, brought ProDanza artistic director Laura Alonso to Ohio for a two-month residency with Verb Ballets, where she taught classes in the rigorous Cuban style. "We're not a classical company, so the dancers needed that kind of training," says artistic director Dr. Margaret Carlson in a phone interview. Alonso—a former dancer with the National Ballet of Cuba and daughter of its founder, prima ballerina Alicia Alonso—worked with the company to break technique "down to the little finger," says Carlson, who points out that "it's hard to get that kind of training anymore."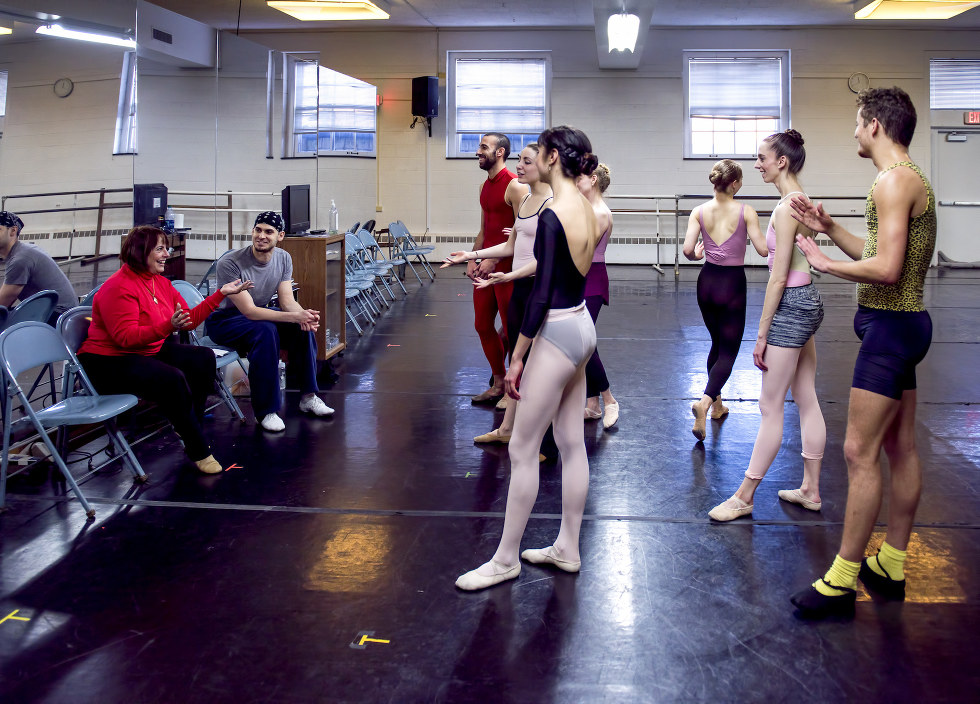 Laura Alonso (far left) works with dancers of Verb Ballets during her two-month residency last spring. Photo by Susan Bestul, Courtesy Verb Ballets.
Keep reading...
Show less


Get Pointe Magazine in your inbox