Amy Brandt
Amy has been the editor in chief of Pointe magazine since 2014, following a 19-year dance career. She danced professionally with the Milwaukee Ballet and The Suzanne Farrell Ballet, among others, and performed in honor of Ms. Farrell at the 2005 Kennedy Center Honors. While pursuing her college degree part-time, she began writing extensively for several dance publications, including Pointe's "Ask Amy" advice column. Amy graduated summa cum laude from Marymount Manhattan College with a BA in English and World Literatures, and currently serves on its advisory board. Before joining Pointe, she was an associate editor for Dance Teacher and Dance Magazine.
Vladislav Lantritov and Ekaterina Krysanova in "Taming of the Shrew." Photo by Alice Blangero, Courtesy Bolshoi Ballet.
If you haven't checked your local movie listings yet for this weekend, hop to it. The Bolshoi Ballet in Cinema series and Fathom Events is broadcasting a performance of Jean-Christophe Maillot's The Taming of the Shrew to theaters nationwide on Sunday, November 19. (To see if it's playing near you and to purchase tickets, click here.) While the rest of the Bolshoi's cinema season features 19th- and 20th-century classics, The Taming of the Shrew gives audiences a chance to see the revered Moscow company in a thoroughly modern, 21st-century take on Shakespeare's famous play.
Aside from a limited run in New York City this July, American audiences have had little exposure to Maillot's 2014 production. To learn more, check out these two exclusive, behind-the-scenes webisodes below. Principal dancer Ekaterina Krysanova, who stars as the hotheaded Katharina, gives an intimate play-by-play of two major scenes in Act I. The first is her fiery rejection of three potential suitors (who all would prefer to marry Katharina's younger sister Bianca).
The second scene breaks down Katharina's first encounter with Petruchio (danced by the larger-than-life Vladislav Lantritov), the only man who seems to be able to challenge her. Here, too, we see the shrew's heart start to soften. (Don't miss her time-stopping attitude turn at 4:27.)

The Bolshoi Ballet in Cinema Series continues through June; for more details on upcoming screenings, click here.

popular
Nov. 08, 2017 07:50PM EST
Mayara Pineiro rehearsing with Helen Pickett for the world premiere of Tilt.Photo by Arian Molina Soca, Courtesy Pennsylvania Ballet.
As I watched Helen Pickett rehearse her new work Tilt for Pennsylvania Ballet last week, there was no doubt in my mind that she's a natural leader. Hovering closely around young corps dancer Jack Thomas during a run through, she pushed him to carve more space through the air with his upper body. "Use those hands, do not stop," she said emphatically during a particularly tiring section, at once firm and encouraging. "It should feel like you're eating a meal rather than grazing." Yet earlier, Pickett had admitted to me that when she was first approached by a major company to create a ballet 12 years ago, she questioned her ability to lead. Despite growing up in a feminist household, being surrounded by strong female role models throughout her dancing and acting career, and learning the craft of choreography from William Forsythe at Ballet Frankfurt, she says, "I still gave more credence to male voices than female voices."
Her realization is one component of a bigger issue in the dance world: that for all of the droves of women and girls who flock to ballet classes and pursue performance careers, the majority of leadership positions—be it directing, curating or choreographing—are held by men. To help illuminate the topic in advance of Pickett's world premiere November 9–12 , last week Pennsylvania Ballet partnered with Philadelphia's FringeArts to present "Challenges, Chances, Changes: Gender Equity in Concert Dance," a round table discussion among six women leaders in the industry. Joining Pickett was Dance Theatre of Harlem artistic director Virginia Johnson; BalletX executive and artistic director Christine Cox; Big Dance Theater choreographer and co-director Annie-B Parson; Philadelphia Dance Projects executive director Terry Fox; and choreographer Francesca Harper, artistic director of the Francesca Harper Project.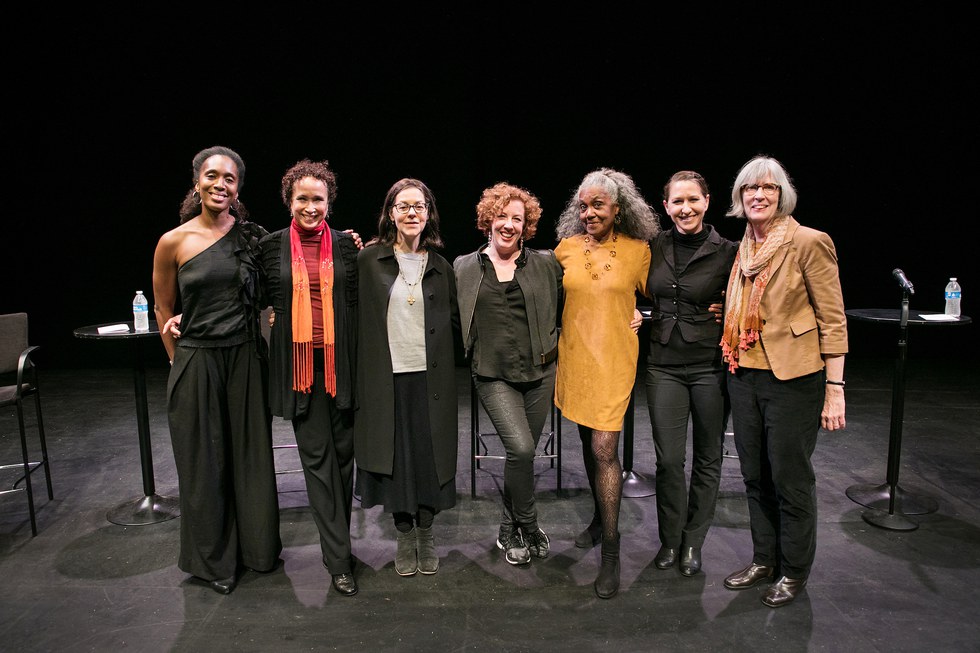 From left: Francesca Harper, Virginia Johnson, Annie-B Parson, Helen Pickett, Brenda Dixon-Gottschild, Christine Cox and Terry Fox. Photo by Chris Kendig, Courtesy Pennsylvania Ballet.
Keep reading...
Show less
Derek Dunn in William Forsythe's "In the middle, somewhat elevated" at Houston Ballet. Photo by Amitava Sarkar, Courtesy HB.
A year ago, Derek Dunn was one of Houston Ballet's brightest young talents (oh, and he was also gracing Pointe's cover). So some were surprised when he announced that he'd be joining Boston Ballet as a soloist this season. We caught up with Dunn as he prepares for two season-opening premieres November 3–12, to see how he's settling in.
You danced with Houston Ballet for five years. Why did you leave?
It wasn't really about me leaving Houston—it was more me being curious about what else was out there. I got really lucky when I landed that job. I did a competition and afterwards Stanton [Welch, HB's artistic director] asked me to audition for an apprenticeship. I wasn't even necessarily looking for a job at the time; I was only a junior in high school, and I wasn't really sure if I was going to continue training for another year. So Houston Ballet was the only place that I even auditioned for, and really all I knew. After five years, I think it's only natural to be curious about how other places work and what their environments might be like. When I came to Boston to take class last year, I felt an immediate positive energy from everyone. On top of everything else the company has to offer—the rep, the talented dancers, the city—it was hard to pass it up.
What's it like being the new guy at Boston Ballet?
I've been really happy with my decision so far. Of course, joining a new company, you're not really sure what you're going to be thrown into. You have to prove yourself right away. But the amount of opportunities I've gotten already has been incredible and I'm really excited to do everything this season. It's been a really good start so far—very busy, but good.
Keep reading...
Show less


Get Pointe Magazine in your inbox