popular
Nov. 17, 2017 04:51PM EST
Pittsburgh Ballet Theatre's 'The Nutcracker.' Photo by Rich Sofranko
Catching a performance of The Nutcracker has long been a holiday tradition for many families. And now, more and more companies are adding sensory-friendly elements to specific shows in an effort to make the classic ballet inclusive to children and adults with special needs.
While the accommodations vary depending on the company, many are presenting shorter versions of the ballet with more relaxed theater rules. Additionally, lower sound and stage light levels during the performance, as well as trained staff on hand, make The Nutcracker more accessible for those on the autism spectrum and others with special needs.
Pittsburgh Ballet Theatre's performance will take place on Tuesday, December 26th, and they are one of the pioneer companies in presenting sensory-friendly performances of The Nutcracker (their first production was in 2013). PBT also offers sensory-friendly versions of Jorden Morris' Peter Pan and Lew Christensen's Beauty and the Beast throughout the year.
See our list of sensory-friendly performances, and check out each site for all of the details regarding their offerings.
Keep reading...
Show less
Pilates hundred intermediate set-up, modeled by Jordan Miller. Photo by Emily Giacalone.
The Pilates hundred is a popular exercise used by many dancers for conditioning and warming up, but it's also one of the most misunderstood. Pumping your arms for 100 counts sounds simple enough, but it requires coordinated breathwork, a leg position that suits your abilities and proper alignment. Marimba Gold-Watts, who works with New York City Ballet dancers at her Pilates studio, Articulating Body, breaks down this surprisingly hard exercise. When done correctly, the benefits are threefold: "If you're doing it before class," she says, "the hundred is a great way to get your blood flowing and work on breath control and abdominal support all at once."
To Start
Lie on your back with knees bent and feet on the floor. Nod your chin toward the front of your throat, and reach your fingertips long.

Keep reading...
Show less
At just 16 years old, the Bolshoi Ballet's Maria Alexandrova already had the makings of a great artist. In this variation from Coppélia, she portrays the carefree Swanilda with blithe, youthful ease.
When she bounds on stage in her perky pink tutu, you immediately notice her legs–they just go on forever. In the first sequence of steps she keeps her jetés and développés low, but then the phrase repeats and she lets her gorgeous extensions fly. She sails through Italian fouettés and whirls around in piqués en manège that get faster and faster. While she nails all the virtuosic movement, Alexandrova also pays beautiful attention to detail throughout the variation. Even the simplest steps become something exciting, like her precise pas de bourrées beginning at 1:03 that sing with musicality.
Swanilda has been one of Alexandrova's signature roles throughout her career. For a fun side by side, watch her perform the same variation almost 20 years later in this video. Although Alexandrova formally retired from the Bolshoi in February, she still performs frequently in Moscow and internationally as a guest artist. Happy #ThrowbackThursday!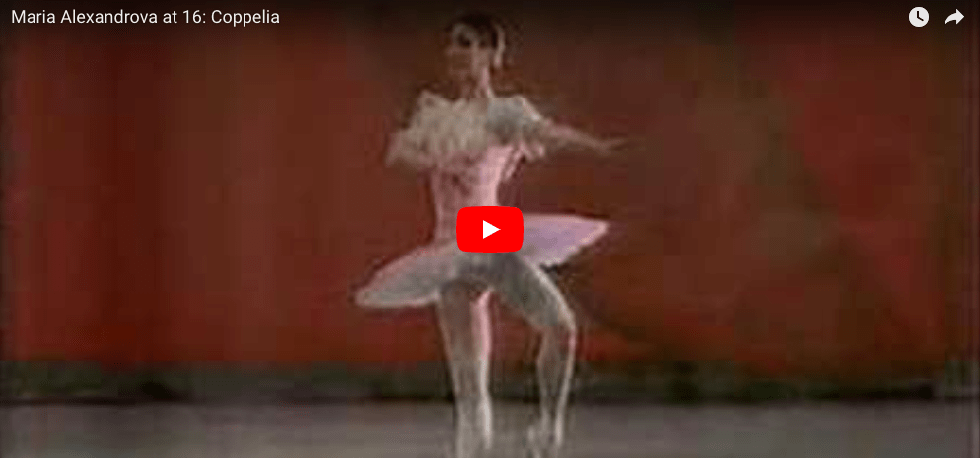 Ingrid Silva and her dog, Frida Kahlo. Photo by Nathan Sayers for Pointe.
You're probably already following your favorite dancers on Instagram, but did you know that you can follow many of their dogs, too? We rounded up some of our favorite dog-centered accounts and hashtags to keep you pawsitively entertained (sorry, we can't help ourselves).
Cora and Maya (American Ballet Theatre's Sarah Lane and Luis Ribagorda)
Sarah Lane and Luis Ribagorda's pups Cora and Maya update their profile pretty frequently. Often accompanying Lane to the ABT studios, they can also be seen using tutus or piles of pink tights as dog beds.
Keep reading...
Show less


Get Pointe Magazine in your inbox