Photographed for Pointe by Jayme Thornton.
In a polished cast of Sir Frederick Ashton's Symphonic Variations at an American Ballet Theatre performance last October, corps member Betsy McBride shone with a warmth that belied the piece's crystalline, cold precision. Dark-haired with large, light-catching eyes, McBride was more coiled spring than willowy sylph, evident in the way her pliant limbs shot rather than floated to Ashton's prescribed positions. While the choreography's measured steps and lowered legs may seem particularly limiting for someone with McBride's flexibility, she managed to find pockets of expansion in the restricted movement. She lunged a little deeper, sailed on pointe a little longer, her open face lingering in the spotlight until the very last moment.
Symphonic Variations marked McBride's debut in a principal role with ABT, yet it was not the 25-year-old's first taste of the spotlight. She began her career at Texas Ballet Theater at just 15, becoming a principal by 19. Under TBT artistic director Ben Stevenson, she performed roles that most dancers her age still covet—Juliet, Odette/Odile, Aurora—before leaving the company for an ABT corps contract in 2015.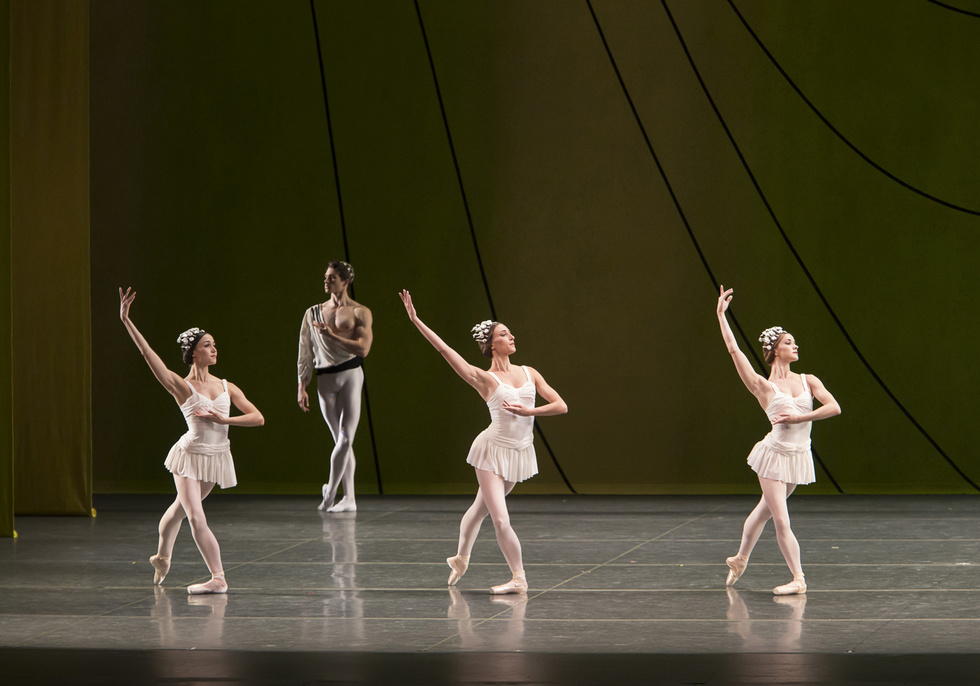 McBride (far left) with Devon Teuscher and Cassandra Trenary in "Symphonic Variations." Photo by Erin Baiano, Courtesy ABT.
Keep reading...
Show less
Tim Verhallen, via Instagram
Dutch National Ballet Soloist Michaela DePrince has been busy winning over the mainstream media. Since last spring, the First Position star not only landed a spokesmodel deal with Jockey, but she also recently teamed up on a commercial with Chase Bank and just announced that Madonna will be directing her upcoming biopic, Taking Flight (totally casual).
What could possibly be next? The cover of April's Harper's Bazaar Netherlands, it turns out. Posing in an arabesque with her hair slicked back in her usual ballet bun, DePrince traded in her leotard and tights for a stunning metallic Gucci dress (can we do that, too?).
Keep reading...
Show less
Leanne Benjamin and Luke Heydon in "Coppélia," via YouTube.
Dancing with The Royal Ballet from 1992 until 2013, former principal Leanne Benjamin tackled just about every role in the classical gamut, from Juliet to Nikiya to Giselle. As the young and spirited Swanilda in this clip from Coppélia, Benjamin reveals that she has equal talent for the silly as the serious. Her comedic performance in Swanilda's doll dance is this role at its best.
In an effort to trick the scheming Dr. Coppelius and save her beloved Franz, Swanilda pretends she is the doll Coppélia come to life. As she begins to dance, Benjamin is stiff and mechanical one moment and then flopped over like a rag doll the next. Dr. Coppelius, played by character artist Luke Heydon, watches her enthralled and Benjamin's gaze is fixed in a plastic stare. But when the toymaker looks away, Benjamin's Swanilda breaks doll character and frantically tries to figure out an escape. Feebly, Dr. Coppelius tries to keep up with her. Although we feel some sympathy for the delusional old toymaker, we can't help laughing at Swanilda's antics. And that slap at 1:55? Gets us every time. Happy #ThrowbackThursday!

Cuthbertson and Federico Bonelli as Alice and Jack/the Knave of Hearts. Photo by Andrej Uspenski, Courtesy ROH.
As told to Laura Cappelle.

I knew before Christopher Wheeldon even started Alice's Adventures in Wonderland that he wanted me to create the title role. We made Alice together. We feel like she is our girl! She's charming, witty, tough, curious. She's got a very big heart. She's also spontaneous, which helps the show, because you don't have to be calculated the whole time. You can bounce off the characters you come across, because everyone plays them slightly differently.
Keep reading...
Show less


Get Pointe Magazine in your inbox