Maggie Small as the Butterfly in Stoner Winslett's "The Nutcracker." Photo by Sarah Ferguson.
You've gone from Clara to Sugar Plum in one place. What made that possible?
I was lucky to grow up here, in a school that fed directly into a company, so as a child I could visualize exactly what I wanted. I think my career is due in part to being aware of how lucky I am, being grateful for it and preserving it.
What does it mean to be a "ballerina" in a non-ranked company?
It means you do it all. The last time we did Romeo and Juliet I was a harlot, and it was so much fun. If we did the same thing all the time it wouldn't be as stimulating or exciting.
Keep reading...
Show less
Photo by Altin Kaftira, Courtesy Dutch National Ballet
To whom would you attribute your success?
My mom, because I trained privately with her. She pushed me to become what I am now, and she's one of the best teachers out there. She doesn't just go by her Bolshoi schooling: She's really good at finding what's right for you.
Was it a hindrance or a help to have famous parents in the ballet world?
It's 50/50. Sometimes it's great because they can pass on everything they know to me, but there are also moments when people recognize my name, and it's instant pressure. Some will look at me differently and wonder if I'm actually good enough. I had to prove myself through my work.
What's the least glamorous part of being a dancer?
Taking care of all your blisters and sore toenails. A Russian trick is to do a vodka compress overnight: You soak a bandage in vodka and wrap it around the toes that are hurting. You sleep with it, and it looks great in the morning, nice and wrinkly. It smells of vodka, but it really works!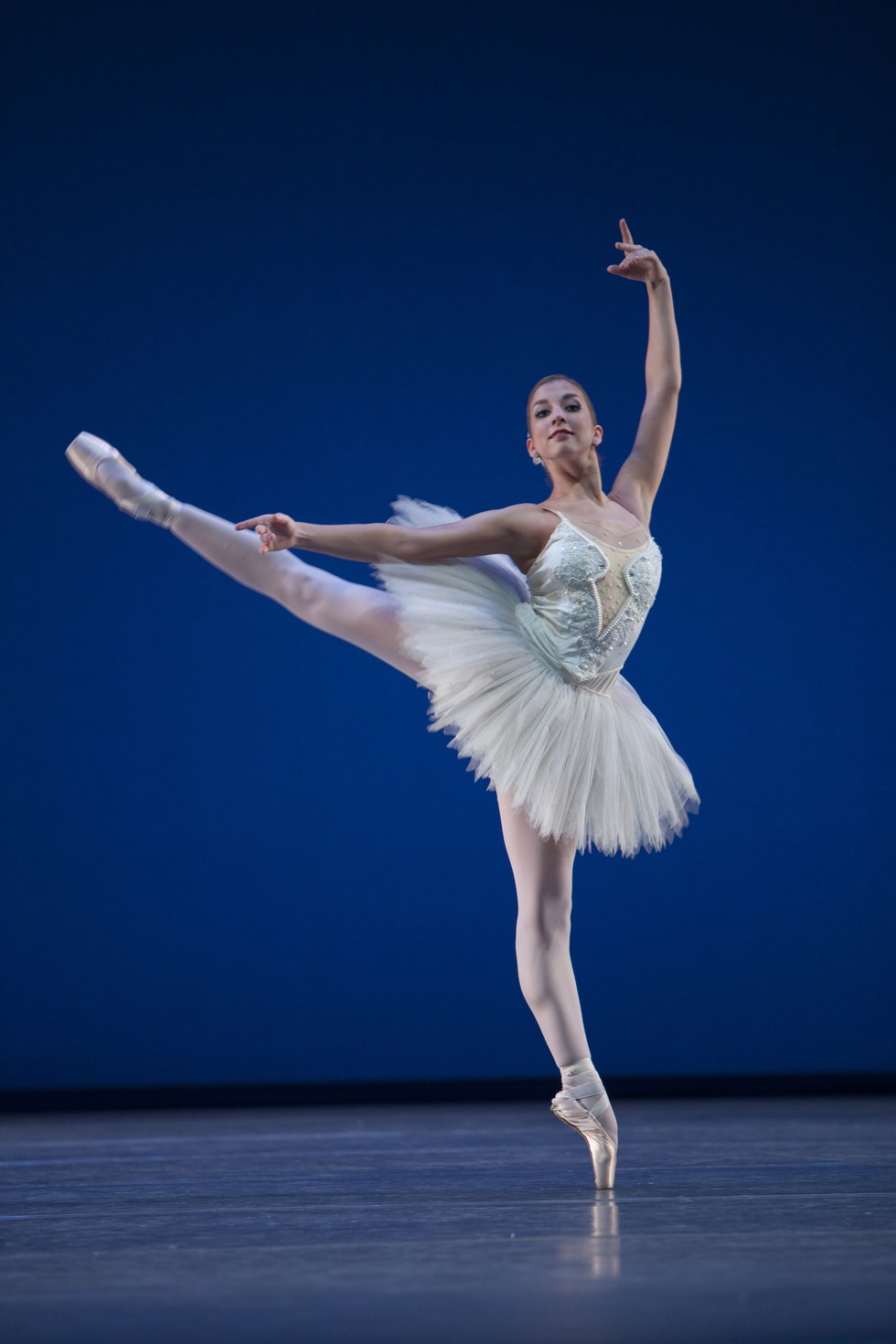 Mukhamedov in Balanchine's Symphony in C (Photo by Angela Sterling).
Keep reading...
Show less
Reverence
Jul. 26, 2017 12:18PM EST
Ekaterina Krysanova and Vladislav Lantratov in The Taming of the Shrew. Photo by Jack Devant, Courtesy Lincoln Center.
What do you enjoy more: performing or being in the studio?
Performing, of course. It's like waiting and getting ready for your birthday party. The rehearsals are a hard process: It's a long wait for enjoyment.
What qualities do you admire most in other dancers?
A brain. Some say that a ballerina only needs good footwork, physical abilities, but I realized gradually that it's very important to have a good head on your shoulders. You go further if you think deeply about your roles.
What do you do to remain injury-free?
I always warm up properly, and I also have massages and water treatments to relax and soothe my body. Sometimes I go to the banya, a typical Russian sauna.
You created the lead role in Jean-Christophe Maillot's The Taming of the Shrew. What place does it have in your repertoire?
A very significant one. It's so precious when a ballet is made on you. So many dancers wait for that, try to find choreographers. If you are the very first person to do a role, it stays with you—and you stay in it, in a way.
Keep reading...
Show less
Career
Jun. 20, 2017 03:25PM EST
Lopatkina and Danila Korsuntsev in Balanchine's "Symphony in C." Photo by N. Razina, Courtesy Mariinsky Theater.
Last weekend, the Mariinsky Ballet announced on its website that one of its most revered prima ballerinas, Uliana Lopatkina, has retired from the stage. A principal dancer since 1995, Lopatkina's interpretation of Odette/Odile and "The Dying Swan", among other roles, was legendary. To honor her dance career, we're re-visiting this interview from the February/March 2013 issue.
What's the toughest part of being a dancer?
More than most professions, ballet erodes the private sphere. You don't fulfill yourself in this career: You serve it; you're a slave to it.
What ballet makes you most nervous?
Swan Lake. Even if it's not the most difficult ballet to perform, it's difficult in another way, a mystical way.
Keep reading...
Show less
Vanessa Zahorian in Tomasson/Possokhov's Don Quixote.
(Photo by Erik Tomasson)
You trained partly at the Kirov Academy of Ballet in Washington, DC. What's the most important thing you got out of that experience?
The opportunity to go to Russia at age 16. Oleg Vinogradov, the director at the time, chose me to be an apprentice with the Kirov (now Mariinsky) Ballet. I worked with Andris Liepa and Ninel Kurgapkina, and took class next to ballerinas like Diana Vishneva and Uliana Lopatkina. It was an honor.
Since then, you spent your entire career at San Francisco Ballet. How have you grown as a dancer?
When I first came I was very focused on technique. I was 18, in the corps, and all of a sudden I was Sugar Plum. At this point 20 years later, I'm focused on the emotional aspects of my performance. I'm not concerned about how many turns I'm going to do, or how long I'm going to balance.
How do you prepare for full-length ballets?
Keep reading...
Show less
Photo by Aleksander Antonijevic, Courtesy National Ballet of Canada
You're celebrating 25 years with the National Ballet of Canada. What makes it home?
I wanted to join the National Ballet because it had one of the best repertoires in the world. We do all the staples of the classical canon and yet get to work with amazing creators like Jirˇí Kylián, William Forsythe, Glen Tetley and all the iconic choreographers of the 21st century. I still feel that way.
What have you learned that could be helpful for young professionals?
Look around and really watch the people around you. I can't tell you how important that was for me, to have so many great dancers to learn from. You can absorb a lot by watching, you don't always have to do.
Your tenure has spanned three directors. Do you have tips for surviving directorial changeover?
Keep reading...
Show less
Salenko in George Balanchine's "Rubies" (photo by Carlos Quezada, courtesy Staatsballett Berlin)
Staatsballett Berlin's Iana Salenko on guestings, salsa music and her knack for design.
What are you most proud of in your career?
I'm a tiny dancer, so to dance roles for tall ballerinas I would never have dreamed about, like Swan Lake—I'm very proud that I managed to get them.
What's the hardest thing about guesting with other companies, like The Royal Ballet?
Keep reading...
Show less
Photo by Theo Kossenas, courtesy The Washington Ballet.
Murphy with Johnathan Jordan. Photo by Theo Kossenas, courtesy The Washington Ballet.
The Washington Ballet's Ashley Murphy isn't afraid to step outside her comfort zone.
Why did you make the move from Dance Theatre of Harlem to The Washington Ballet?
I had been at DTH for 13 years, and I wanted to see what else was out there. I felt like it was time for me to experience other choreography and a bigger company setting.
Has the change helped you grow as a dancer?
Definitely. At DTH, they knew me and trusted me with a lot of principal roles. Here, I had to work my way back up. I'm more of a performer onstage than in the studio, so it was hard for me to show them what I could do. But the people around me were so encouraging, which helped my confidence. As my first year went on, things got better.
Keep reading...
Show less


Get Pointe Magazine in your inbox