Garrett Anderson. Photo Courtesy Ballet Idaho.
Big news in Boise: Ballet Idaho has announced that Garrett Anderson will succeed Peter Anastos as the company's next artistic director, starting in July. Anderson, who had an extensive dance career as a soloist with San Francisco Ballet and Royal Ballet of Flanders, and later danced with Hubbard Street Dance Chicago, has a special connection with Ballet Idaho's home city. He performed with the Trey McIntyre Project in 2011 and later as a guest artist with Boise-based LED, a music, film and dance collaborative. Anderson has also served as the chair of the Dance Department at New Mexico School for the Arts in Santa Fe.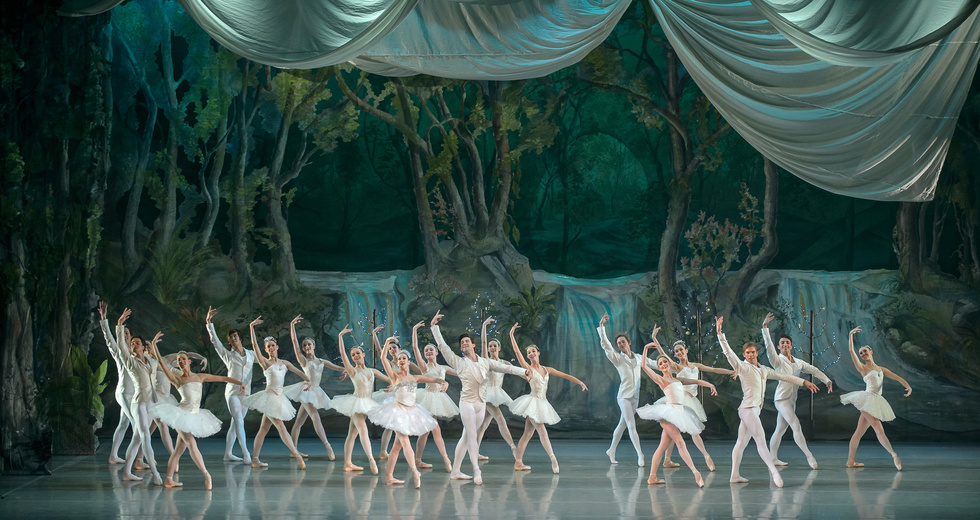 Members of Ballet Idaho in "A Midsummer Night's Dream." Photo by Mike Reid, Courtesy ballet Idaho.
Anastos, who has enjoyed a prolific choreographic career, is retiring as Ballet Idaho's artistic director after 10 years at the helm. He leaves behind a company of 18 dancers and 6 apprentices, an academy, and a repertoire ranging from full-length classics to Balanchine to new and contemporary works. In a statement Anderson says: "I am eager to work with these artists and administrators to connect with the larger conversation Boise is having about its future. [...] Together we can continue to extend Ballet Idaho's work throughout the region and expand its artistic voice. Looking forward, my goal is to continue a legacy that is inclusive of all audiences, while pushing the boundaries of dance and helping to define its relevance in our community."
popular
Jan. 15, 2018 09:30AM EST
Keep reading...
Show less
Kyle Froman
"I'm all about comfort and easy clothing because I'm always on the go," Jasmine Perry says. But that doesn't keep the Los Angeles Ballet company dancer from looking stylish. Favoring dresses and athleisure wear, Perry also prefers classic lines and neutral colors like white, black, navy and gray, which are easy to mix and match. The finishing touch: a pair of sneakers from her extensive collection. "I had ankle surgery four or five years ago, so I need a good walking shoe," she explains. "I have a ton of Nikes and running sneakers from Brooks for when I've had a long day at work and need something that feels like clouds on my feet."
But in the studio, you won't find any of the yoga pants or loose-fitting T-shirts she loves so much. "I don't actually have that much attire for layering," Perry says of her strictly leotards-and-tights class style. "It doesn't get that cold here," she explains. "I have a few legwarmers and things for when I'm rehabbing an injury, but they're not part of my daily attire."
Keep reading...
Show less
Aviva Gelfer-Mundl competing at the 2018 Prix de Lausanne. Photo by Gregory Bartadon, Courtesy Prix de Lausanne.
At the beginning of the month, 74 young dancers from around the world gathered in Lausanne, Switzerland to compete in the 46th Prix de Lausanne. At the end of a packed week, eight candidates were named prizewinners, including 16-year-old California-native Aviva Gelfer-Mundl. One of seven Americans to enter the competition, Gelfer-Mundl—who trains both at V&T; Classical Ballet Academy in Laguna Hills, CA and privately with Alla Khaniashvilli and Nazgul Ryskulova Shinn—was the only one to leave as a prizewinner. Pointe caught up with this nascent star to hear about her former career as a rhythmic gymnast, her time at the Prix and her plans to study at the Vaganova Ballet Academy in Russia next year.
Before ballet, you were a rhythmic gymnast. Why did you make the switch to ballet?

I started rhythmic gymnastics when I was around six or seven and I competed for several years. I was actually state champion and winner of the Junior Olympics in level 5. However at age 10 I got a really bad hamstring injury, and that caused me to reconsider if I really wanted to continue the sport. I wanted something easier on the body, so I started ballet and immediately fell in love with it.
Keep reading...
Show less


Get Pointe Magazine in your inbox