popular
Feb. 17, 2018 03:19PM EST
San Francisco Ballet in Balanchine's "Serenade." Photo via SFB on Instagram.
Following a week filled with Valentine's Day-inspired romantic ballets including Romeo and Juliet, Cinderella and Giselle, this week brings a varied mix of repertory from San Francisco Ballet, New York City Ballet and American Ballet Theatre (currently on tour in Chicago), as well as Pittsburgh Ballet Theatre's Swan Lake and Eugene Ballet's collaboration with local band Pink Martini.
San Francisco Ballet
San Francisco Ballet's program entitled Bright Fast Cool Blue is up at the War Memorial Opera House through February 24 and features works by George Balanchine and Benjamin Millepied, as well as the SFB premiere of Justin Peck's Rodeo: Four Dance Episodes. The photos that the company has been posting of Balanchine's Serenade are absolutely gorgeous. From February 17-25 the company is also presenting Distinctly SF Ballet. This trio of works by artistic director Helgi Tomasson, Val Caniparoli and Myles Thatcher were all created for SFB. You can check out the program's trailer below.
Keep reading...
Show less
popular
Jan. 15, 2018 09:30AM EST
Keep reading...
Show less
popular
Feb. 16, 2018 05:29PM EST
Peter Martins. Photo by Adam Shankbone, Courtesy Wikimedia Commons.
The New York Times reports that a two-month long internal investigation into sexual harassment and physical abuse allegations against Peter Martins, New York City Ballet's former ballet master in chief, has found that the accusations could not be corroborated. In December, an anonymous letter sent to NYCB and its affiliated School of American Ballet accused Martins of sexual harassment, although the claims were non-specific. Afterwards, several former dancers and one current company member came forward to the press accusing him of physical assault and verbal abuse. Martins, who directed the company for 35 years and has denied the accusations, retired on New Year's Day after taking a leave of absence. An interim team led by ballet master Jonathan Stafford has been overseeing the company in the meantime.
Keep reading...
Show less
Anna Isaeva as Karina in "Bolshoi." Photo Courtesy TriCoast.
If you are in need of a feel-good ballet movie night, check this out: Bolshoi, a 2017 Russian coming-of-age drama starring real dancers and filmed on location at the Bolshoi Theater, is now available on multiple VOD platforms. The film follows Yulia Olshanskaya, a scrappy working class kid, as she navigates life at the Bolshoi Ballet Academy and eventually, the company. Like most dance movies á la Center Stage, it's full of the usual ballet clichés. But, like Center Stage, it's also fun, beautifully shot and full of gorgeous dancing (including a mean fouétte turn contest). Polish National Ballet coryphée Margarita Simonova stars as as Yulia, while Anna Isaeva, a former Kremlin Ballet dancer, plays Karina, Yulia's wealthy best friend and biggest competition. Ekaterinberg Ballet principal Andrei Sorokin and former Paris Opéra Ballet étoile Nicholas Le Riche also star.
The film centers on the friendship and rivalry of Yulia and Karina. Discovered by a washed-up Bolshoi star in her industrial town, the rebellious Yulia struggles to fit in once she enters the prestigious Moscow school. But a strict and influential teacher (played by Alisa Freyndlikh) takes her under her wing, and defends her when other school officials want her out. Soon Yulia and Karina are up for the role of Aurora for the school's graduation performance—and the result affects their futures once they enter the company. Flashbacks to Yulia's childhood flesh out her defiant nature, and help make her ultimate sacrifice towards the end especially touching.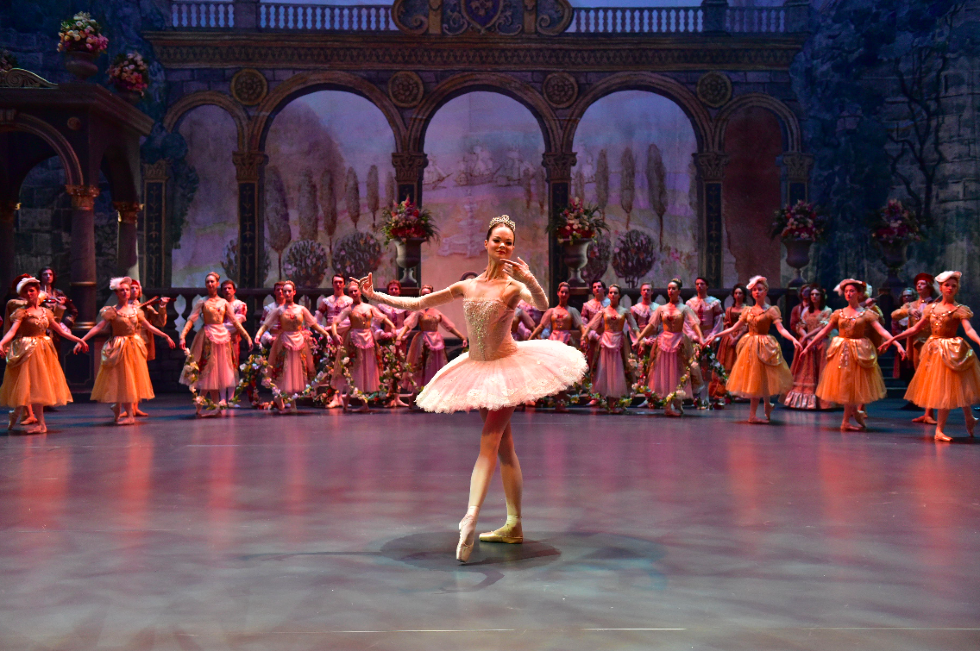 Photo Courtesy TriCoast.
One scene that may raise American eyebrows is during the audition, in which young Yulia must wear her underwear. This is typical of Russian ballet academy auditions in order for teachers to evaluate the dancers' lines and proportions (although Yulia's actual audition is pretty far-fetched).The two-hour Bolshoi, in Russian with English subtitles, is now available on iTunes, Fandango, Vudu, FlixFling, Hoopla, In Demand, GooglePlay, Dish, Sony Playstation, Direct TV and Microsoft Xbox.


Get Pointe Magazine in your inbox