Trending
Jan. 02, 2018 12:46PM EST
Andrew Peasgood and Constance Devernay in "The Fairy's Kiss." Photo by Andy Ross, courtesy Scottish Ballet.
From now through January 15, Pointe is streaming Scottish Ballet in Sir Kenneth MacMillan's Le Baiser de la Fée (The Fairy's Kiss). This one-act ballet, based on the Hans Christian Andersen fairy tale "The Ice Maiden," was choreographed for The Royal Ballet in 1960. For more on the ballet's history and for behind-the-scenes footage, click here.
Synopsis
The Lullaby in the Storm
A mother with her child struggles through the storm. The Fairy with her attendants appears and pursues her. The Fairy separates the mother from her child. Passing villagers find the body of the mother, now dead, and guided by the Fairy, they find the child. The Fairy kisses him on the forehead. The villagers become frightened and taking the child with them, they run away.
Keep reading...
Show less
Keep reading...
Show less
popular
Jan. 12, 2018 04:10PM EST
via YouTube
It's finally the weekend, and we're celebrating the best way we know how—a new ballet video. Juliet Doherty (who trained with San Francisco Ballet and Master Ballet Academy, and is set to star in the dance film, On Pointe), teamed up with Cartoon Network for her latest project.
"Cartoon Network contacted me about their show, Steven Universe, which was coming out with a new vinyl album of the soundtrack of the show," Doherty shared with Pointe. "They told me about one of the show's main characters named, Pearl, who is a strong-willed character but has the grace inspired by a ballerina."
Keep reading...
Show less
Videos
Jan. 12, 2018 03:15PM EST
Mr. Jeremy FIsher, from Sir Frederick Ashton's "The Tales of Beatrix Potter."
Animal roles might not typically be what dancers dream of performing…but they're oh-so-fun to watch. You can't help falling under their spell (and perhaps aspiring to dance one someday). Here's a round-up of some of our favorite furry and feathered roles.
Bunny Hop
Run. Dance in a circle. Pretend to be a rabbit. It might sound like a creative movement combo, but don't let that fool you. The role of Peter Rabbit in Sir Frederick Ashton's The Tales of Beatrix Potter requires fierce technique—not to mention the ability to project personality while wearing an animal head and fur suit.
Four-Legged Interlude
Who do you turn to for halftime entertainment during a quartet of fairy variations? Dancing lizards, mice and a frog of course! This charming quintet of creatures light up the stage in David Bintley's Cinderella.
Keep reading...
Show less
Photo Courtesy Barry Kerollis.
I was probably about 15 years old when the director of my local dance school, seeing my drive and ambition, asked me to work as a teaching assistant for one of the main ballet instructors. She asked to meet with me to discuss the details of my new job. She explained what my role was in the studio, expectations of me in the position and more. But as we approached the end of my meeting, I wasn't expecting the conversation to take the serious turn that it did.
"Now, Barry, I need you to be very, very careful about how you work with these young girls. Kids are sensitive and, especially considering that you are a man, if you correct them in a way that can be viewed as sexual by either a student or a parent, even if you didn't do anything, you could be jeopardizing your future as a teacher and in this field." The look on my face must have been utter shock; the prospect of losing my job or getting sued over sharing my artform had never crossed my mind. This forever changed my perspective on being a dance educator, and I still find myself overly cautious about the way that I work with my students today.
Unless you've been hiding underneath a holiday blanket, it has become abundantly clear that we are undergoing a massive cultural shift here in the States. It started in the entertainment industry, then shifted to major corporations. Sexual misconduct in the form of harassment and assault that had been swept under the rug for years is bubbling to the surface. Things began to boil quite quickly, and those interested in our performing-arts world were speculating that something was going to be brought up in our tight-knit community, especially considering the hands-on approach that teachers have with students, dancers have with other dancers and artistic staff has while coaching employees. I had to sit on my own hands for over a month, after I was given a heads-up that a major news publication was working on an exposé about Peter Martins and his many alleged abuses (which had been quietly circulating around our dance community for years).
Erica Lall and Shaakir Muhammad in class at American Ballet Theatre's 2013 New York Summer Intensive. Photo by Rosalie O'Connor, Courtesy ABT.
This story originally appeared in the December 2013/January 2014 issue of Pointe.

When Pacific Northwest Ballet School student Madison Abeo was accepted into San Francisco Ballet School's summer session on a partial scholarship, she was thrilled. But then she added up the remaining cost for the program and realized she didn't have the funds. "I really wanted to go," she says, "but we just couldn't make the other half of it work."

Ballet training is expensive. For many families, a trip to a dream summer intensive simply isn't in the budget. SFB was $2,500 out of Abeo's reach. But she was determined. At the suggestion of her aunt, Abeo created a Facebook fan page where she asked for opportunities to babysit or perform odd jobs, and included a link to a PayPal account where friends and family could make donations. Two local dancewear businesses, Vala Dancewear and Class Act Tutu, offered to outfit her for fundraising photos, which a photographer took for her Facebook page for free. By June, Abeo had raised enough for tuition—plus plenty of pointe shoes.

Affording your dream intensive isn't as difficult as you might think. There are a surprising number of eager dance supporters out there. Case in point: On Kickstarter, dance projects have the highest success rate of any type of campaign, with dancers receiving over $4 million in donations through the site since it began. You can also apply for need- or merit-based grants and scholarships, either through your summer program or an outside foundation. Most dancers who want it badly enough can make it happen.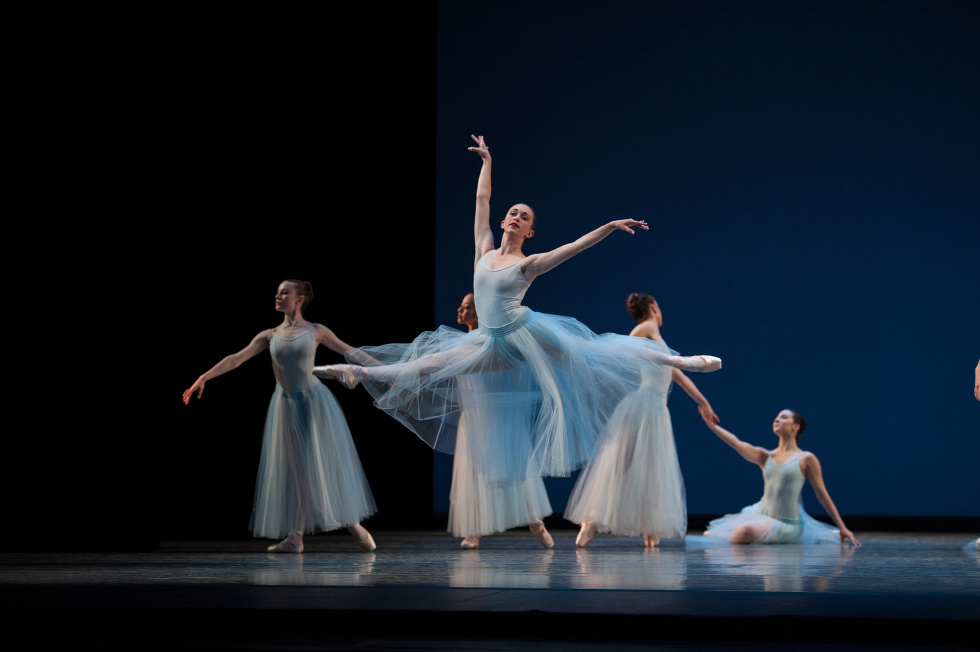 Madison Abeo with other Pacific Northwest Ballet School students in the 2013 School Performance of an excerpt from "Serenade," choreography by George Balanchine. Photo by Rex Tranter, Courtesy Abeo.
Take Your Cause to the (Online) Streets
Keep reading...
Show less
In class at the Bolshoi Ballet Academy summer intensive. Photo by Gene Schiavone, Courtesy Russian American Foundation.
When Complexions Contemporary Ballet's summer intensive program director Meg Paul auditions students for its Detroit intensive, there's one thing that catches her eye for all the wrong reasons. "It's a real pet peeve of mine when a dancer keeps shifting her eyes to me during a phrase," she says. "It tells me that she's not fully invested in the movement, that she's more interested in being watched than in embodying the choreography."
Every summer intensive director has their own list of audition deal-breakers, but there are a handful of universal turnoffs to avoid. "Yes, we want the most talented students, but when talent is paired with a bad attitude or improper etiquette, it gives us pause," Paul says. While certain behaviors may seem minor, they can make all the difference when it comes time for scholarship offers or even acceptance decisions.
DEAL BREAKER #1: Not Presenting Yourself Professionally
An audition is a first impression, and you want to look your best. This begins with researching the specific intensive's audition requirements. "Our audition has a dress code, and we expect dancers to respect that," says Rina Kirshner, director of the Russian American Foundation's Bolshoi Ballet Academy programs. "We want dancers to stand out through hard work and talent, not brightly colored leotards or flowers in their hair."
Keep reading...
Show less
Mikayla Scaife of The Ailey School's Professional Division. All photos by Nathan Sayers for Pointe.
Whether you're being lifted in The Nutcracker's grand pas de deux or doing weight-sharing in contemporary choreography, female ballet dancers can't expect their partner to do all the work. "Strength with stability is a hallmark," says Rebecca Kesting, staff physical therapist at the Harkness Center for Dance Injuries at NYU Langone Health. The other person is usually moving too, she says, so you need to be able to use your upper-body strength to find stability.
Kesting recommends these three exercises, which imitate pressing into a partner. If you're just starting to build upper-body strength, practice them four days a week to develop your shoulder stabilizers and upper-back muscles. Later on, you can scale back to two or three times weekly for maintenance.
You'll need:
an inflatable ball you can hold in your hand (like a kickball or smaller)
a foam roller
Side Plank with Port de Bras
Regular and side planks strengthen the shoulder stabilizers, like the serratus anterior, along with the abdominals. Once you've mastered these basic forms, Kesting recommends a side plank with moving port de bras. Play with your own pattern, like first to fifth to second, and then reverse. "You get the stability of pressing away from the ground as you would through a partner," she says. "And you're adding that dance-specific movement."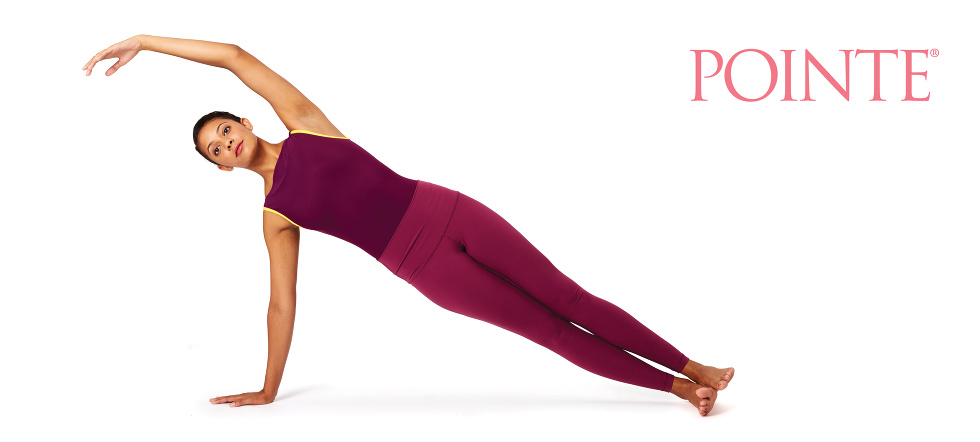 Keep reading...
Show less


Get Pointe Magazine in your inbox